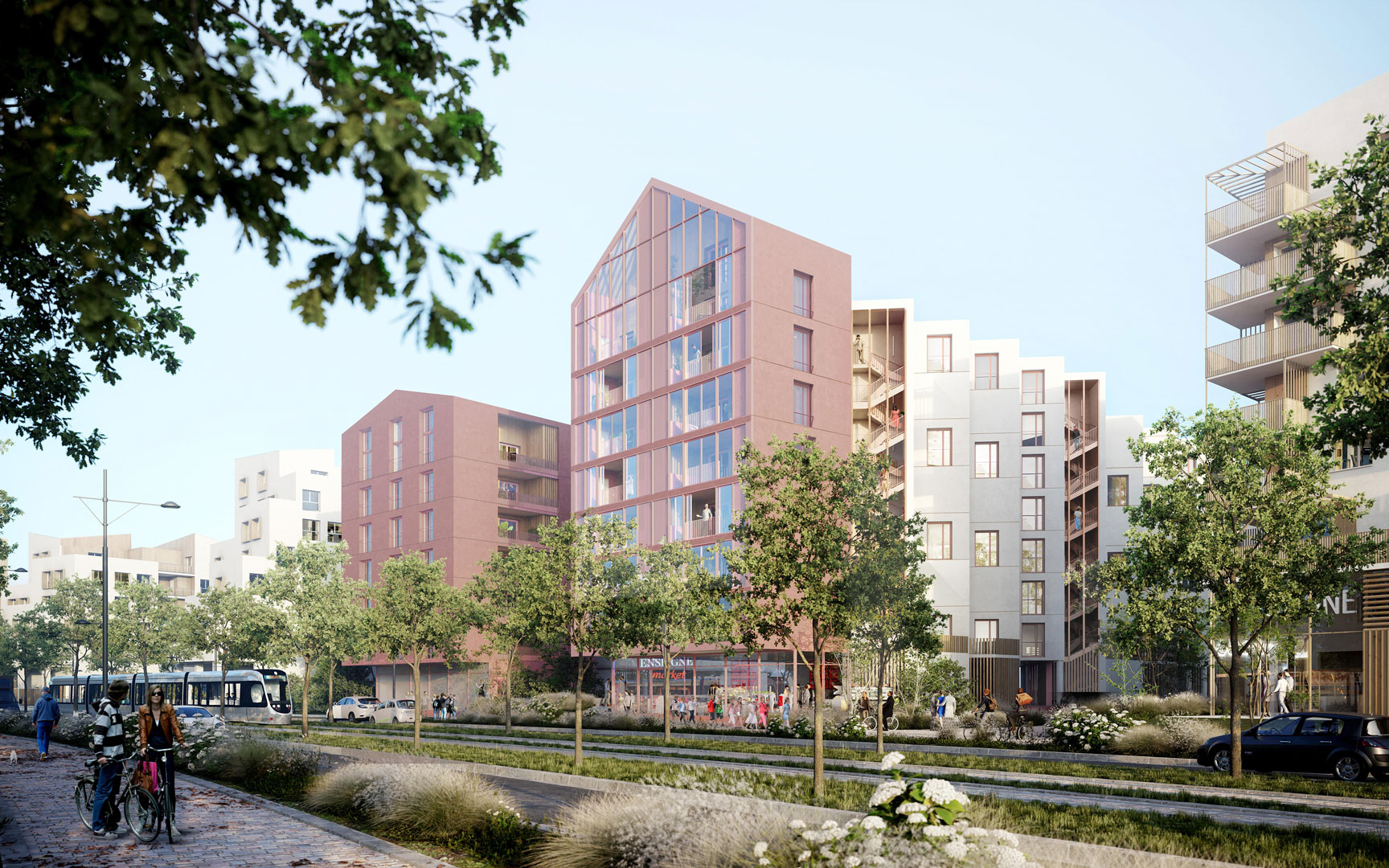 collective housing
made attractive
Located in Ostwald, a suburb of Strasbourg, the project is part of the municipality's urban development strategy to increase its housing supply. In the heart of a privileged site, on the banks of the Bohrie pond, the objective of this new housing complex is clear: to make collective housing attractive in an area largely dominated by single-family homes.
The project is composed of two fine buildings totaling nearly 100 dwellings whose heights vary from R+5 to R+7, a third-location building, a shop and an underground parking lot. The morphology adopted minimizes the footprint of the buildings and reveals, in the center of the parcel, a huge landscaped island. The buildings are bordered to the east by a green public space and to the west by a wild garden that is an integral part of the project.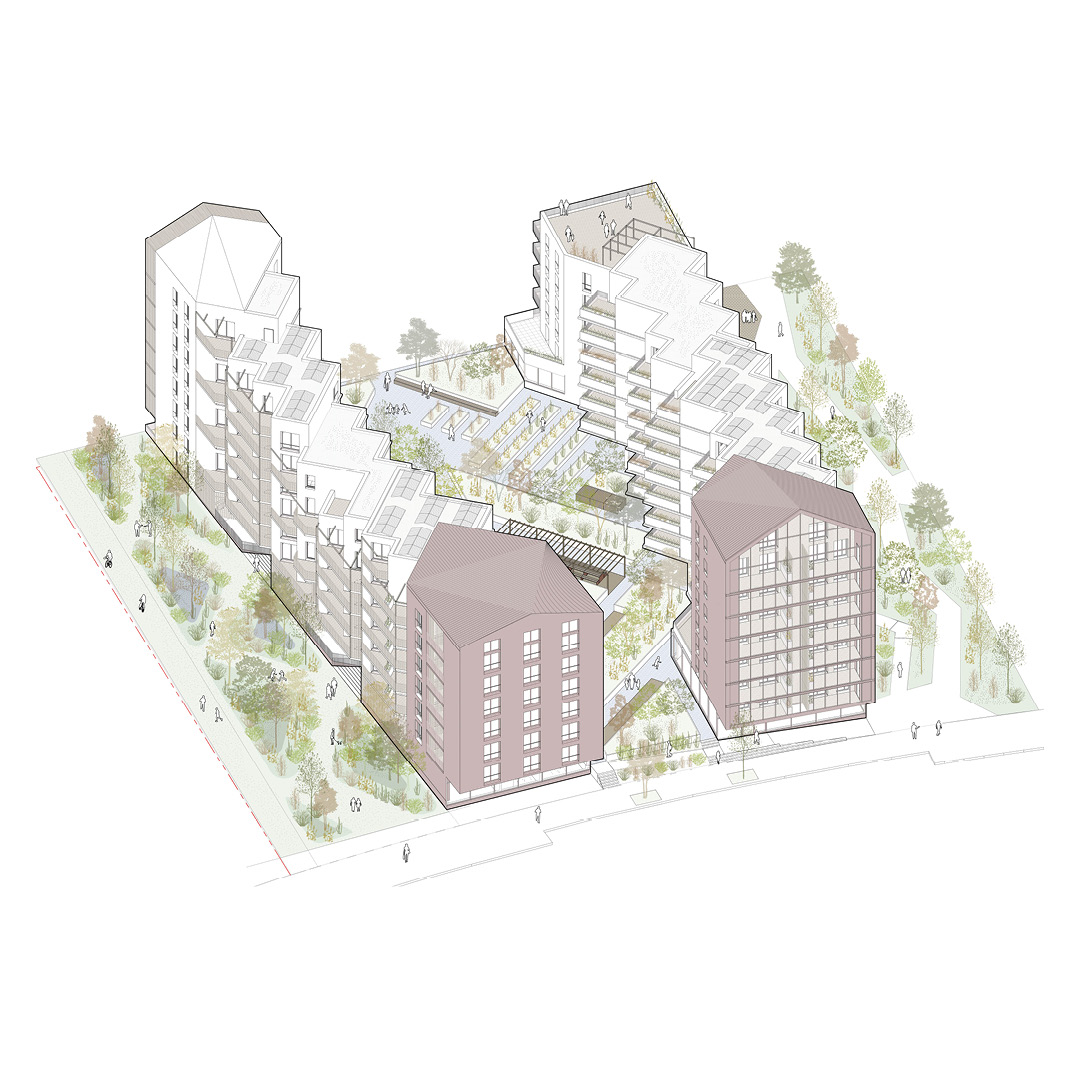 in contact with the
comfortable nature
Living in contact with and as close as possible to nature: this is the first pillar that guided the design of the two buildings. In order to avoid facing each other and to get the most beautiful views to the nature, all the houses are facing the banks of the Bohrie river in the north and the great landscape in the south.
The landscaped core of the block, structured by a central axis, is densely vegetated and plays an essential role in the summer comfort of the inhabitants. The wild garden is a contemplative space of full nature, of shaded freshness, support of an important ecosystem and drawn by the path of the water.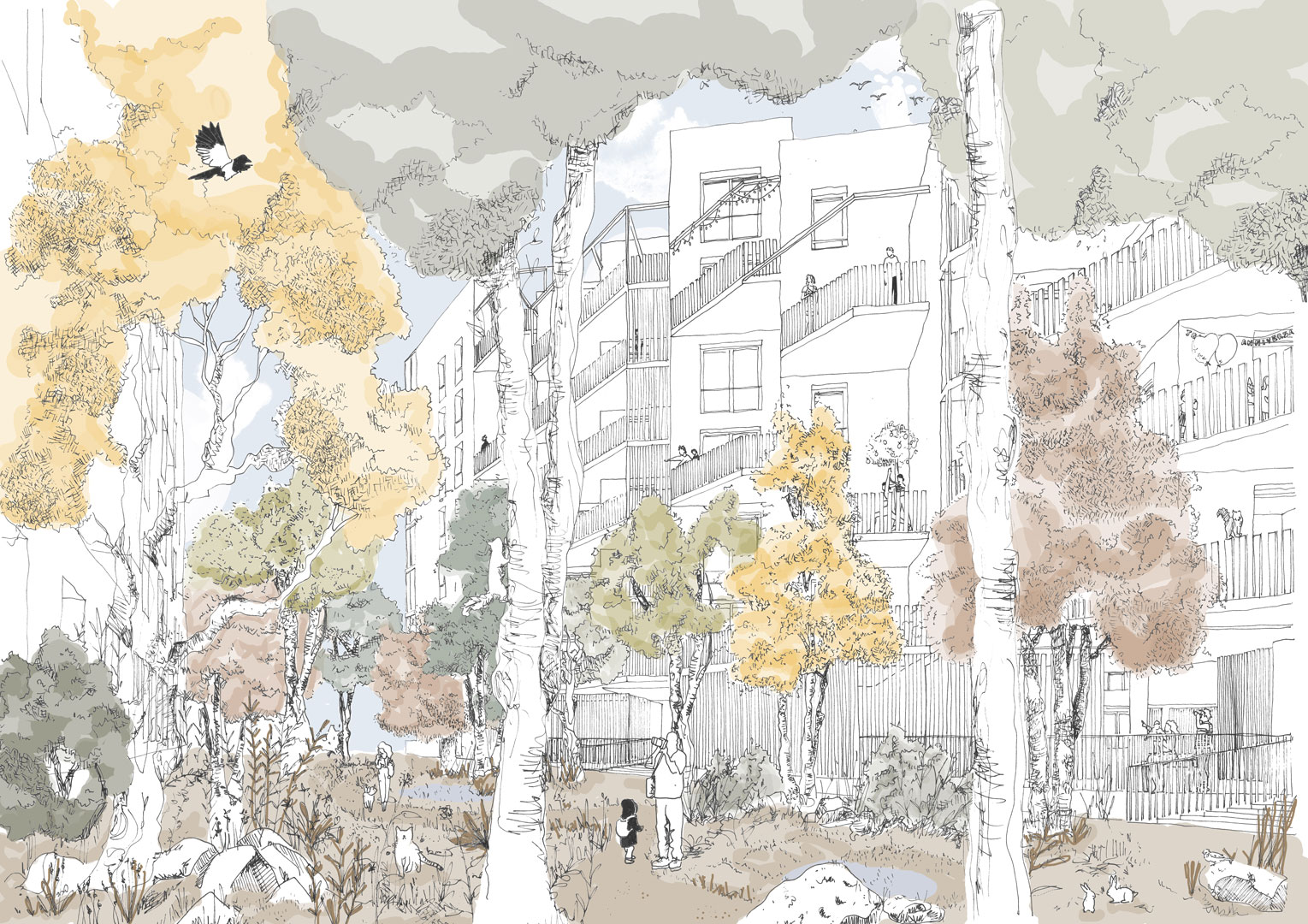 200%
high quality of use
At the heart of the agency's research and design for the past 20 years, ANMA offers here a project designed for the highest quality of use. All the sliders of the domestic quality of life have been pushed to the maximum to guarantee the users, the inhabitants, the most functional and comfortable living environment.
The apartments are walk-through, have outdoor spaces that can accommodate a table and four chairs, they are equipped with storerooms used as laundry, scullery, dressing room or storage. The kitchens are separated from the living room and can be partitioned. The daytime areas are systematically oriented to the southwest and the nighttime areas to the east.
The vertical corridors are naturally lit and the roofs are accessible and shared, planted with vegetation or supported by photovoltaic panels.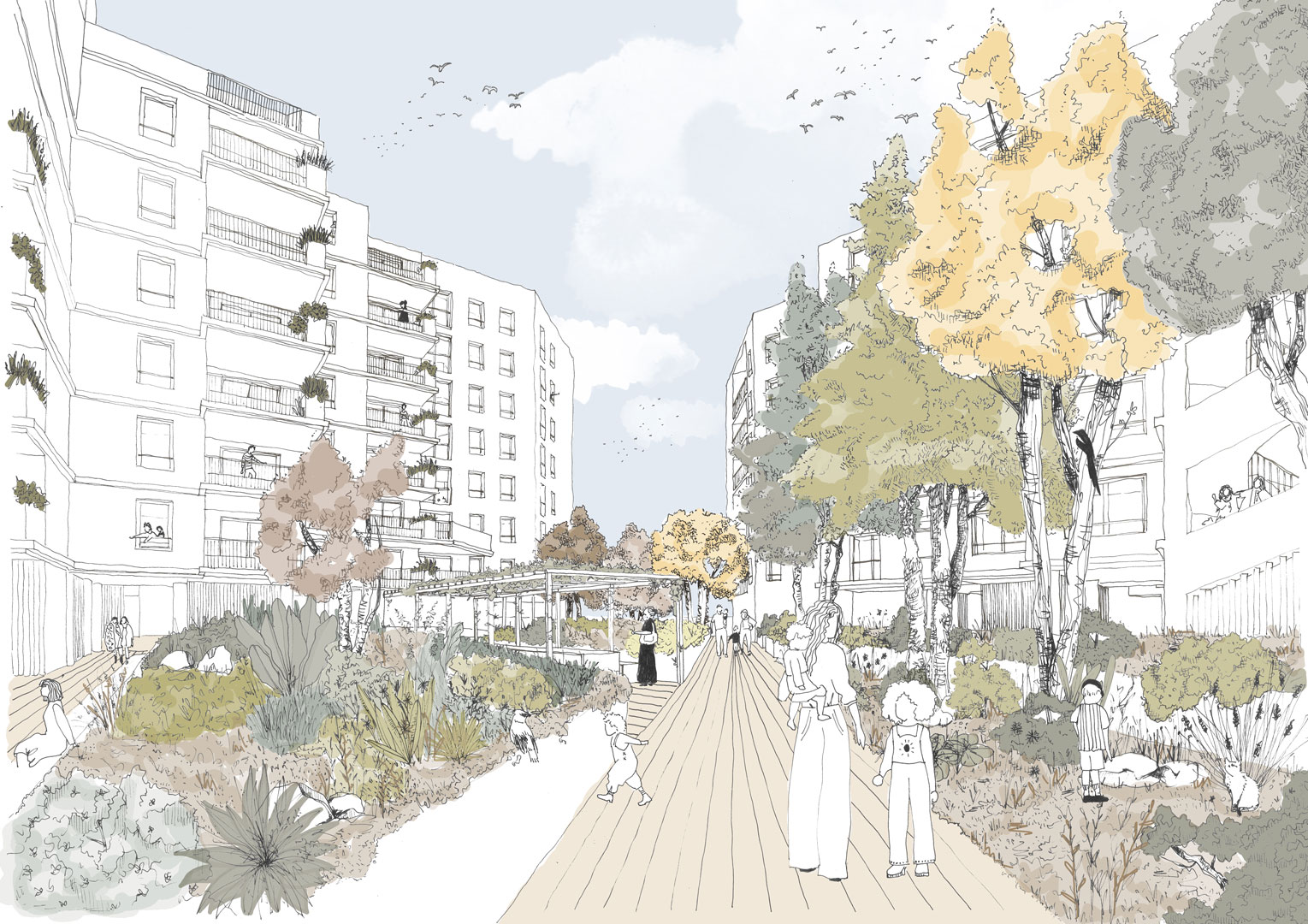 vernacular response
site architecture
Anchored in its context and designed according to vernacular architecture, the project revisits traditional local morphologies and materials. It thus ensures a contextual articulation between the Bohrie alleys and the nearby suburban fabric.
Double-sloped roofs, half-timbered winter gardens, lime renderings and aluminum joinery in reference to the Vosges sandstone color, vertical circulation in the open air, guardrails and wood clerestories… are all contemporary reinterpretations of the architectural markers participating in the identity of the local heritage.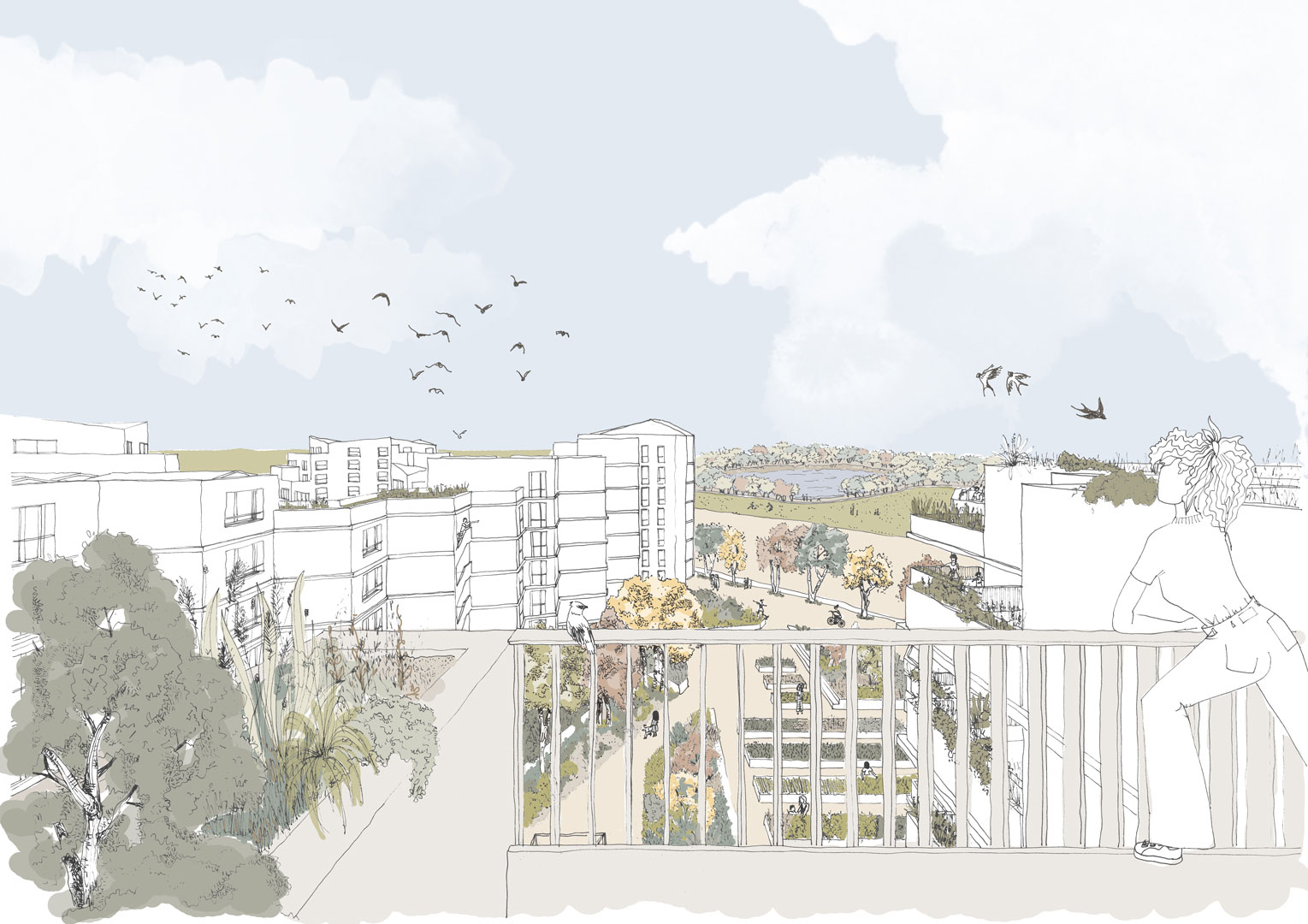 PROJECT TEAMS
STATUS On-going research
PROJECT MANAGEMENT
Architecture : ANMA Architectes Urbanistes
Landscape : Françoise Maire
Structure : Callisto Ingénierie
Fluid, energy : Sextant Ingénierie
Economy : Echoes
User's assistant : Metamine
Reuse : L'Atelier des Curieux
COMPETITION
Albane Viateau
Marie-Alix Gourlet
Lena Cissé
STUDIES
Albane Viateau