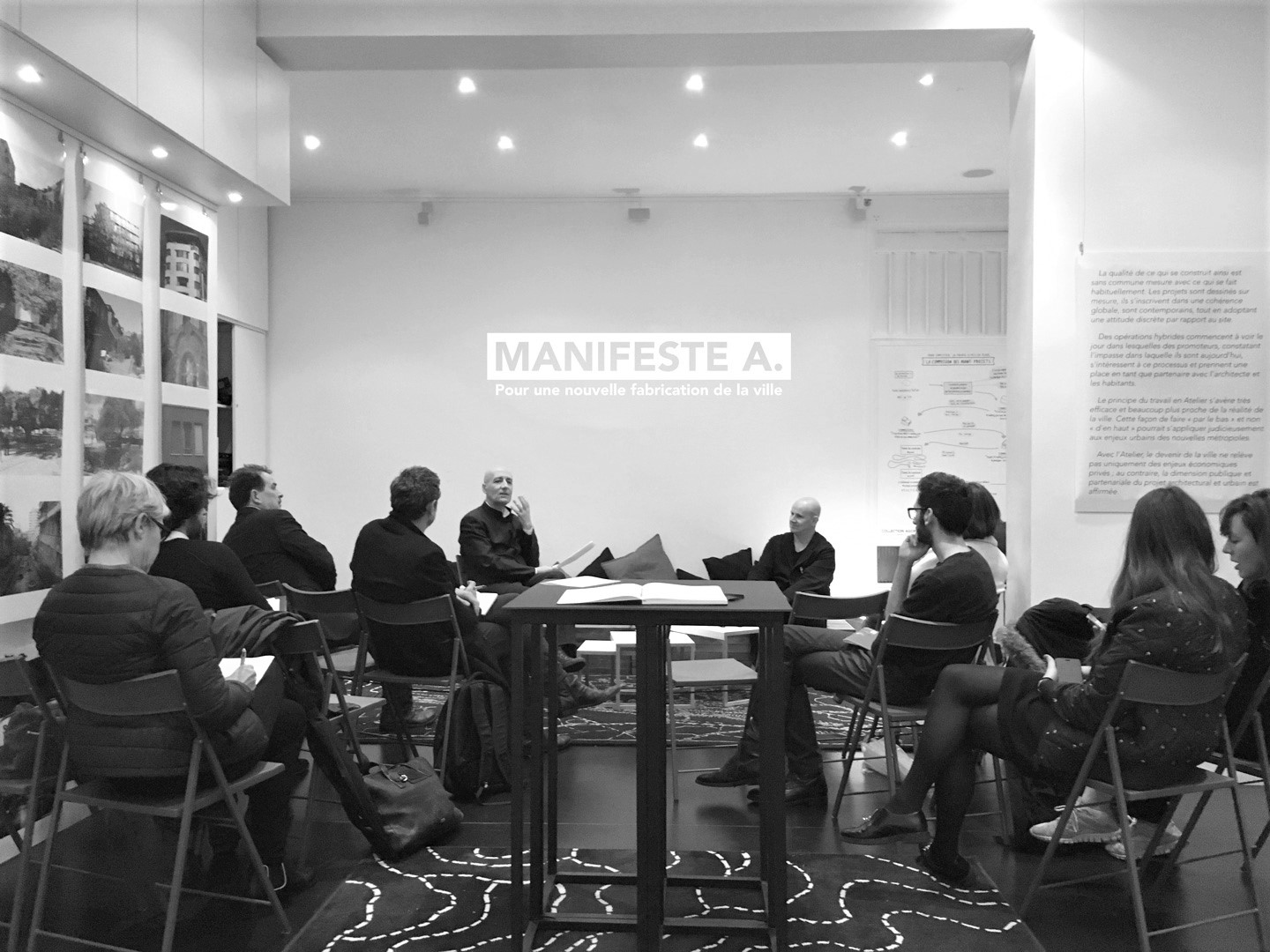 A CLEAR STAND
Manifesto A., signed by a hundred professionals, is an essay on the new methods of city making.
It offers a "new way of doing things" that is available at different scales of the city, building and housing. It shows how in Bordeaux, Lille or Rennes, the agency iterates a process of co-production of the city.
Click here to read Manifeste A.

AUTHOR
ANMA
PUBLICATION
French
2016
THE PETITIONERS
1. Nicolas Michelin, associate urban planner, ANMA 2. Cyril Trétout, associate urban planner, ANMA 3. Michel Delplace, associate urban planner, ANMA 4. Brice Chapon, associate architect, AJAP 2012, PARC 5. Emeric Lambert, associate architect, AJAP 2012, PARC 6. Bernard Bühler, architect urban planner 7. Jean-Louis Violeau, sociologist, professor at ENSA Paris-Malaquais, director of the Architecture-Culture-Society laboratory (CNRS UMR Ausser) 8. Martin Duplantier, urbanist architect 9. Benjamin Drossart, associate architect, DNDARCHITECTES 10. Guillaume Relier, associate architect, R architecture 11. Alice Wijnen, associate architect, laureate AJAP 2014, R architecture 12. Philippe Croisier, associate architect, Atelier du Pont 13. Adrien Dumont, associate architect, Colomer Dumont 14. Maria Colomer, associate architect, Colomer Dumont 15. Françoise Raynaud, associate architect, loci anima 16. Ludovic Blanckaert, associate architect, Béal & Blanckaert 17. Antoine Béal,associate architect, Béal & Blanckaert 18. Sophie Delhay, architect 19. Mathieu Laporte, associate architect, Hondelatte Laporte Architectes 20. Raphaelle Hondelatte, associate architect, Hondelatte Laporte Architectes 21. Anne-Cécile Comar, associate architect, Atelier du Pont 22. Dominique Marrec, associate architect, ECDM
23. Emmanuel Combarel, associate architect, ECDM 24. Frédéric Bonnet, Grand Prix national de l'urbanisme 2014, Obras 25. Djamel Klouche, architect, l'auc 26. Philippe Rousseau, architect 27. Pascal Grabli,associate architect, CELNIKIER & GRABLI 28. Marion Pierre, interior designer 29. Xavier Barrère, associate architect, Moca atelier d'architecture 30. Patrice Gardera, architect 31. Eudes Bonneau-Cattier, architect 32. Sylvain Marty, architect, V2S architects 33. Antoine Chassagnol, associate urbanist architect, EXP architects 34. Nicolas Moskwa,associate urbanist architect, EXP architects 35. Maxime Vicens, associate urbanist architect, EXP architects 36. Olivier Bocquet, associate architect, Tangram architects 37. Romain Brochard, architect, ANMA 38. Cédric Barbet, associate architect, vb-lab 39. Michèle Laruë-Charlus 40. Ivan Le Garrec, associate architect, Daufresne, Le Garrec & Associés 41. Karen Le Bris, architect, l'atelier.architectes & ingegnieurs 42. Christian Van Hoo, architect 43. Claire Bertrand, associate architect, AIA architectes 44. Marine de la Guerrande, associate urbanist architect, Think Tank 45. Pascal Chombart de Lauwe, professor ENSA Belleville, associate architect, Tectone 46. Evrard Archiae, urban planning architect 47. Jean-Charles Huet, architect 48. David Devaux, associate architect, DDA 49. Gabriela Salvatella, architect 50. Alice Perugini 51. Catherine Pierre, journalist 52. Olivier Palatre, architect 53. Itamar Krauss, architect 54. Hugo Christy, journalist 55. Gilles Davoine, journalist
56. Ourania Vivien, communication manager, AHA 57. Julien Miniou 58. Juliette Moreau 59. Sonia Cortesse 60. Thierry Coulange 61. Caroline Poulain, architect, l'auc 62. Bertrand Segers, artist 63. Antoine Carel 64. Pierre Champenois, architect 65. Pascal Langrand 64. Pierre Champenois, pastry architect 67. Fouchel Délia, 28 ans Paris, entrepreneur 68. Matthieu Poitevin, architect, CS architecture 69. Jean-romain Munvez, associate architect, Atemps architecture Ajap 2012 70. Sylvain Pierre, associate urban architect, Agence Urbeo 71. Gaston Tolila, associate architect, Atelier d'Architecture Tolila+Gilliland 72. Ludivine Auvray, architect 73. Michel Guémy, City Activity Manager , Ingérop Management 74. Gaël Le Nouëne, associate architect, Ateliers O-S Architectes 75. Mathias Rollot, Doctor of arcitecture, cofounder of LAMAA 76. Olivier Arene, associate architect, agence 2/3/4 77. Clément Blanchet, architect 78. Lharbi Merhoun, architect 79. Clémentine Thierry, urban architect converted into operations manager – SAEM aménagement 80. Clément Leroy, associate architect, Bléas & Leroy architectes 81. Jean-Pascal Bruant, architect 82. Florent Auclair, urban architect 83. Mirco Tardio, associate architect, Djuric Tardio Architectes 84. Caroline Djuric, associate architect, Djuric Tardio Architectes 85. Pascal Berthelot, associate architect, BMC architecture 86. Damien Guiot, architecte WONK ARCHITECTES 87. Isabelle Paoli, associate architect, Rendez-vous