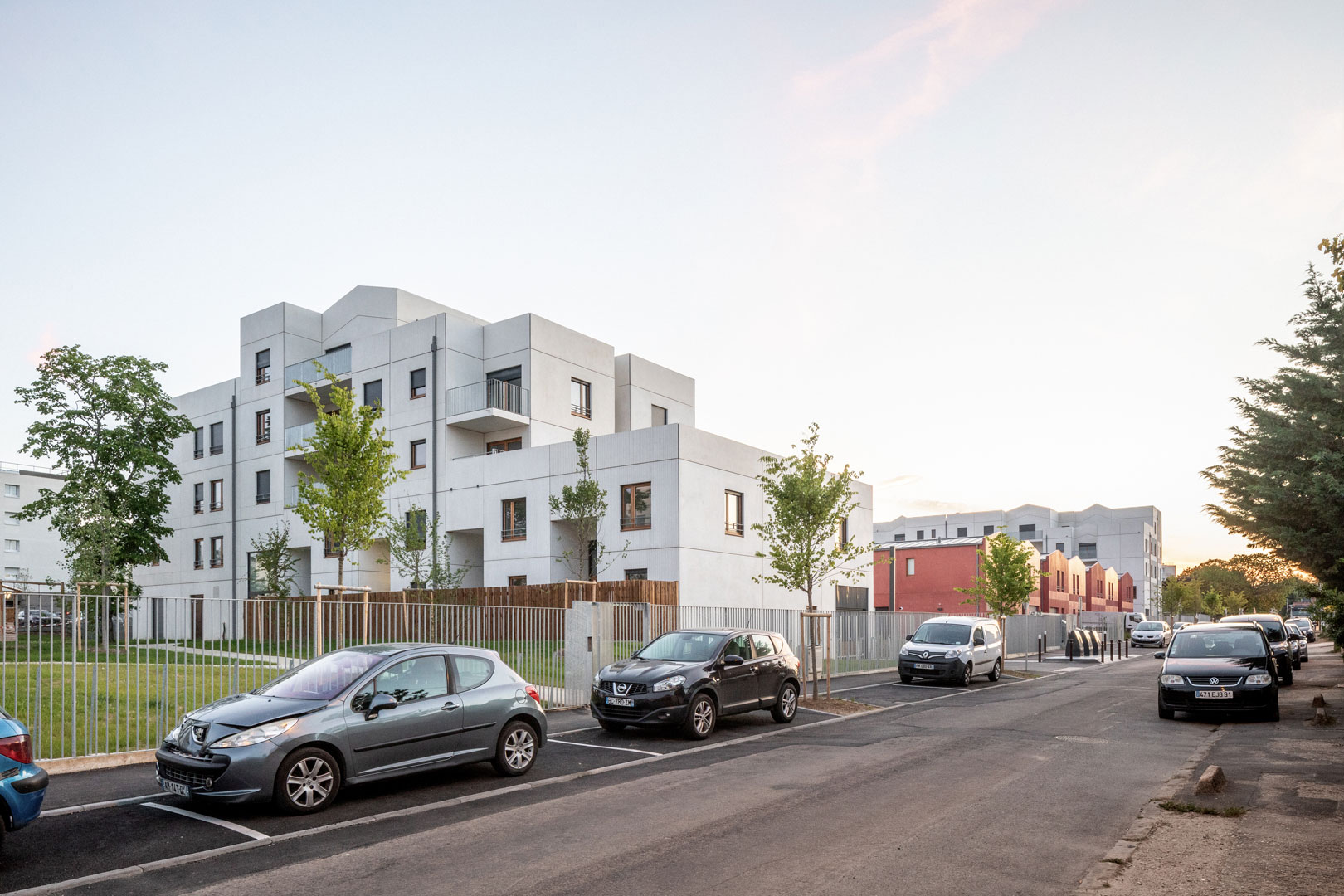 courtyards, gardens and
urban landscape
The master plan of the rue du Progrès plot wants to create disruptures in the alignment with the street to break the bar effect of existing buildings. The agency thus offers private pedestrian crossings perpendicular to the track interrupting the line of the street. They create direct access and street addresses for all buildings located behind the plot. This urban layout avoids the "rear entrance" effect and introduces the theme of alternation, between courtyards and gardens structuring the new urban landscape.
A gorgeous and contemplative landscape takes place at the heart of the project in the form of two large south-facing gardens between the individual and intermediate accommodation, with two edging vegetable gardens. A central garden preserving the existing trees is openly landscaped and introduces collective uses such as children's playgrounds and rest areas.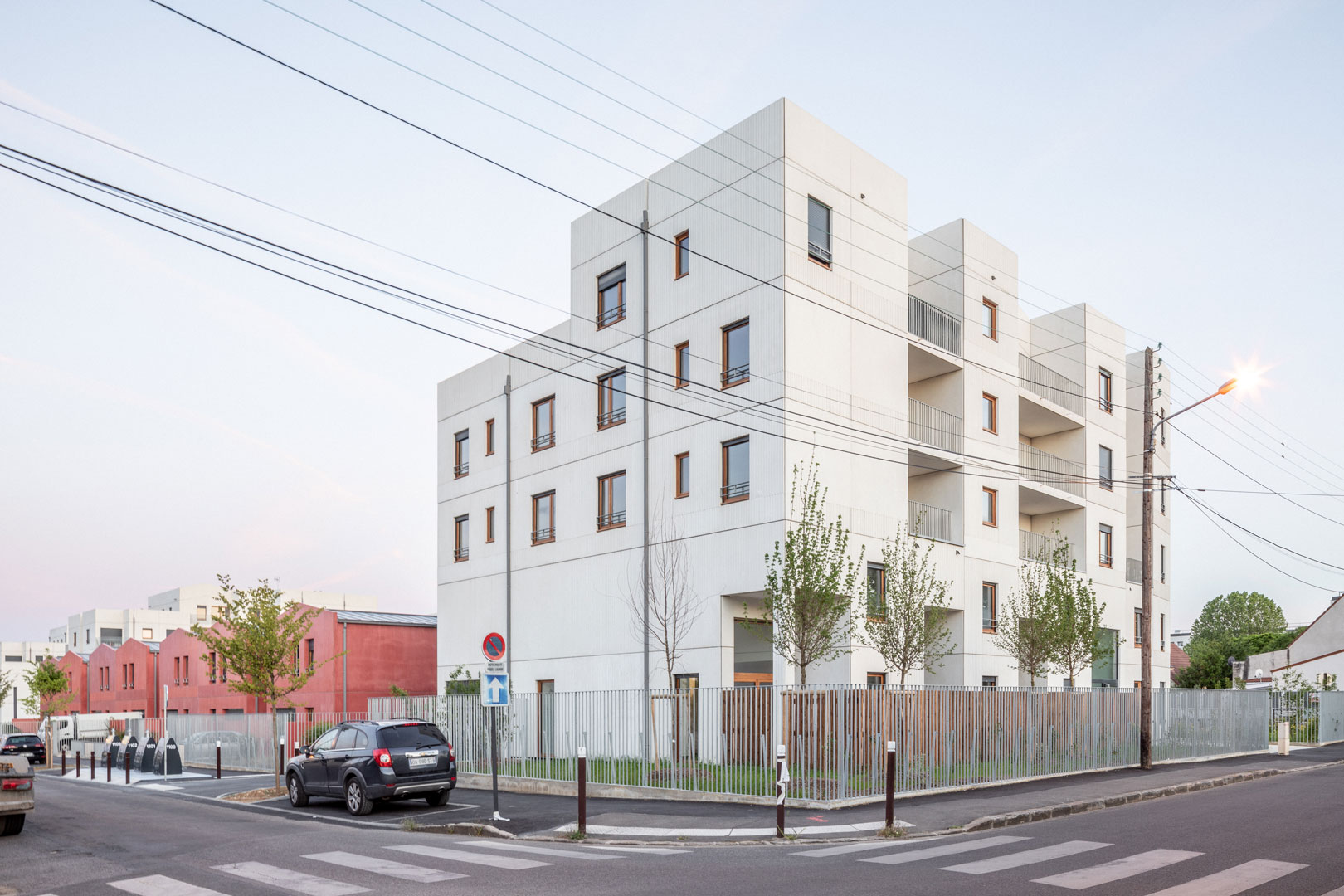 three types
of housing
The project presents collective, intermediate and individual housing where each building conveys its specificity in order to create volumetric and plastic diversity. The double pitched roof with large centered bays is found, however, at all scales, from single-family houses to the high ridge of collective buildings.
A custom-designed skyline has been set up to identify this new block, especially from the crossroads on rue du Docteur Roux or the one on the rue Roger Salengro. Likewise, contrasts of tints and colors for each building are offered. High grade stamped concrete is available in several colors and textures.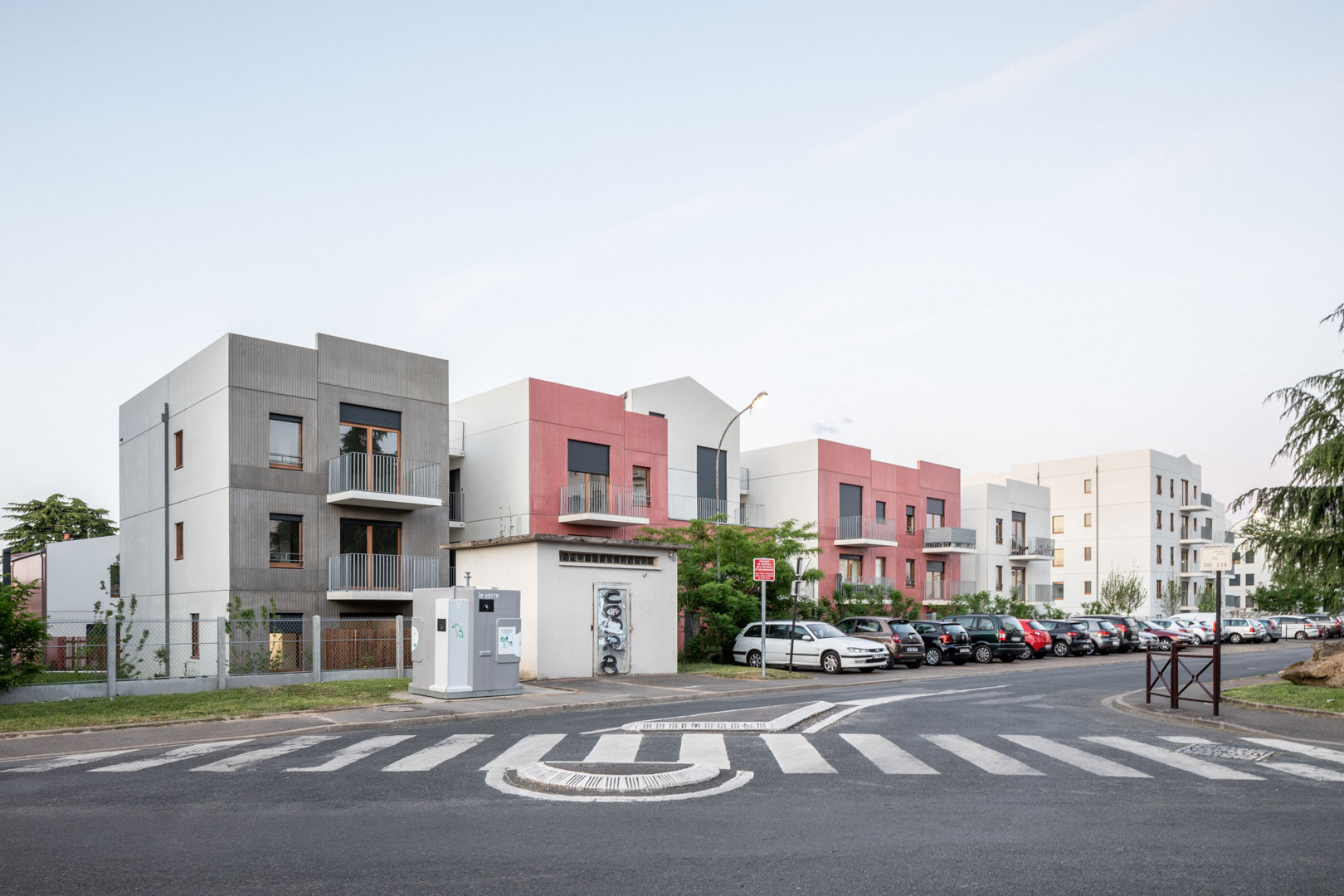 qualitative domestic scale
The architecture of the buildings is deliberately sober and refined. It uses a high grade domestic vocabulary: large living room windows and complementary window for another orientation, low 60cm spandrel for the bedrooms, generous windows in kitchens, alignments of the openings of the interior spaces towards the exterior, double height in the living rooms (sometimes under frame), large balconies terraces…
This classic vocabulary is declined in a contemporary way, it is an ordinary extra that is sought after and not an extraordinary facade.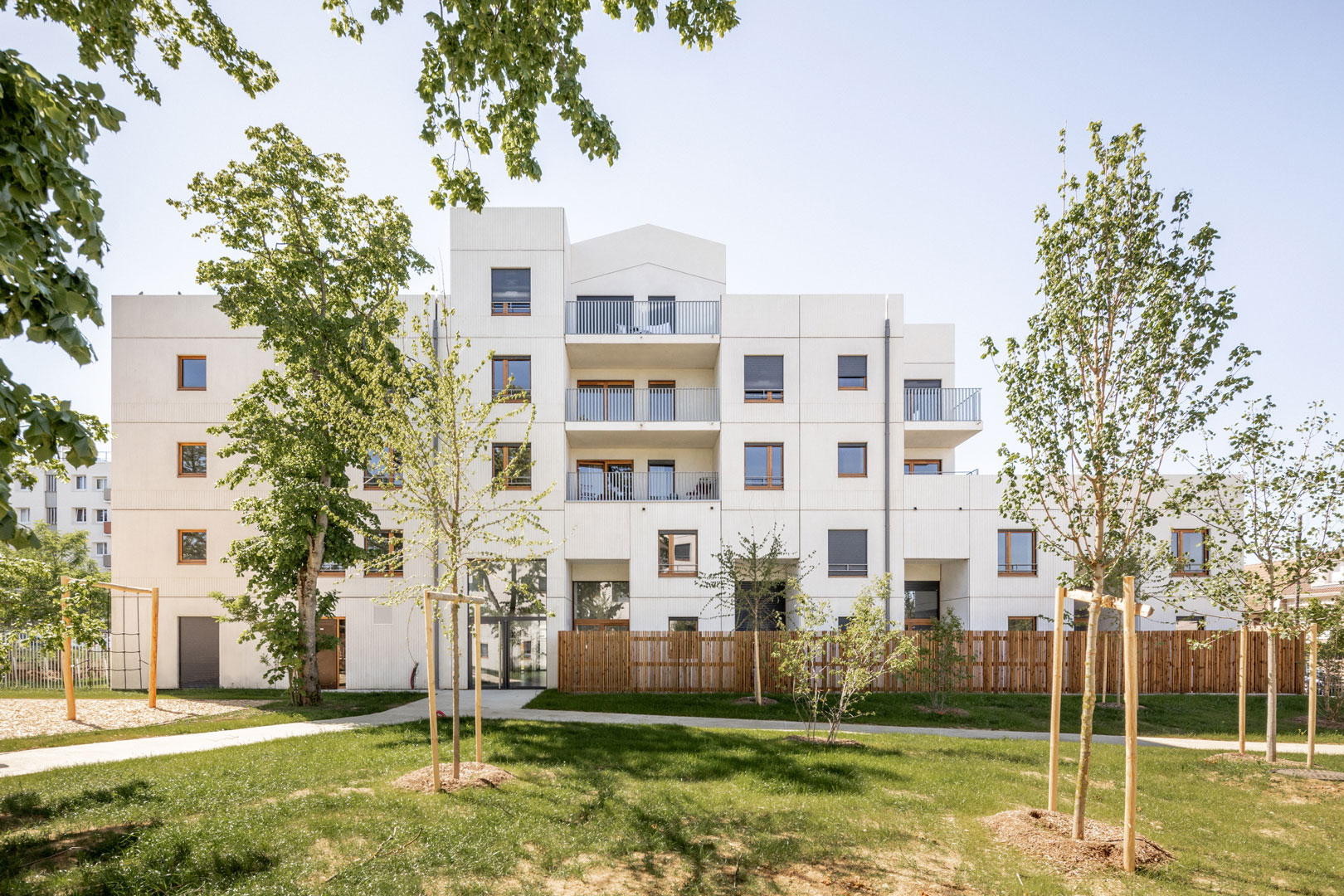 stamped colored
concrete
This project adopts the construction principle of the P2P prefabricated concrete double wall. The exterior face of the wall is always clean because it is cast flat and stamped or colored on demand. Features of facades that are simple but unexpected in their effects are proposed: twin effects of crossing inverted matrices from one side of the buildings to the other. Inverted matrices react differently to light, their aspects change and contrast more or less depending on the hour of the day.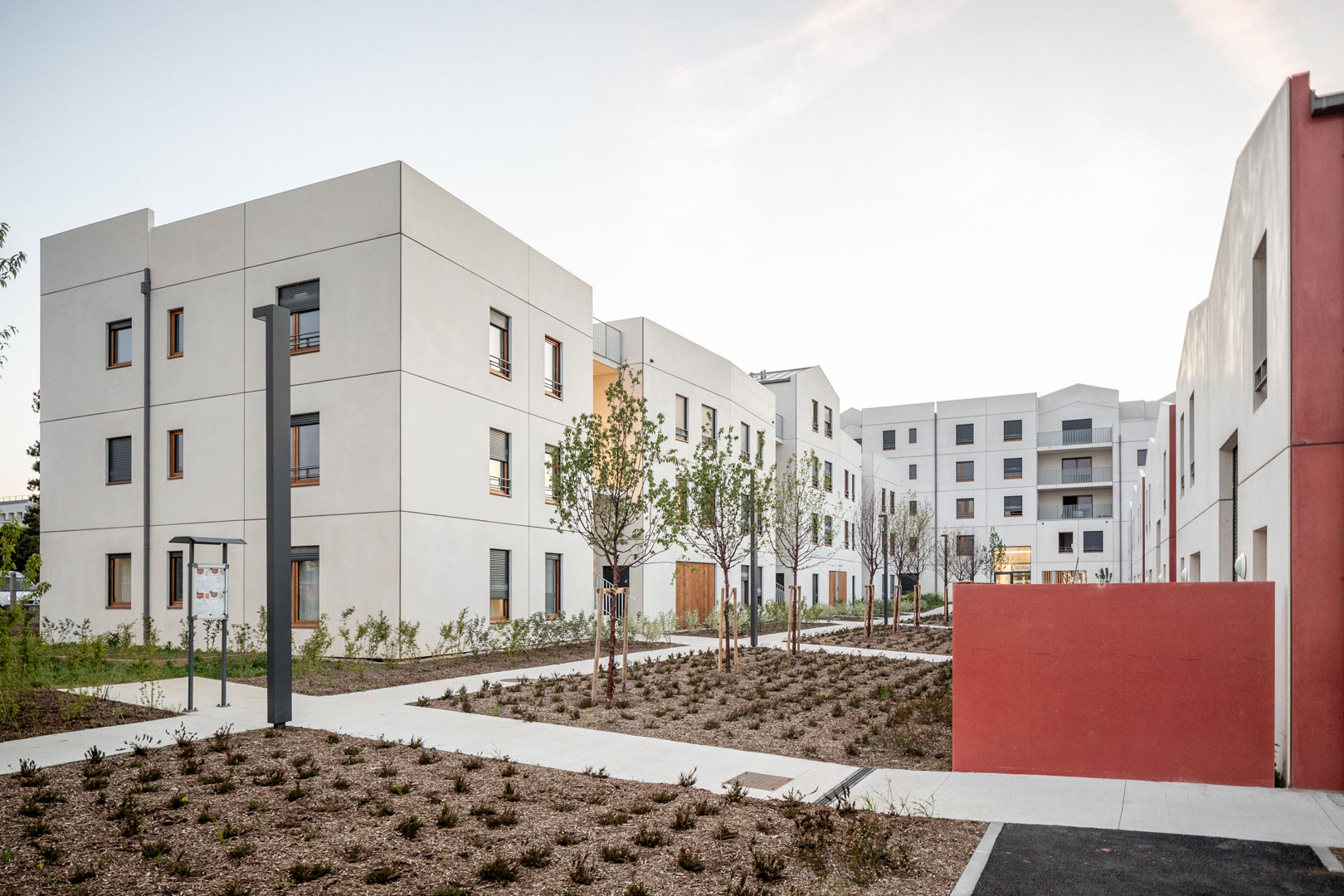 PROJECT TEAM
PROJECT MANAGER
Architect : ANMA
Structure : CMEG
Fluides, electricity, thermic : PCE Tech
Demolition, asbestos removal : LBE
COMPETITION
Olivier Calvarese
Giulietta Brunelli
Philippine d'Avout
Joachim Bussery
RESEARCH
Olivier Calvarese
Giulietta Brunelli
Thomas Orssaud (landscape)
CONSTRUCTION SITE
Guillaume Ribay
Antonio Esteves
Kevin Viel
COMPANY
Entreprise générale : CMEG