at the heart of La Maillerie
The project itakes part in the industrial reconversion operation "La Maillerie" linked to the departure of the logistics activity of the 3 Suisses group: 10 hectares, in the center of the Lille agglomeration, between the Breucq district in Villeneuve-d'Ascq and the city center of Croix, reinvented by ANMA as chief town planner
The site is mainly made up of partially operational logistics buildings and a centralized boiler room for the needs of the Argosyn group. Its northern part is occupied by a parking lot and a few buildings concerned with logistics activity. ANMA is working on three lots totalling nearly 20,000 m² SP of mixed programming. Several lots whose deliveries extend over 2021/2022 are currently under construction. The urban project will be completed by 2024.

lot 1n
The project consists of the construction of two residential homes, located in the north of the plot, and a building of 48 collective housings, on the south side. It presents a progressive north-south trimming from R + 2 to R + 6.
The facades are made of stained concrete, slabs and brick. The housing units are differentiated by two shades of plaque – orange red and red brown – and their facades are punctuated by vertical elements in overhanging veneered bricks.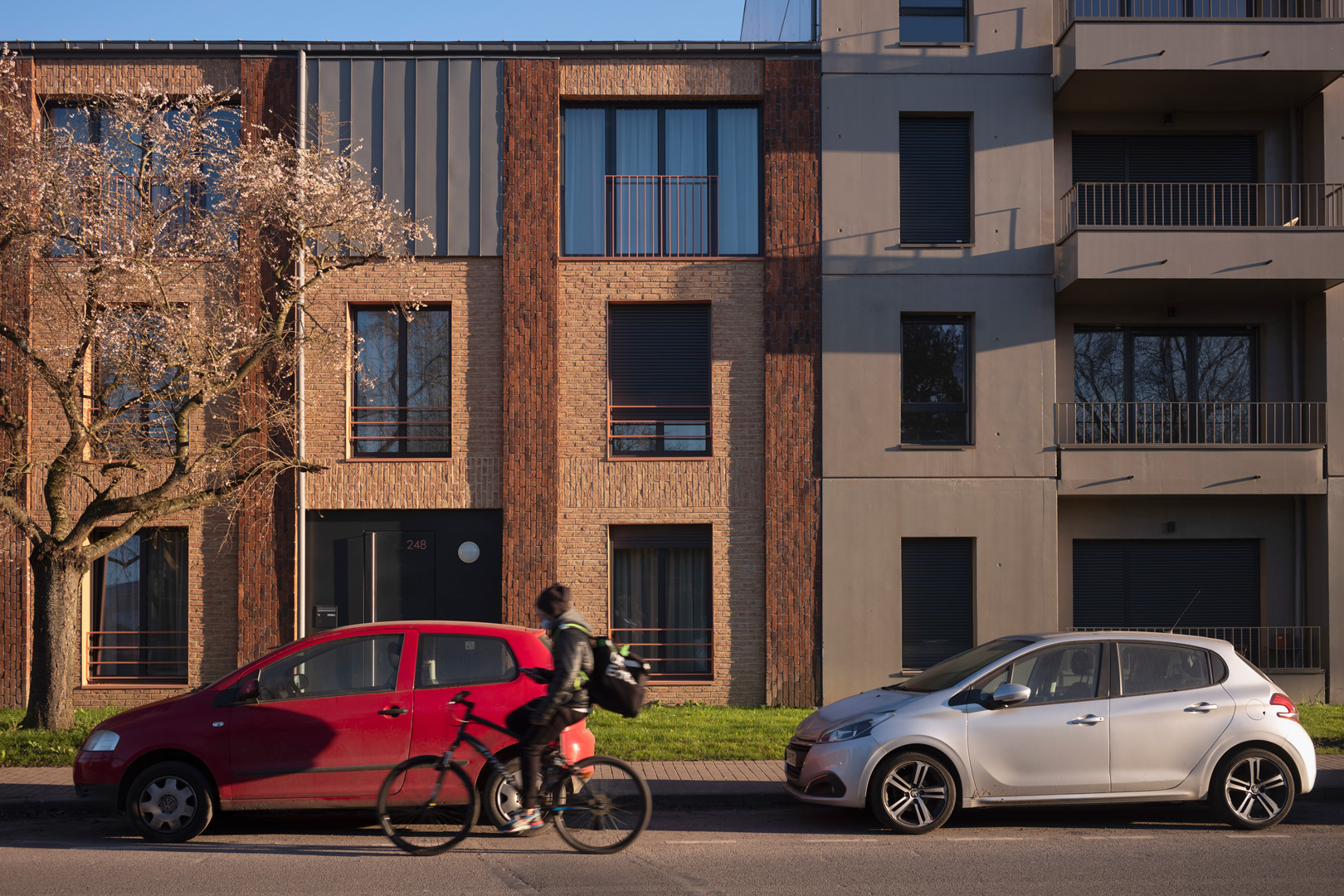 two homes
The apartment building is split into two parts: the first north side with R + 4 and the second, gable on the east / west path, up to R + 6. On the concrete facades, horizontal stripes are materialized as hollow joints. On plate facades, this is placed vertically at the stripe level.
On the plot, 588 m² of open ground green space represents a vegetation rate of 35.6%, higher than the legal provisions. Thus, the housing units on the ground floor on the garden side enjoy a private terrace. The plants are planted mainly along the fences and local species such as field maple are preferred. Two types of plant massif are also planned with hawthorn, red dogwood, viburnum, european privet, honeysuckle and black elderberry.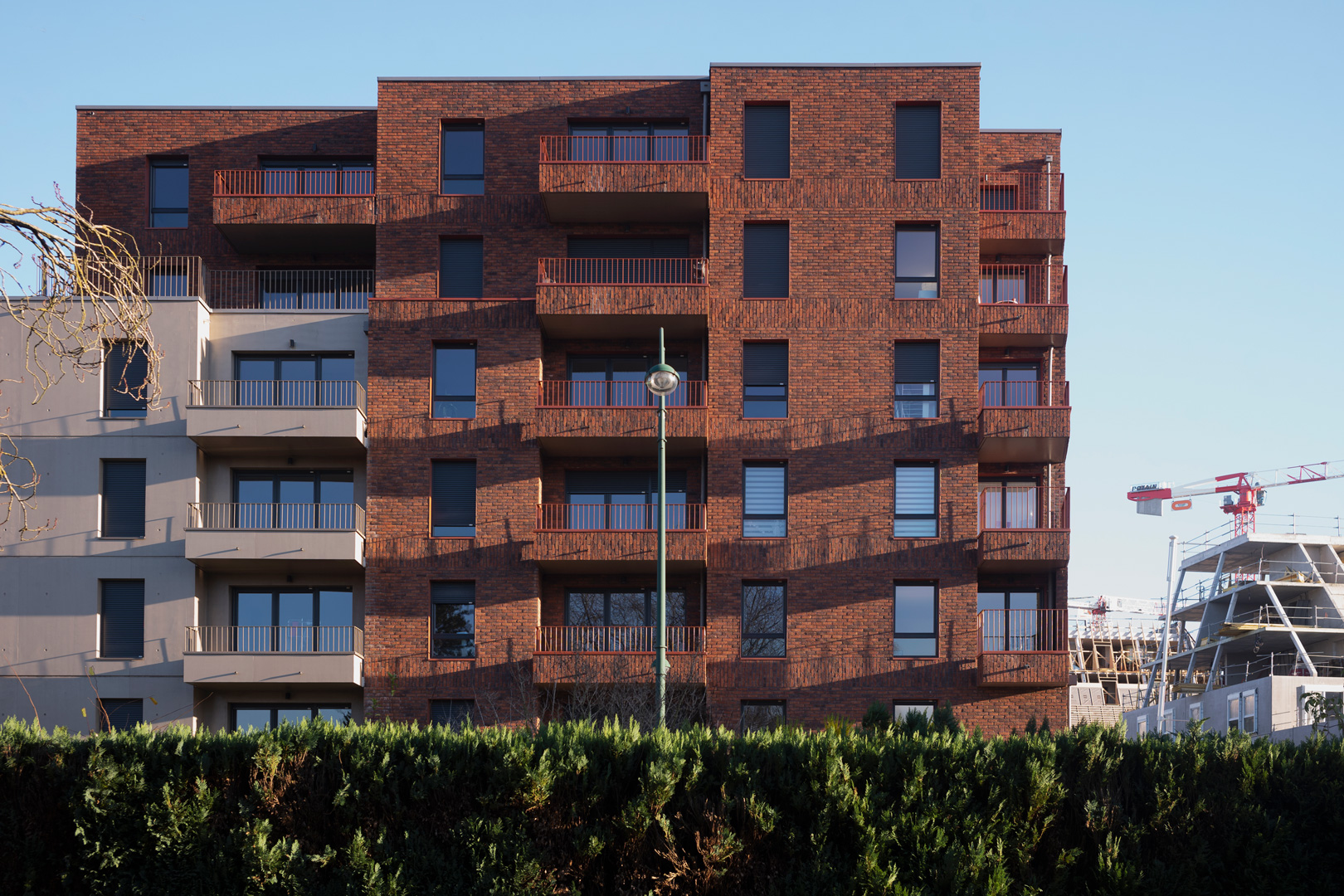 lot 1a
Three naves R + 2 to R + 5, oriented east / west, group accommodation aogether and are linked by ground floors grouping the different activities: bar, dining room, hairdressing salon, laundry, fitness, multipurpose room, library etc. These also accommodate an office for management, a concierge and premises. To follow the altimetry of the pedestrian path along the north facade, the building has several levels of ground floor and a common circulation in a set of ramps connects the reception to the three naves.
128 housing units are distributed over the three naves: 40 housing units (nave A), 41 (B) and 47 (C). Each accommodation has its outdoor space: a balcony upstairs or a ground floor terrace overlooking the garden.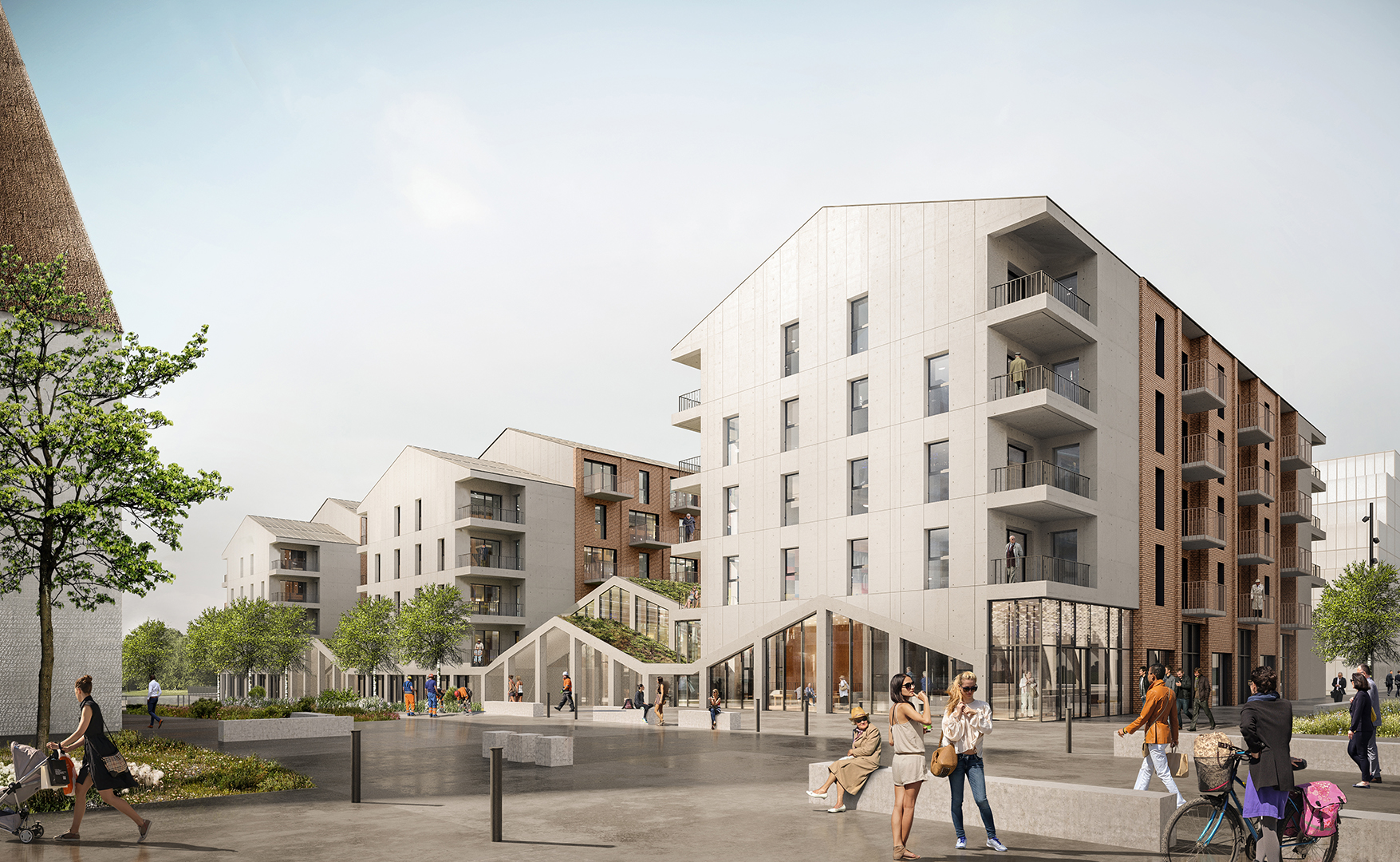 a senior residence
The facades are made of two materials: stained concrete and plate. Each nave is divided into three parts. The south on the R + 4 path as well as the north, lower, are both treated with stained concrete. The part that constitutes the emergence, for its part, is treated in a red-brown plate. Here too, the side facades are punctuated by vertical bricks overhanging.
Here, 816 m² of open ground green space represents a green coverage rate of 23.5% and the landscaped areas are identical to those set up for lot 1N.
PROJECT TEAM
PROJECT MANAGER
Architect : ANMA
RESEARCH
Aurélie Perrin
Clara Soufflet