A BUILDING DESIGNED TO LAST
The site of the new MIN (National Market) d'Azur project, located in the town of La Gaude in the Baronne area, is part of the larger project of the Var eco-valley, ideally located between the mountains and the sea , the plain and the hillsides, directly linked to the city of Nice.
It is based on the unifying principle of "preserving and enhancing the ecological capital of the territory while demonstrating that economic development and ecology can go hand in hand". It is therefore an "eco-MIN" that has been designed: a sustainable building, with a strong integration into the landscape, remarkable energy production, the development of social responsibility and high quality of use.
Through its structural and organizational choices, the new MIN of Azur offers maximum flexibility. The design of the project incorporates the paramount importance of optimizing horizontal and vertical flows for optimum use.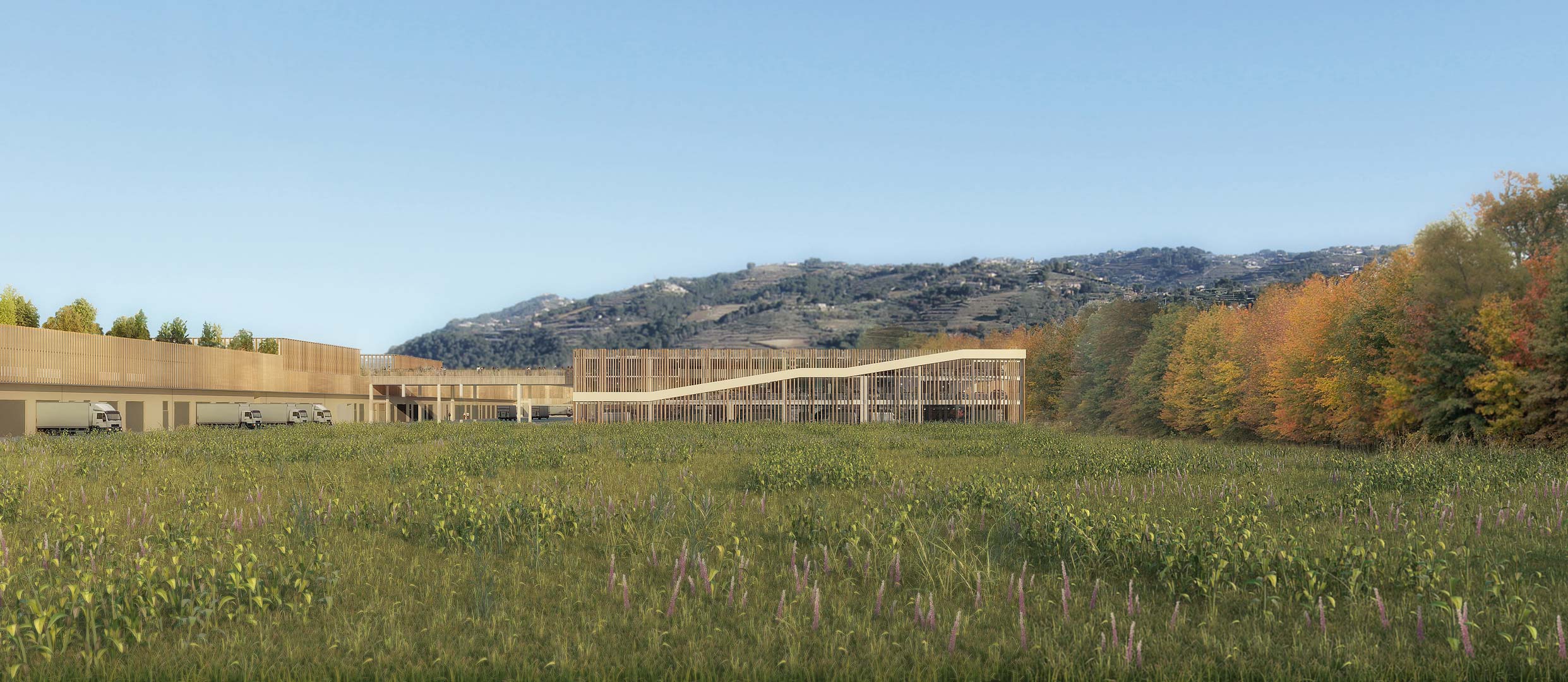 PRESERVING A NATURAL LINK WITH THE VALLEY
The project provides for plant integration, thanks to a controlled and punctual work on the roof vegetation which shapes the image of the project on the scale of the valley but also on the scale of the internal landscape.
The main buildings will thus have a green dynamic which will link the project to its natural environment in the Plaine du Var.
We conceive the fifth facade as a weaving of the site's vegetation: the wood that recalls the trunks of trees with the shrubs on the roof that merge with the valley.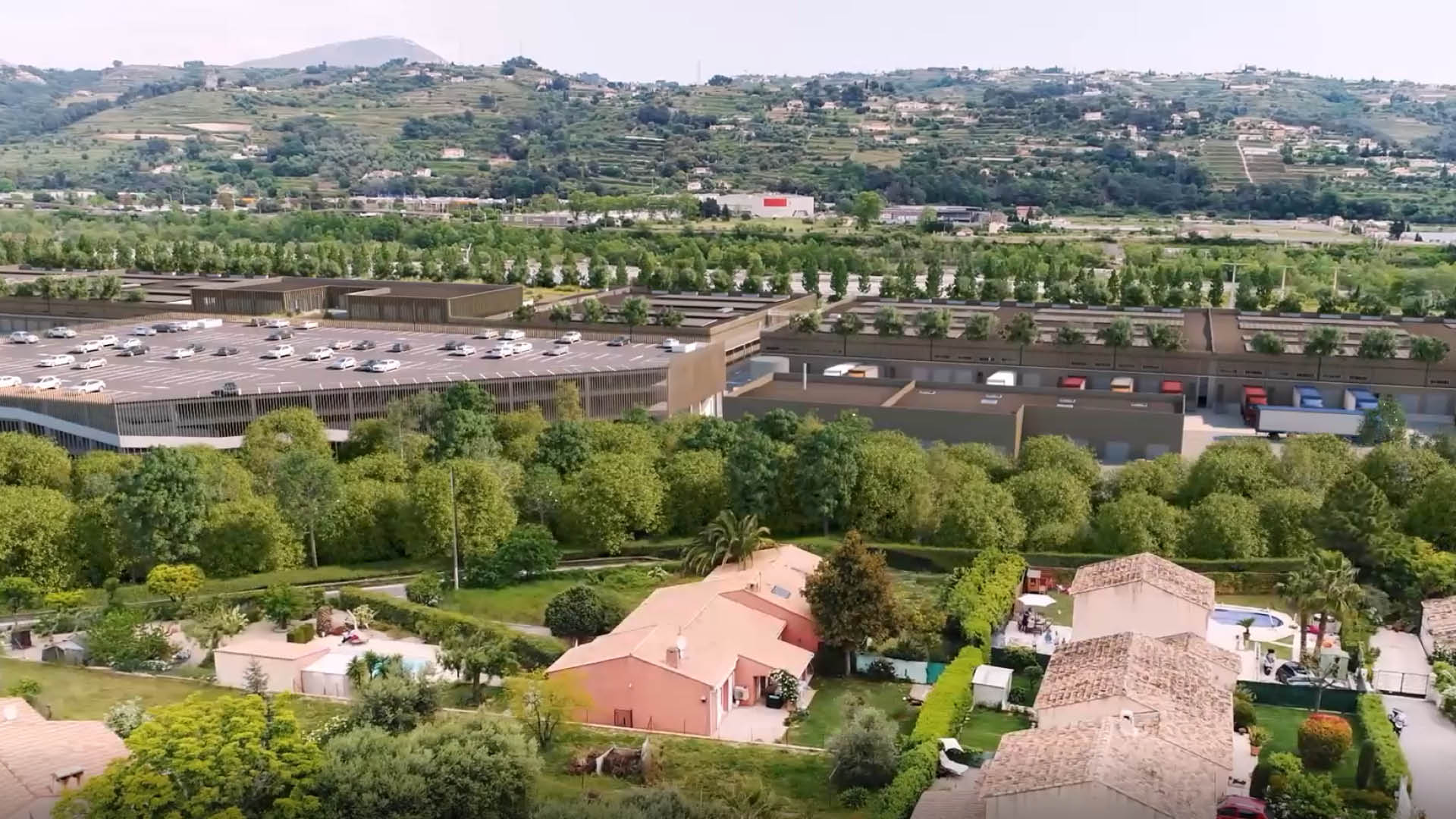 A DIALOGUE BETWEEN DIFFERENT ZONES
The architectural stand distinguishes different zones structuring the site and its modes of attendance.
Activities of the same kind are grouped together in a single building while pedestrian flows between buildings are highly secured.
The buildings of the new MIN d'Azur will include the offices of the Régie, the Distributors, Wholesalers, Producers buildings, a silo car park, a logistics area with the energy building, the two storage / accessories companies, the washing area and the sorting center to the right of the MIN outlet flow.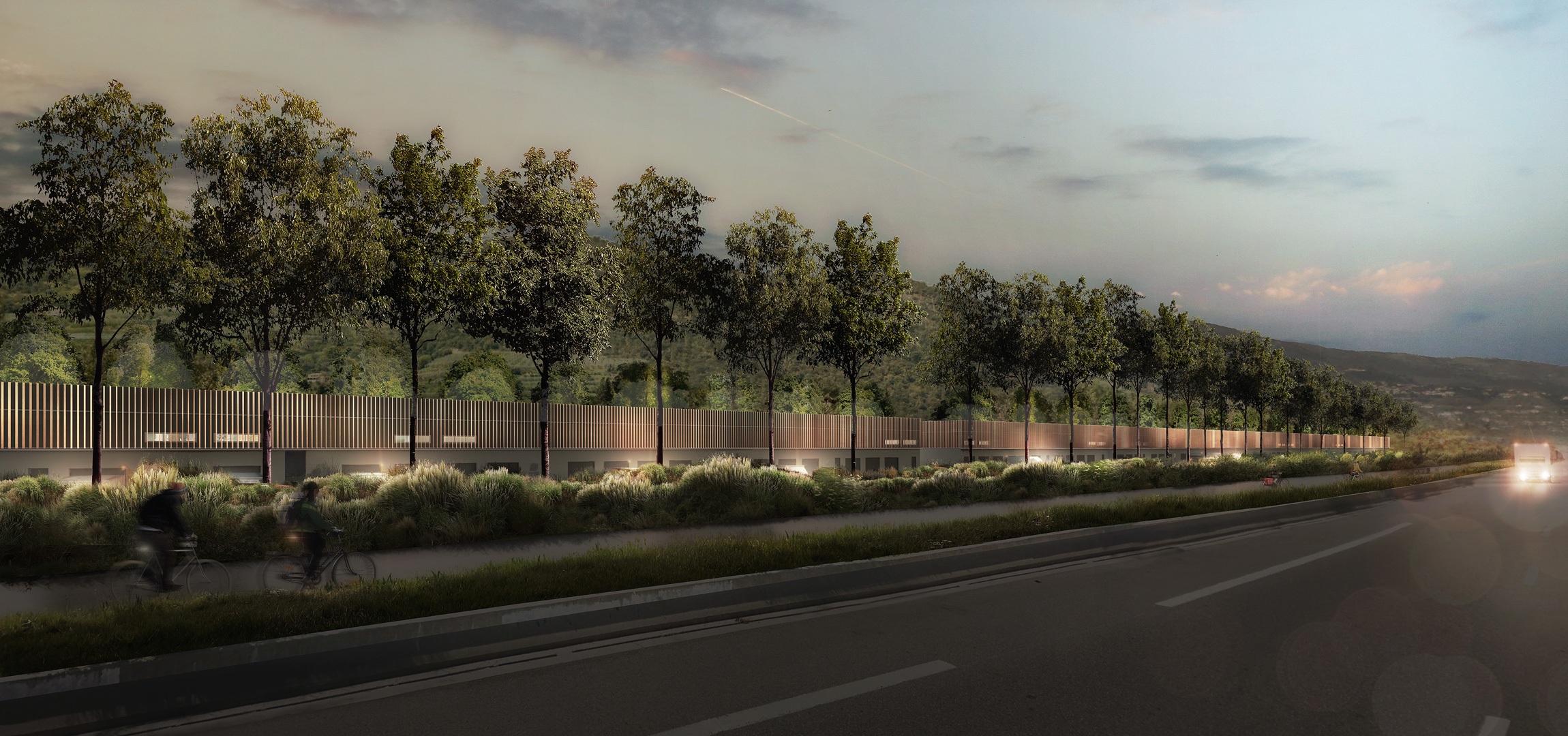 PROJECT TEAM
PROJECT MANAGER
Lead architect : ANMA
Associate architect : ABC Architectes
Landscape : Marta Bianchi
Structure, fluides : Egis Bâtiment
VRD : Egis Ville et Transport
Environment : Diagobat
Logistics advisor : FL Conseil
Ecologist : Eco-med
COMPETITION
Alice Perugini
Paul-Alain Nedelec
Clara Souflet
RERSEARCH
Daniella Avilés
Marco N'Guyen
Laïla Atie
Aimie Calvet
Lucas Rietsch
COMPANIES
Entreprise générale : Bouygues Bâtiment Sud-Est
Energy services company : Dalkia
TECHNICAL SHEET
STATUS On-going research
COMMISSIONED BY
SNMA – Société du Nouveau MIN d'Azur
PUBLIC PARTNER
Métropole Nice Côte d'Azur
YEAR 2022
SURFACE 35 720 m² SP

COST 52 M€ HT
VISUALIZATIONS Paris Render Studio
VIDEO Artefactory – extrait
CERTIFICATIONS Bepos Effinergie, E+C-, Biodivercity,
HQE Bâtiment Durable, CRQE Niveau 1
SEE MORE
Biot, Les Calades de Sophia
Nice, Saint-Isidore kindergarten
Villejuif, Campus Horizon