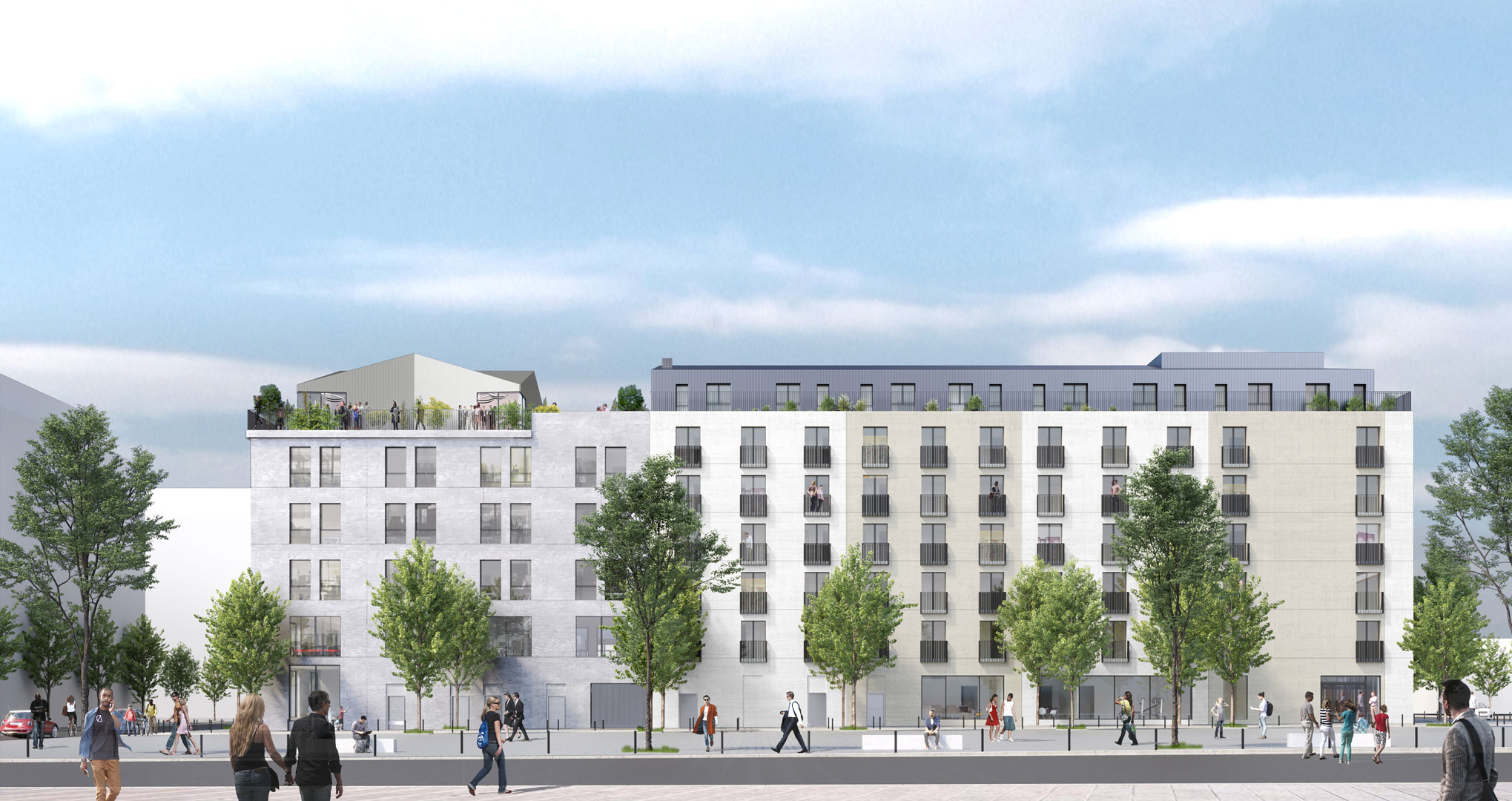 mixed program
tertiary & housing
Delimited to the south by the university center and to the north by an activity zone hosting in particular the MIN Val-de-Loire, the Horizon Maine block is part of the heart of the ZAC Quai Saint-Serge in Angers, pinched between the Maine and the Deux-Croix-Banchais residential area. This is a sector mainly made up of buildings from the 80s and 90s, marked by their inactive ground floors – linked to the risks of flooding in the neighborhood – which reinforce the presence of the car within it.
It is made up of three programs : a building with 28 housing units, a student residence with 150 rooms and an office building on 5 levels. These are complemented by a semi-integrated car park with 55 spaces and a planted heart of the block.
The footprint of the project is determined by the urban reflection that led to the extension of rue Renée Rouchy, which borders the project to the east and offers a visual breakthrough in the heart of the district. The buildings thus respect the buildable heights allowed by the PLU in the alignment and present an attic setback.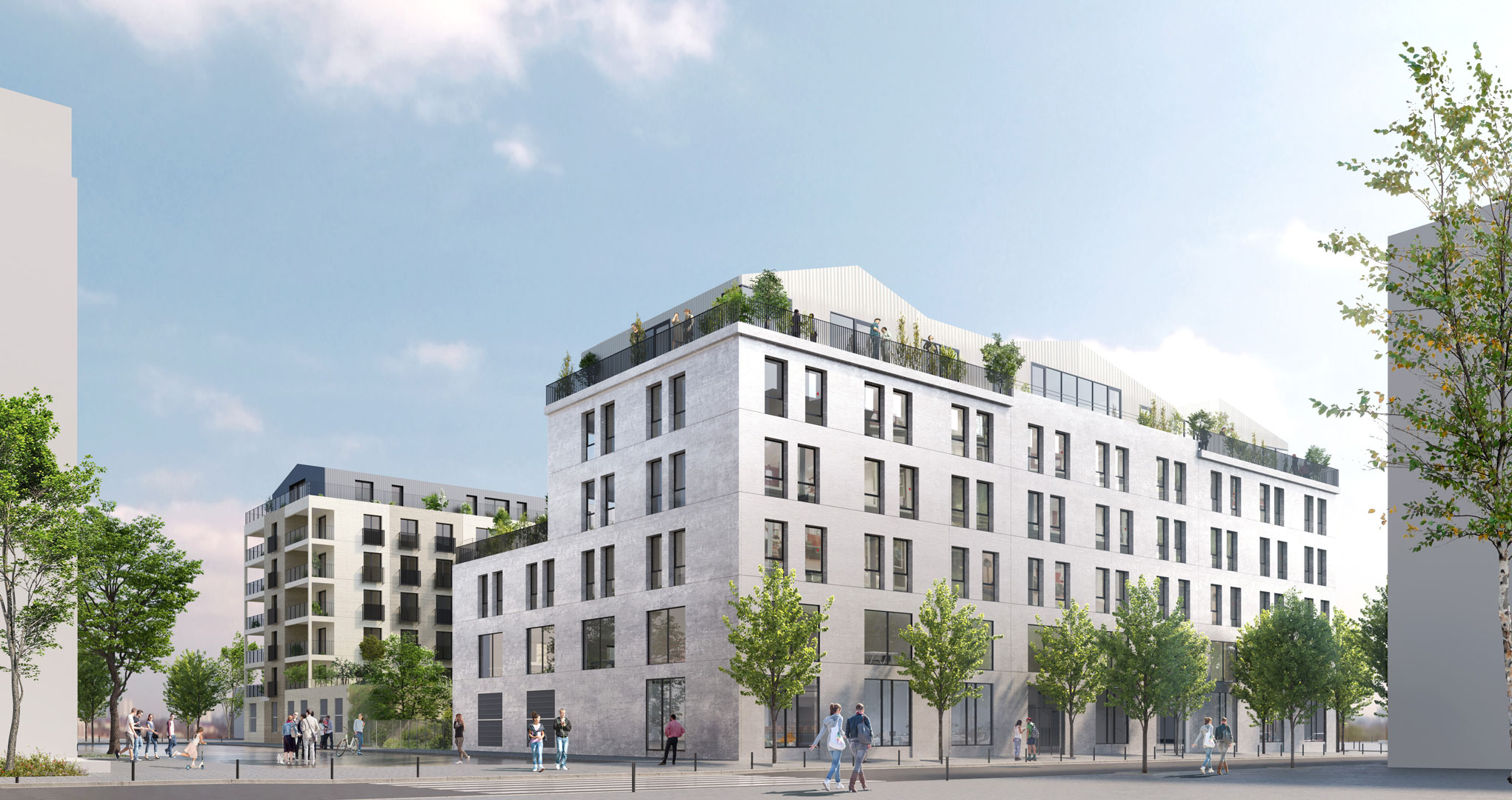 domestic writing
of roofs
The three programs of the block are articulated around the garden in a distinct architectural writing but according to a common language.
This one is voluntarily sober and takes up the domestic codes of the adjoining built architecture. It sits on a generous base and takes up the classic silhouettes of the district's double-pitched roofs.
The tertiary building presents, still in this contextual domestic style, an opaque facade pierced by a regular rhythm of openings, and is distinguished by the silhouette of its attic punctuated by three double-pitched roof profiles. This skyline of double slopes, continued by the attic of the two residential buildings, contributes to the identity of the project and the homogeneity of its reading.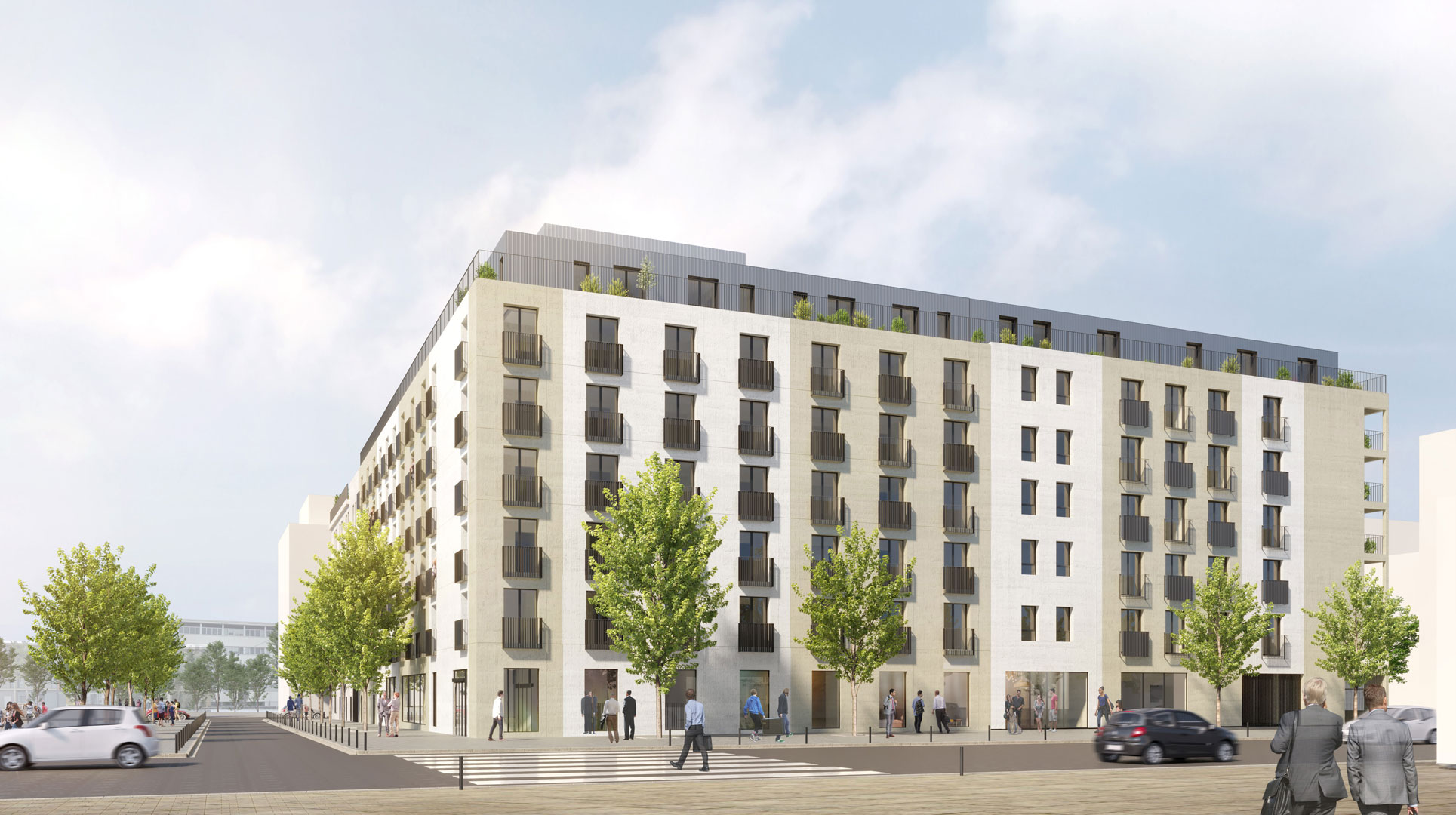 natural floors & outdoor spaces
In contrast to the rest of the district, the project bets on active facades, slightly raised above ground level, to offer real inhabited and active ground floors within the urban course. This approach also makes it possible not to artificialize 100% of the plot and to preserve the paths from water.
At all levels and for all audiences, the project makes it a point of honor to make outdoor spaces available to everyone. Thus the accommodations benefit from generous terraces, the student rooms each have their balcony and the tertiary program has large terraces to transform the workplace into a real living space.
In free plan, the office building is fully modular and can accommodate multiple companies or the headquarters of a large company. The entrance hall, very generous, presents a porosity towards the public space and testifies to the high quality of use of these new tertiary spaces.
PROJECT TEAM
PROJECT MANAGER
Architect : ANMA
Associate architect : Lionel Vié et Associés
RESEARCH
Aurélie Perrin
Jordi Ponomareff
Pol-Alain Nedelec
Camille Gravellier
CONSTRUCTION SITE
Bruno Isambert