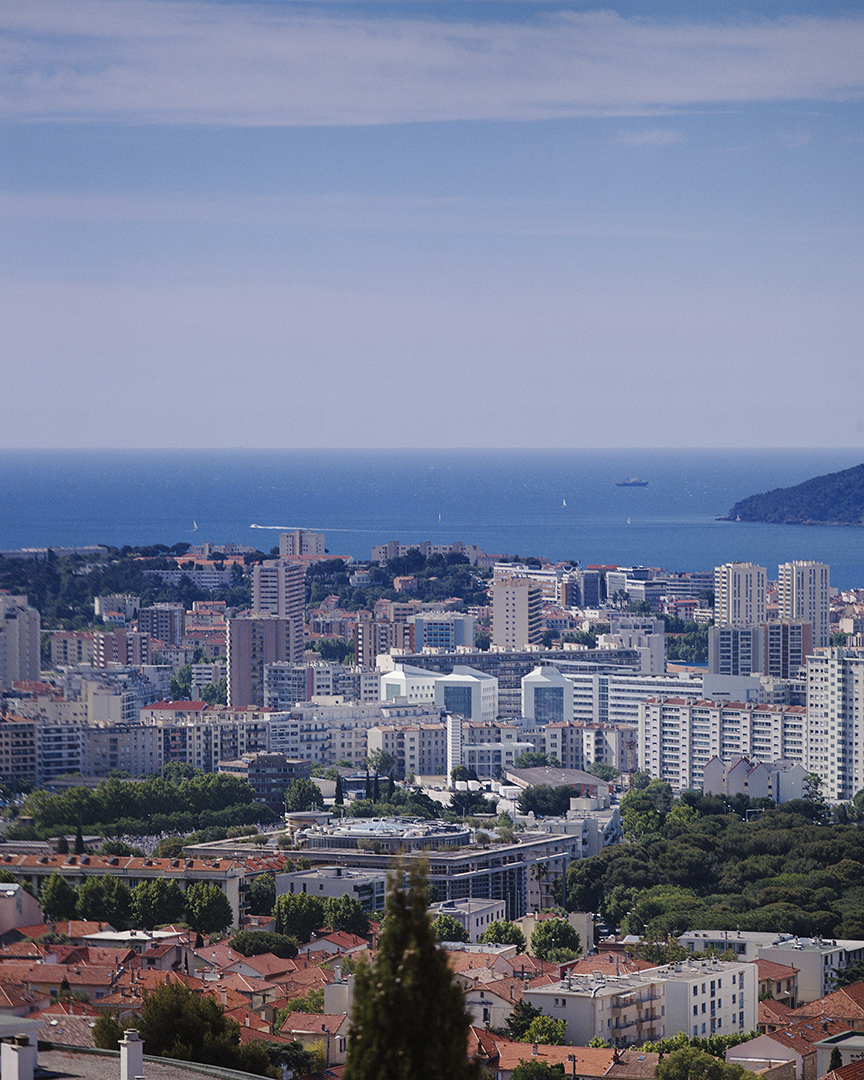 research
at the entrance to the city
The Maison de la Recherche Euroméditerranéenne and the Institut Ingémédia hold a strategic position in the heart of the Toulon Provence Méditerranée metropolitan area. The building punctuates the corner that marks the accessing perspective to the Porte d'Italie. Defined by planted ramparts, it constitutes a symbolic image of the entrance to the city.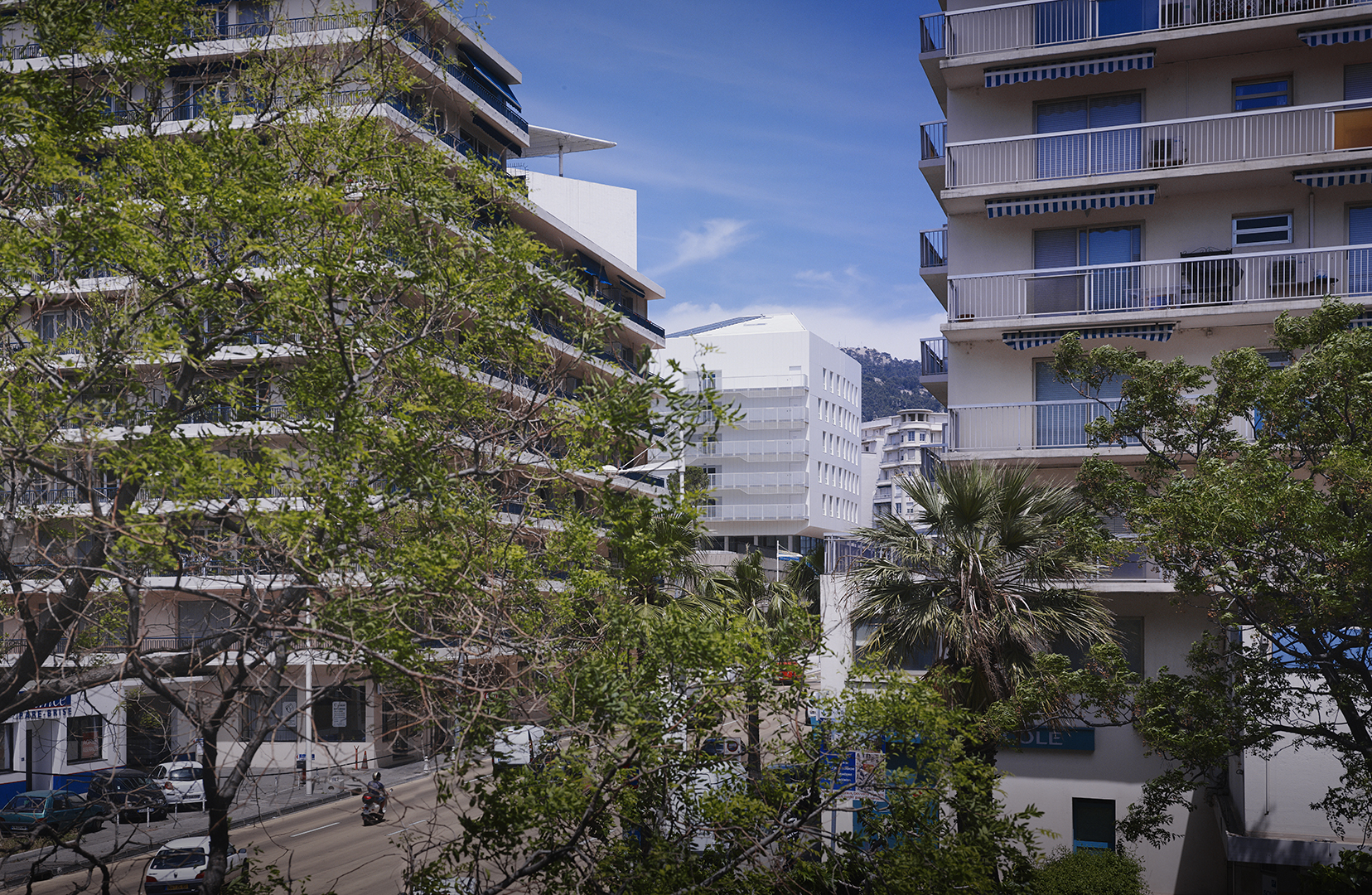 positioned ona large pedestrian mall
The urban project is based on a large pedestrian path organizing the various university entities, existing facilities and the new Research Center. This path is connected to Place Bir-Hakeim, and redesigned so as to separate automobile flows, pedestrian routes and the passage of the TCSP.
The space freed drom vehicles is treated as an urban place, thus signaling the entrance to the city. The generous dimensions of this space allow either an entirely mineral treatment, or a plant development always in continuity with the mall.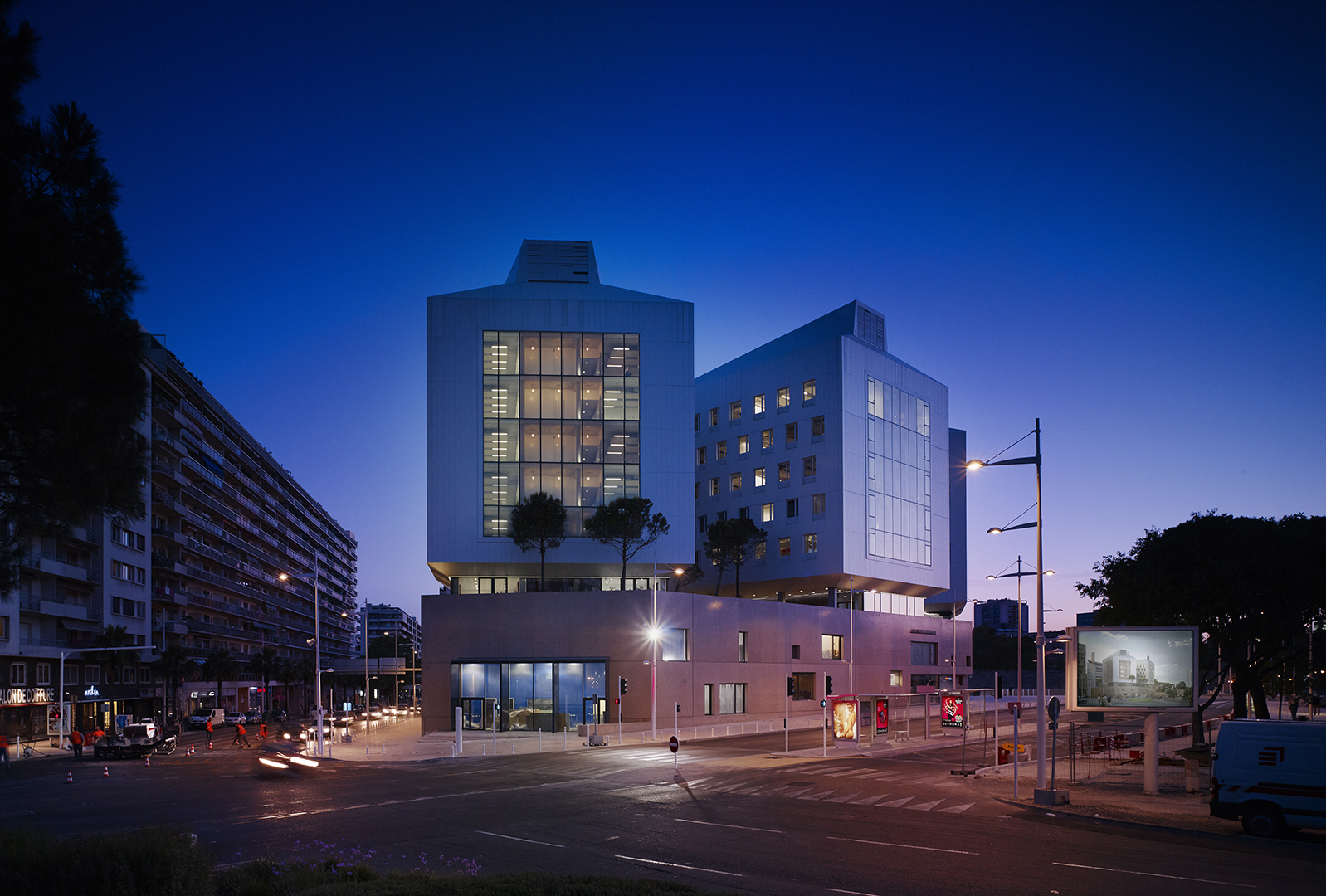 three chimneys
of natural ventilation
The entire project consists of a plinth topped with studs: 3 white, identical volumes, with large windows and topped with faceted roofs for natural ventilation.
The organization eadability is ensured by the functions distribution between the base and the studs. The plinth accommodates the large volumes of the program (amphitheater and graduated rooms), while the 3 plots, which have operating autonomy, respectively house the shared classrooms, theInstitut Ingémédia, and the research center.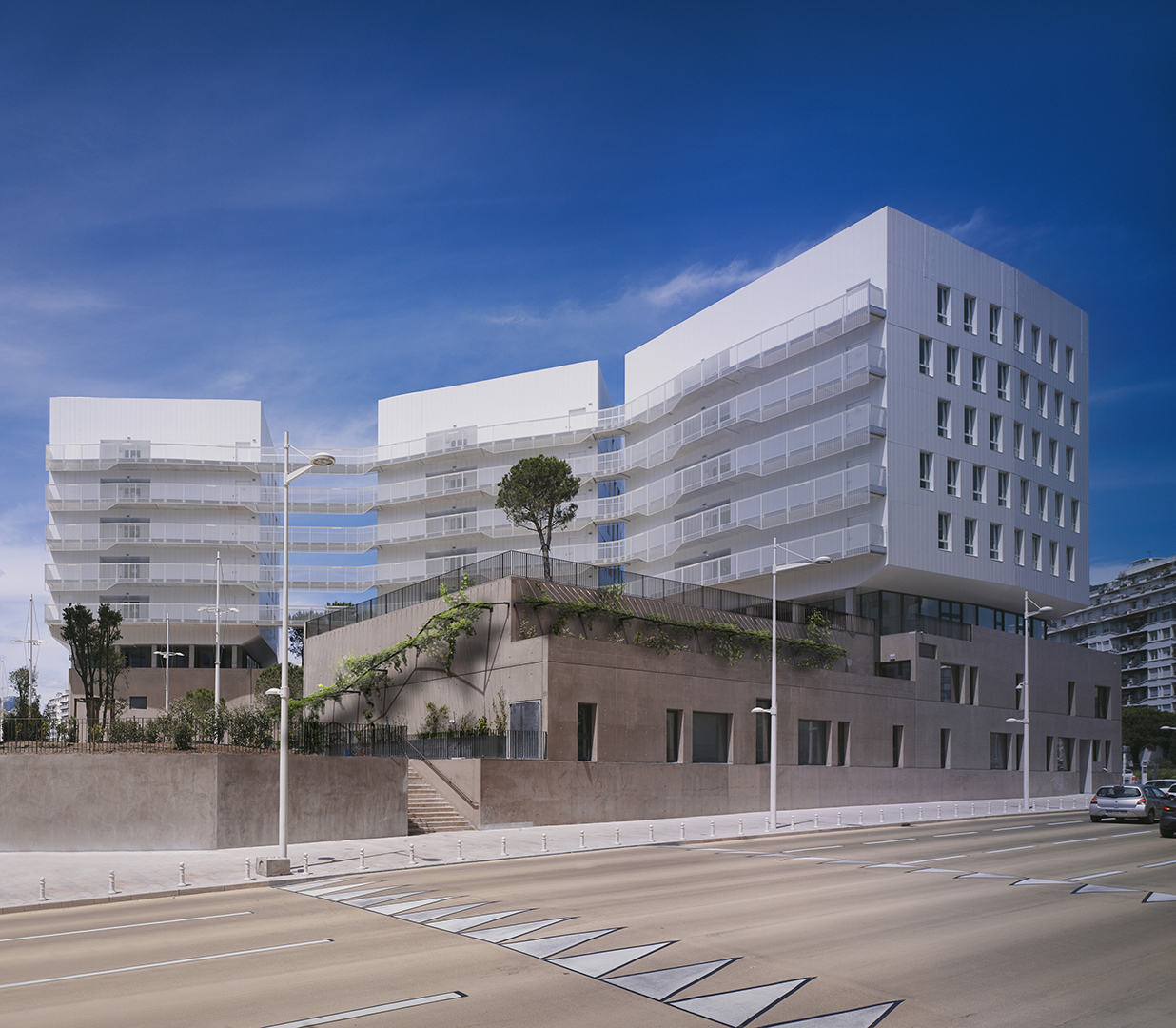 a hybrid set
on a human scale
The facade on the path and the Esplanade d'Italie is very busy on the ground floor, with a bar, the students' lounge, the hall common to the various university entities, access to the amphitheater, and terraces.
Avoiding too much of a visual impact by dividing up the buildings, the Maison de la Recherche and the Ingémédia Institute constitute a hybrid unit which gives a human scale to this large, ambitious and dense program.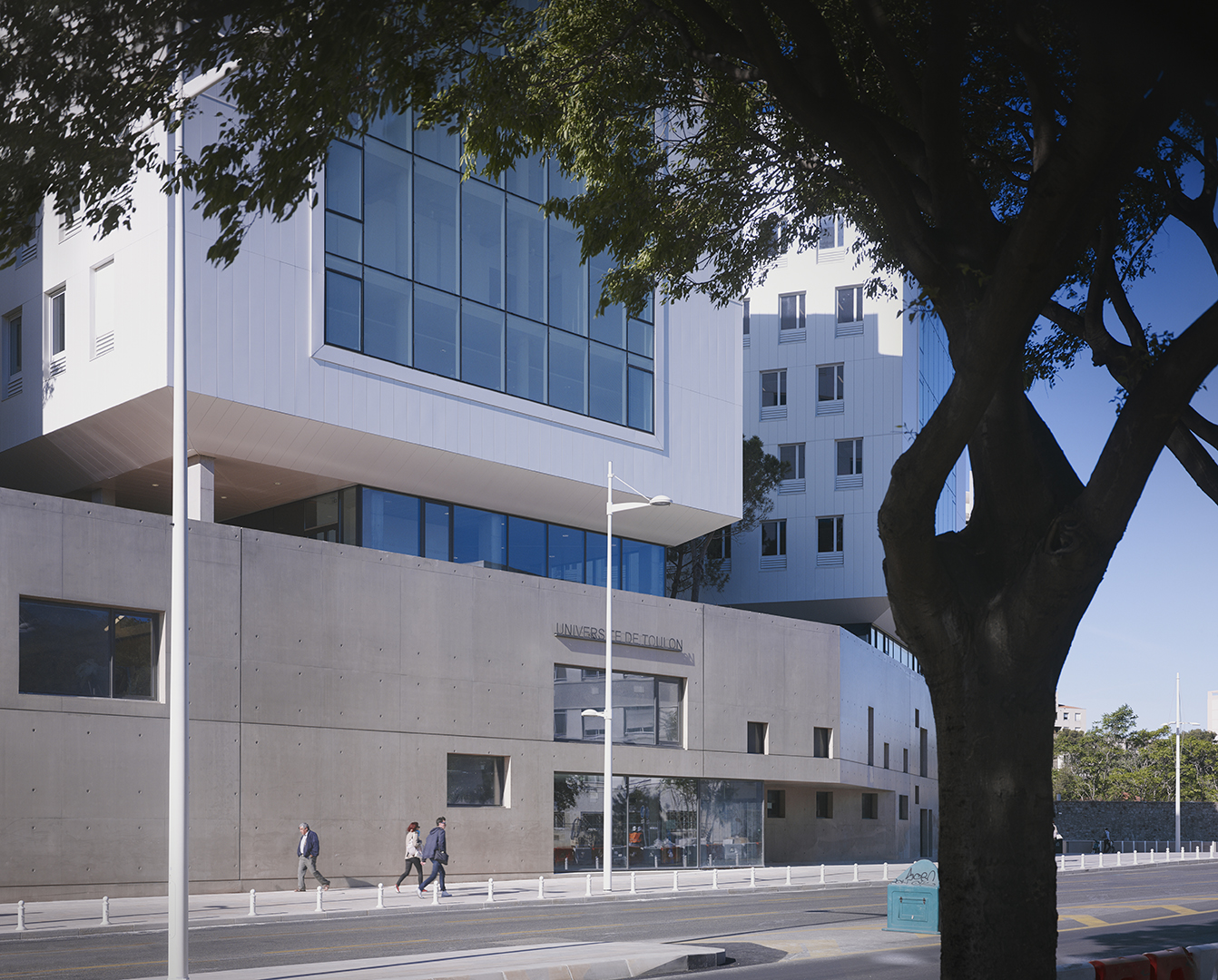 PROJECT TEAM
PROJECT MANAGEMENT
Architect: ANMA
All trades: CET Ingénierie
Lighting design: Agence Patrick Rimoux
Signage: Béatrice Fichet
Signage: Locomotion
Environment: Agence Franck Boutté
Acoustic: Caphorn
COMPETITION
Hélène Galifer
Florent Biais
RESEARCH
Hélène Galifer
Florent Biais

CONSTRUCTION SITE
Etienne Challet-Hayard
Alessio Loffredo