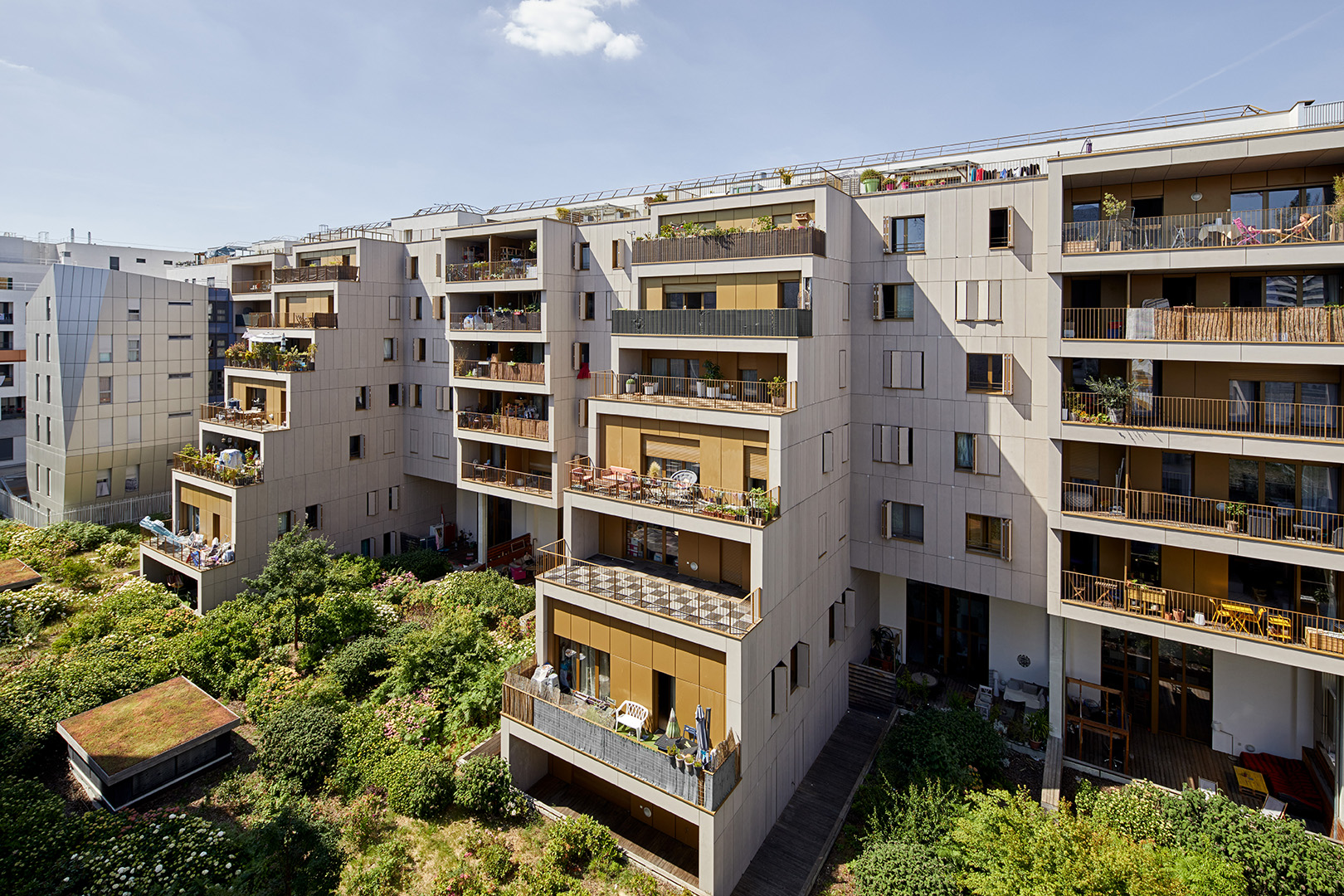 converting mcdonald warehouses
This housing project is part of the overall Macdonald warehouse conversion project for which ANMA is responsible for the architectural work of two housing lots. Lot N2 is located along Macdonald Boulevard in the western part of the building. Lot S1 is located along the railway tracks on the south side.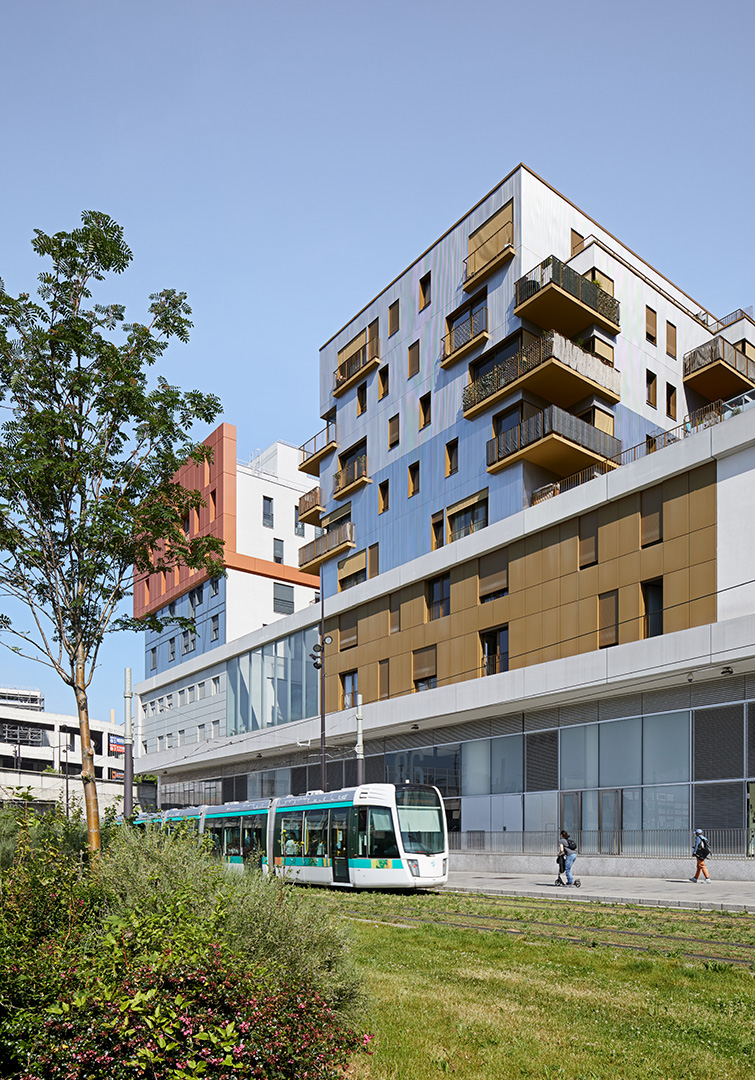 duplexes
in g + 1 and in g + 6
Building N2 consists of 89 units accessible from the esplanade on Macdonald Boulevard. On the boulevard side, the project fits into the logic of the master plan: large duplex apartments fit into the existing structure in G + 1 and G + 1 mezzanine. Two recessed levels rest on the existing one.
This "crystal" volume itself supports four cantilevered levels. The four levels read as a single monolithic mineral element surrounded by a concrete frame ensuring the overall consistency of the master plan. The last accessible floor being the G + 6, the G + 7 allows to create duplexes with large double-height apartments on the boulevard.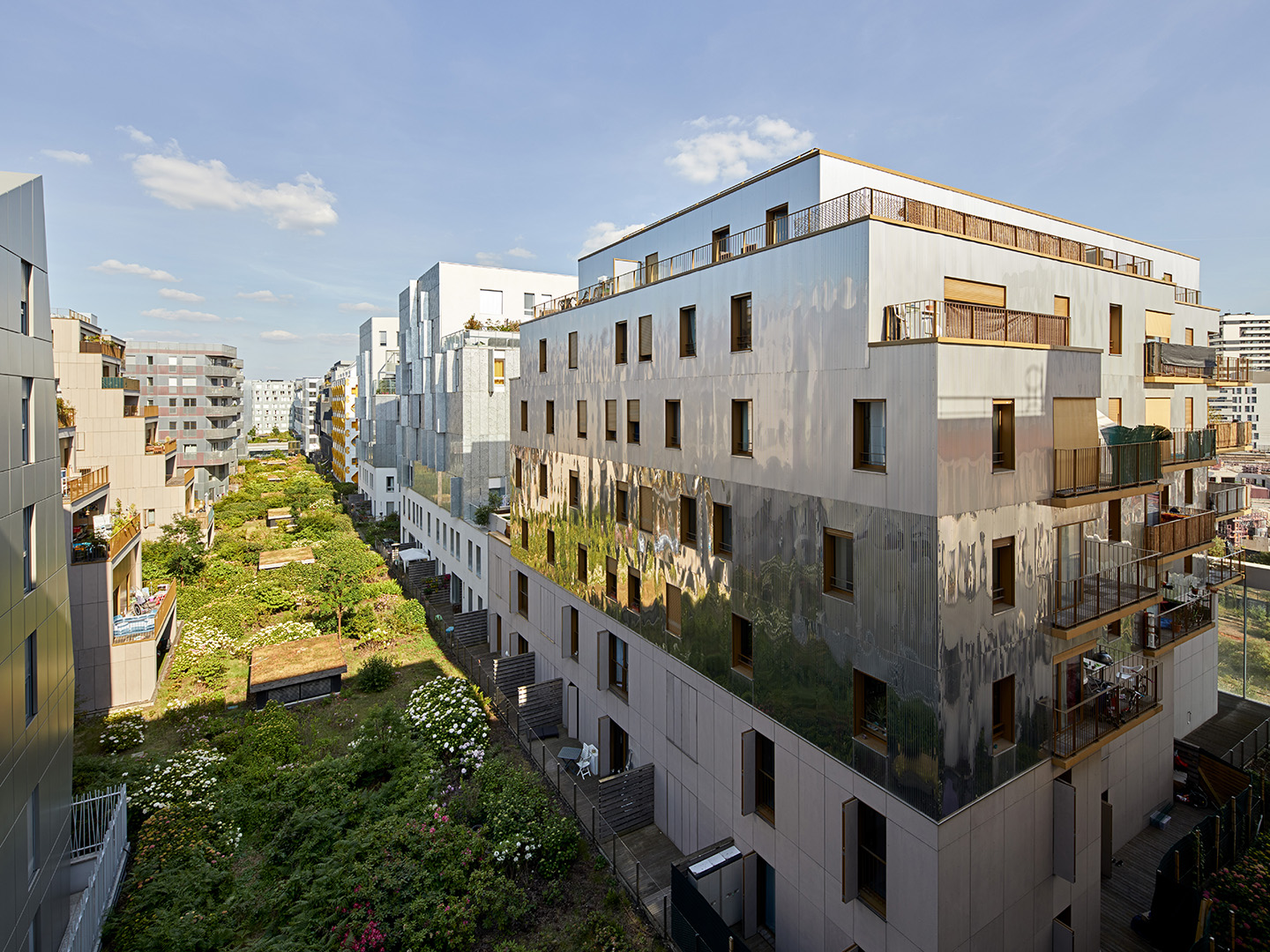 a play of void
and protrusion
On the garden side, the project reinterprets the interplay of void and protrusion in the master plan by increasing the number of terraces facing south and offering perspectives on the city. In the two existing levels, the duplexes on the ground floor offer large double heights and large terraces.
On the upper levels, the south facade sticks out onto the courtyard through a succession of terraces and inverted terraces which make the project denser and allow to find large terraces and loggias for large housing. The duplexes in the last two levels take over the roof terraces of the building by offering large outdoor spaces with views over Paris.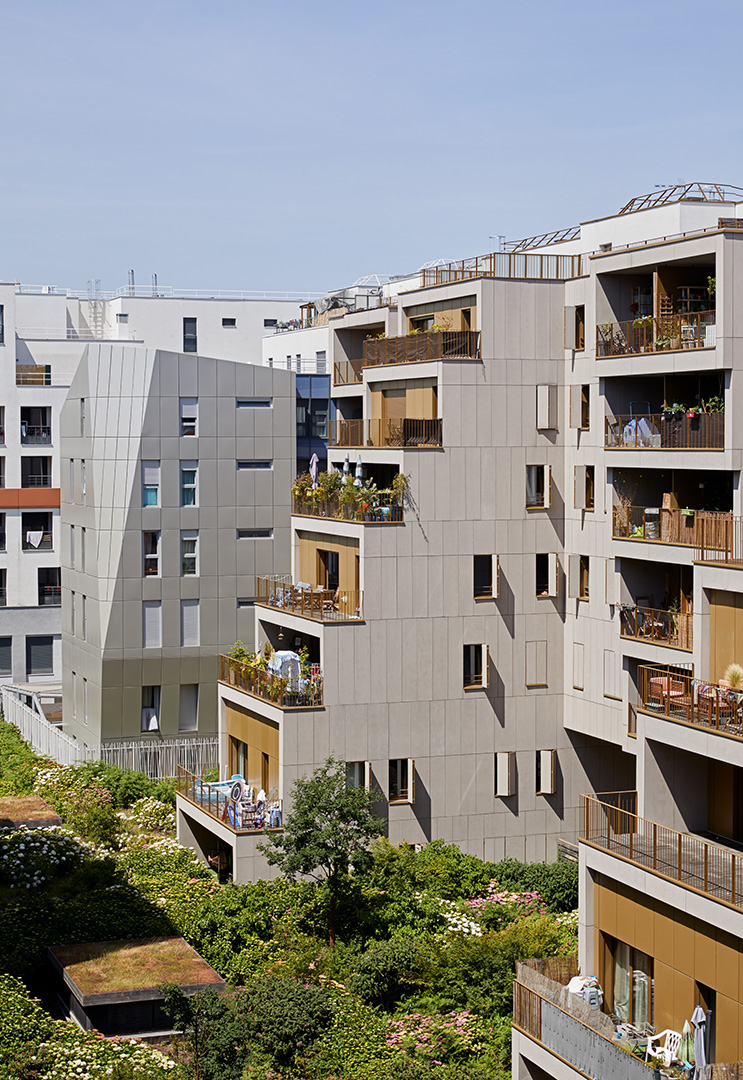 direct views
of paris
The S1 building consists of 52 apartments accessible from the south facade of the warehouse bordered by the tram line. The project is placed on a common base with lot S2 on the first two levels, directly echoing the preserved north facade with its concrete frame.
The building is north / south oriented with east and west facades in main views but directly opposite to lots O1 and S2. The thermal and luminous assets of the south orientation are reinforced here by the views offered over the city of Paris. The project thus offers a south-facing orientation with a view of the city to the greatest number of homes.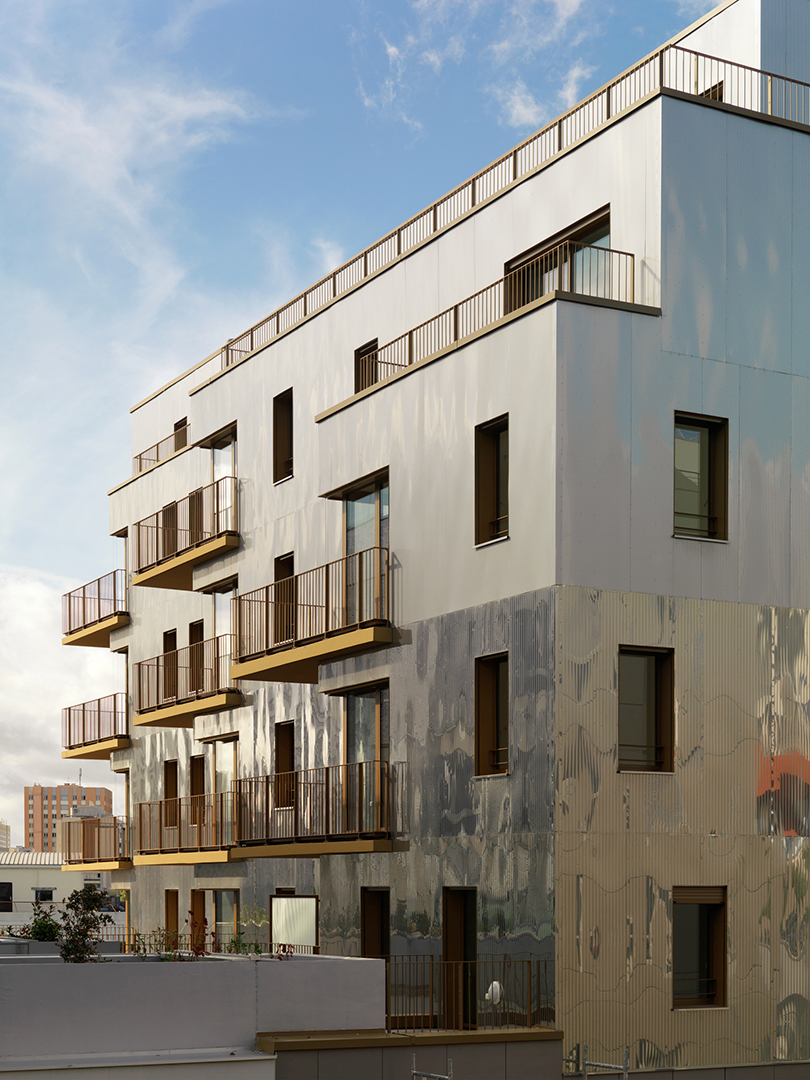 l-shaped living-rooms
Through a system of successive steps, each accommodation is provided withf an angled living room seeking southern light and enjoying the distant views.
They also make it possible to provide not overlooked balconies to each dwelling. This typology of stepped housing produces a particular volume, directly resulting from the project's bias on the housing level.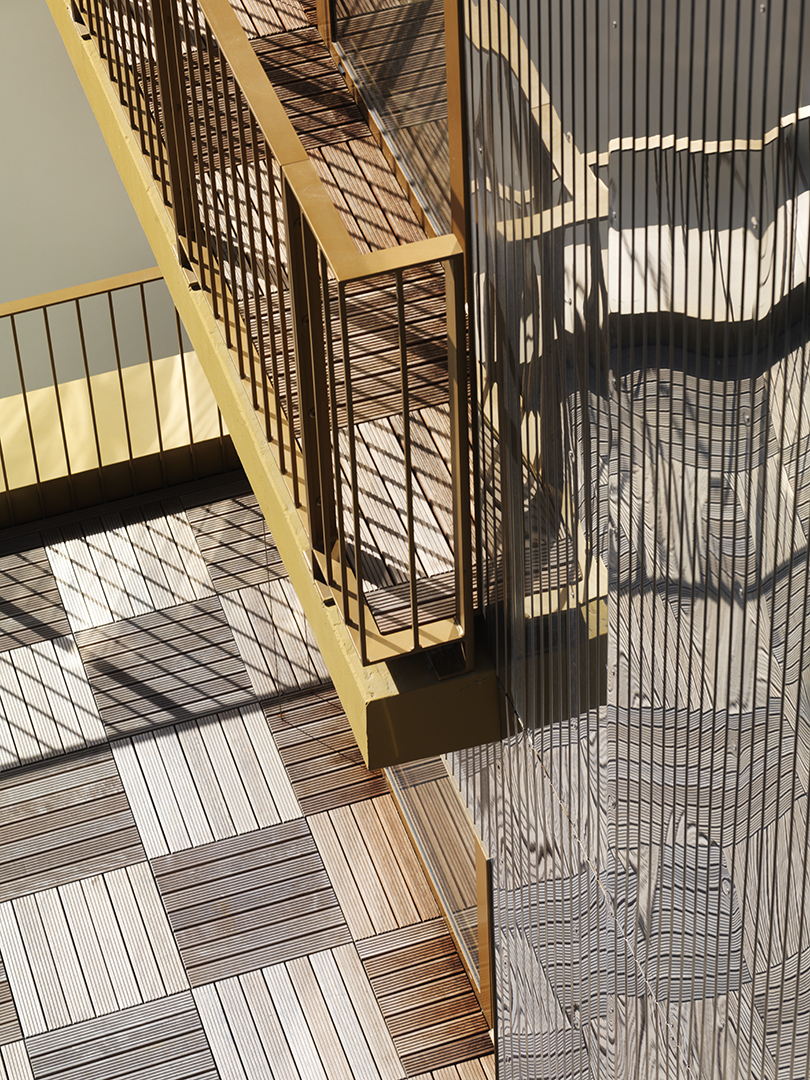 PROJECT TEAM
PROJECT MANAGER
Architect: ANMA
Leading architects: XDGA, FAA
HQE: Alto
Structure, fluides, coordination: Setec
Facade: DVVD
RESEARCH
Valérie Dubois
Mickael Papin
Camille Gravellier
CONSTRUCTION SITE
Etienne Challet-Hayard
Jacqueline lee