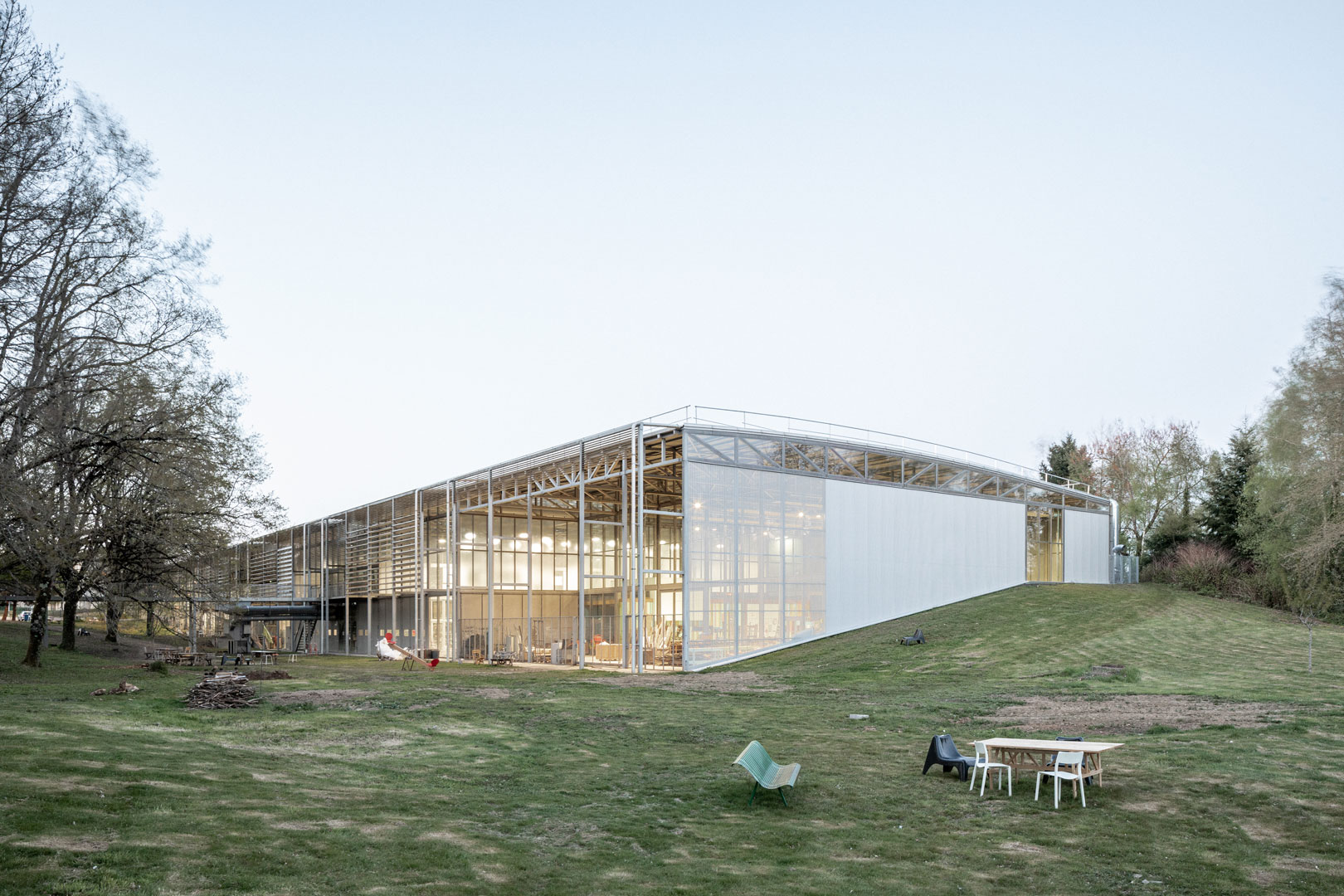 following evolution of uses
Accompanying the life cycle of buildings.
Designed by LabFac – Nicolas Michelin and Finn Geipel – in 1993, the National School of Art of Limoges is an emblematic contemporary architecture building, labeled Heritage of the 20th century in 2002. More than 25 years after its delivery, ANMA intervenes to create a new workshop dedicated to wood and metal.
Resolutely industrial, all in concrete, wood, glass and steel, the school presents a rational and functional plan. A long indoor hall – circulation and exhibition space – serves four workshopsarranged in a row and dedicated to the work of the students, their research and their experiments. Under a 10m high awning, a large outdoor platform used to complete the spaces.

necessary
evolutions
Since 2016, the growing wood and metal processing activities have prompted the school to rethink the organization of the pools and to upgrade the 850 sqm of outdoor platform. The porcelain and ceramic/decoration workshops need separate spaces while the activities of the volume/construction workshop are redeployed to the outdoor platform, which gets completely closed.
The project addresses handling issues by inserting a 5 ton lifting capacity scissor lift table instead of the former overhead crane. It integrates the new spaces with acoustic solutions for treating noise pollution and a cyclofilter for sucking up wood dust.
At the same time, the school is launching the roof repair project under OPPIC project management, for which ANMA is also tasked and whose work will continue during the year 2021.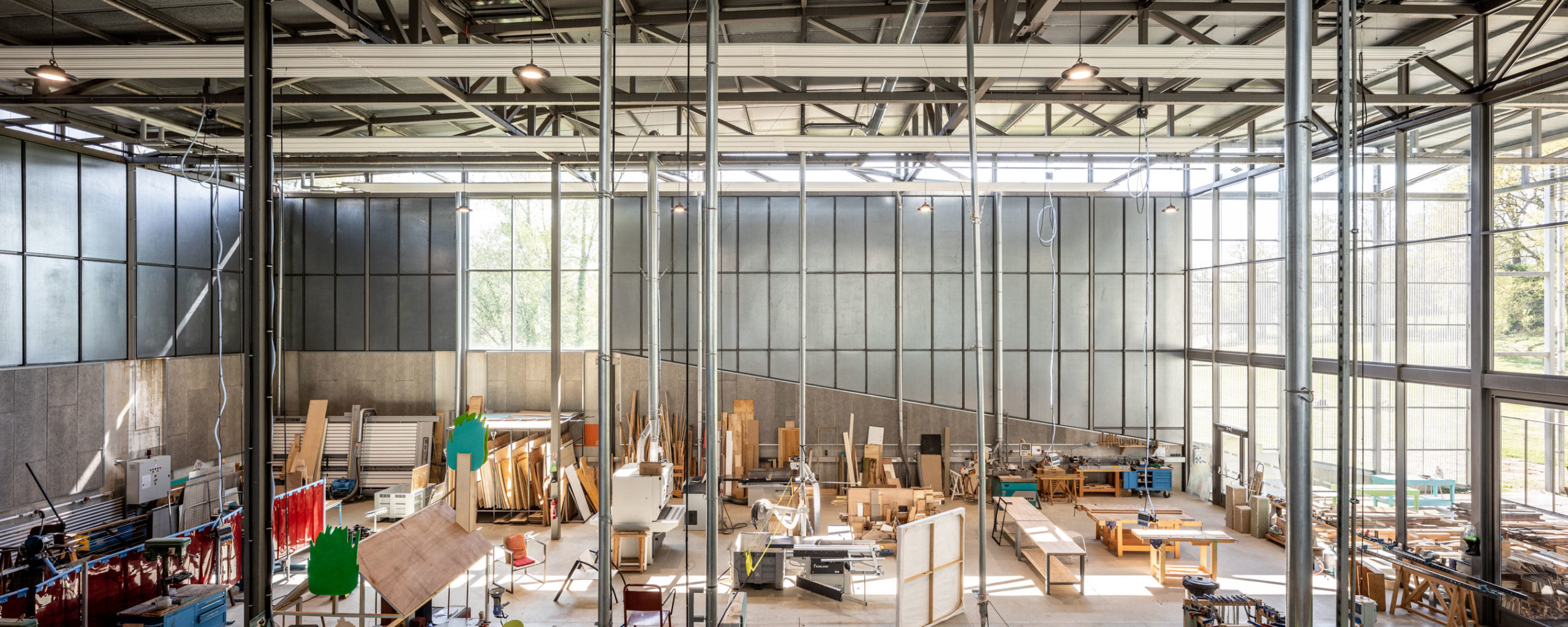 in line
with a unique school
In France, it is the art school offering among the largest spaces for spatial practices. Over 5000 sqm, the building has flexible spaces and modular mezzanines which allow the spaces to be prioritized and developed as needed.
They are all generously lit thanks to the natural overhead light which filters through a set of opaque / transparent cassettes and which gives the very particular identity of the place.
The studies and work carried out by ANMA on a building designed by its founder and his partner at the time, testify to the agency's ability to intervene with relevance on remarkable existing buildings, in the continuity and rigor of their genuine design.

ideal conditions
educational work
"[…] We have a considerable volume, whic is bright, intelligently arranged and opened to the outside with a huge glass curtain. The closure of the old storage platform may have given birth to the most beautiful space in the school, and I am delighted that it is a workshop.
Technically, in addition to the installation of new machines, a real aspiration system has been installed: essential and beneficial. An office part, a little away, now makes it possible to conduct preliminary discussions under ideal conditions. to any educational work. "
Jeremiah Garry, volume/construction workshop manager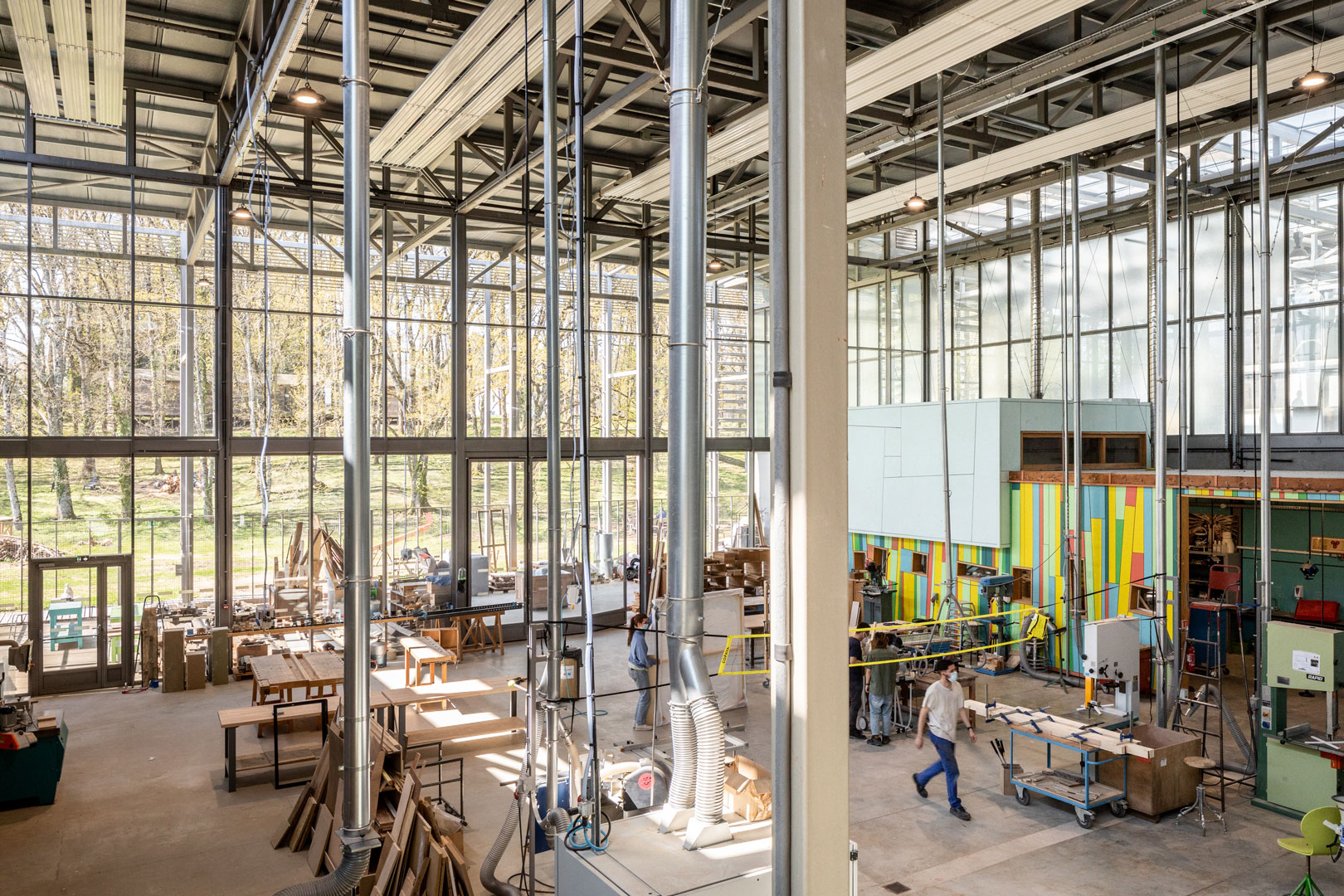 new equipment
coherently arranged
"With a now doubled work surface, which the decor laboratory has joined, the capacity for interventions is multiplying in ceramics, and technical equipment is coordinated with consistency. Different working groups occupied by projects which concern all the levels of the curriculum come together with greater ease in this new space. "
Nicolas tourre, volume/ceramic teacher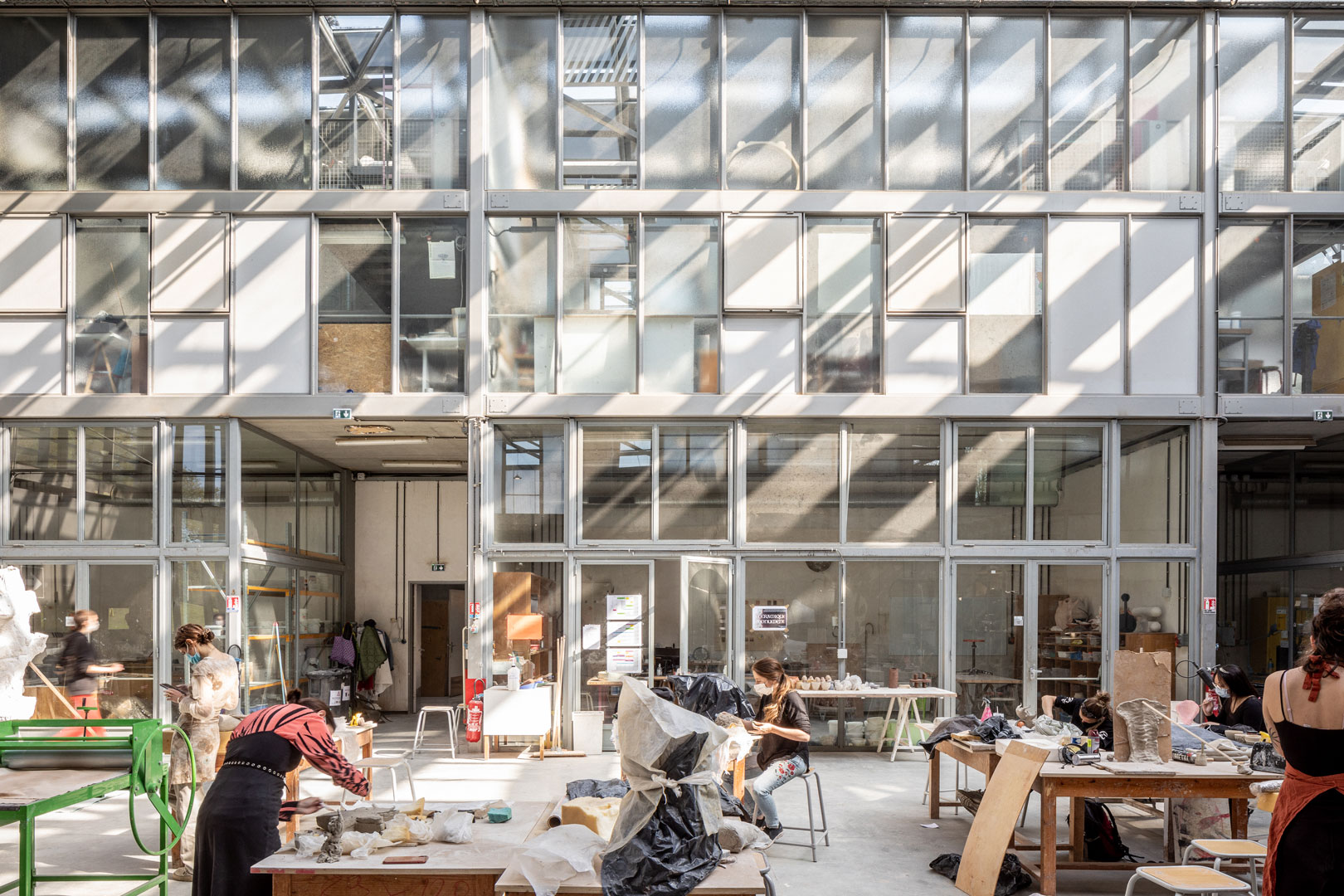 PROJECT TEAM
PROJECT MANAGER
Architect : ANMA
STUDIES
Guillaume Ribay
CONSTRUCTION SITE
Bruno Isambert, Élise Marc
COMPANIES
Structural work : Eiffage Construction
Facades, exterior joinery, locksmith : Serrubat
Compressed air heating: SL Thermique
Centralized aspiration: ADC
Electricity : AEL
Lift table : CFA
Roof repair : Hefi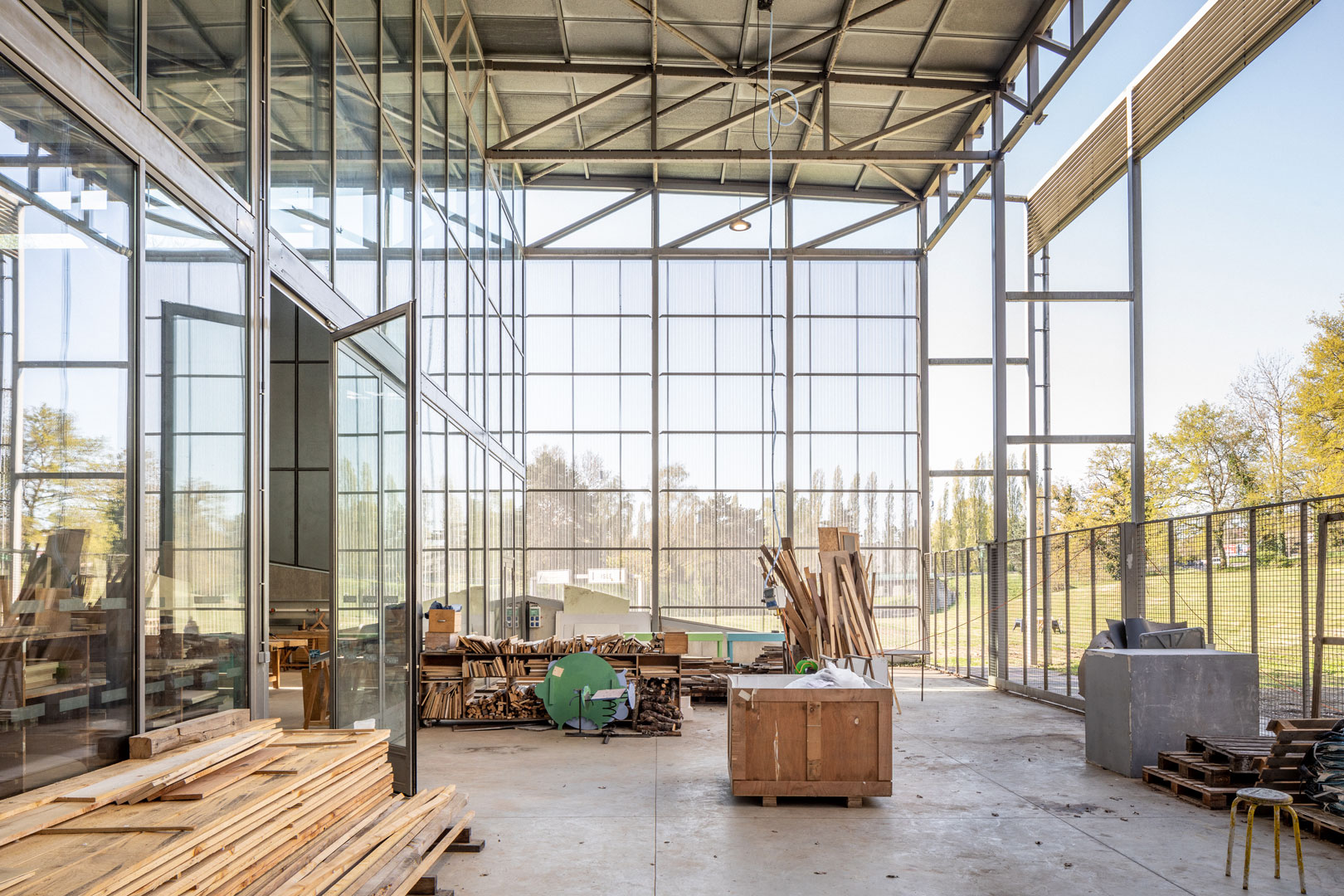 TECHNICAL SHEET
STATUS Renovation in progress
PROJECT MANAGER ENSA Limoges (pool), OPPIC (roof)
YEAR
Studies : December 2017 – 2022
Worksite : September 2019 – 2022
Workshop completion : November 2020
Roof reception : December 2022
AREA 5,755 m², including 4,814 m² of educational space
WORKS €1.2 M excl. VAT (pool) €2.8 M excl. VAT (roof)
PHOTOGRAPHY 11h45
SEE +
Limoges, Law court
Lorient, Bretagne Sud ENSI
Paris, Halle aux Farines