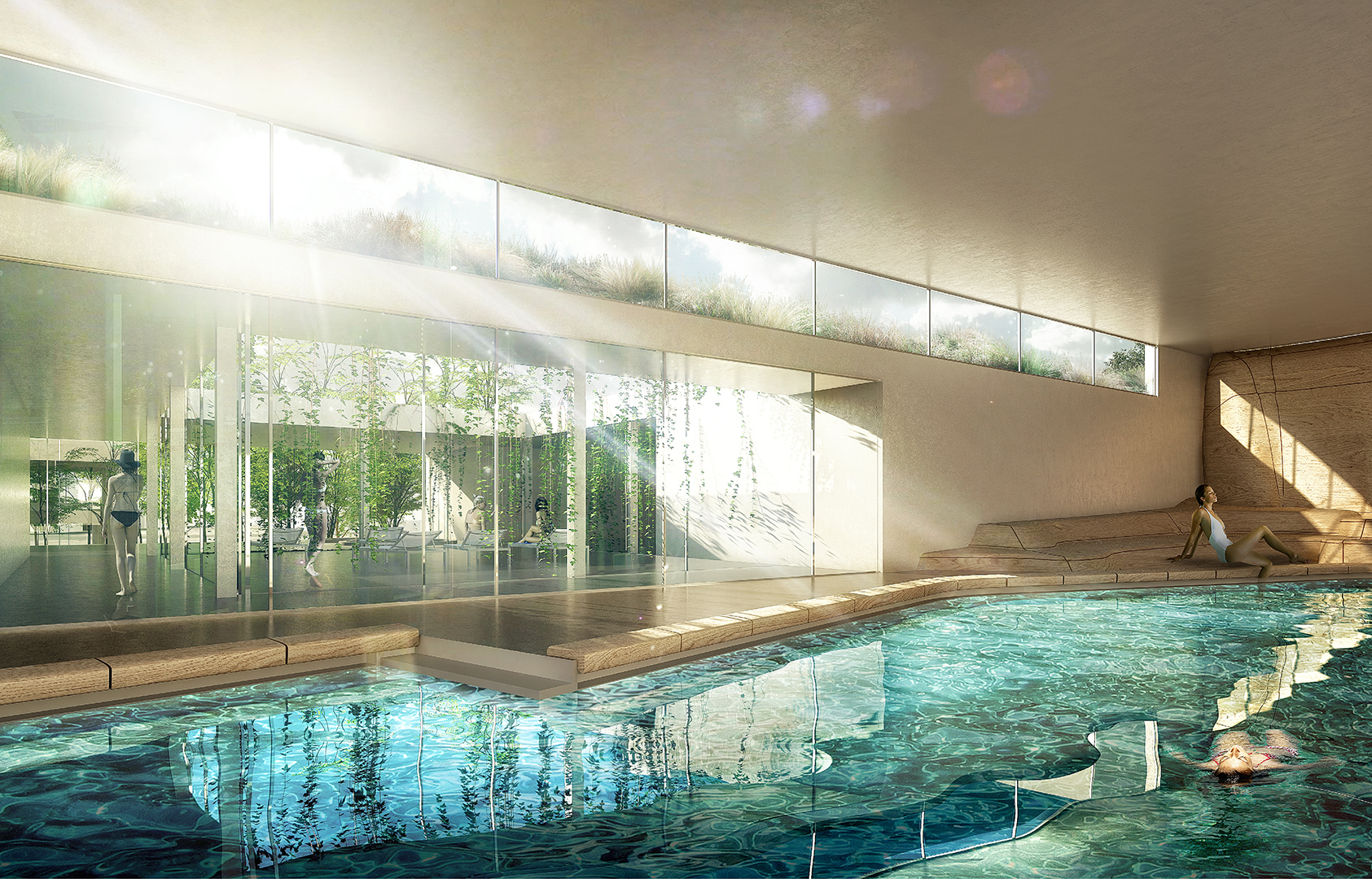 a prison replaced
by a swimming pool
Close to the train station and located on the site of the former Orléans prison, this site has long been removed from its surroundings by a perimeter wall. ANMA proposes to bridge the urban divide by integrating a facilitiy that reconnects a fragment of a city to its territory: it hosts a public program and opens again to the neighborhood.
Three unifying ideas underpin the project:
Open the equipment towards the city center and the district while keeping a strong signal on the northern crossroads and the metropolitan axis,
Cut the whole of the building into several volumes to match the scale of the urban fabric and invite greenery around and at the heart of the facility,
Undertake an unprecedented landscape approach for such a program and make it a distinctive landmark.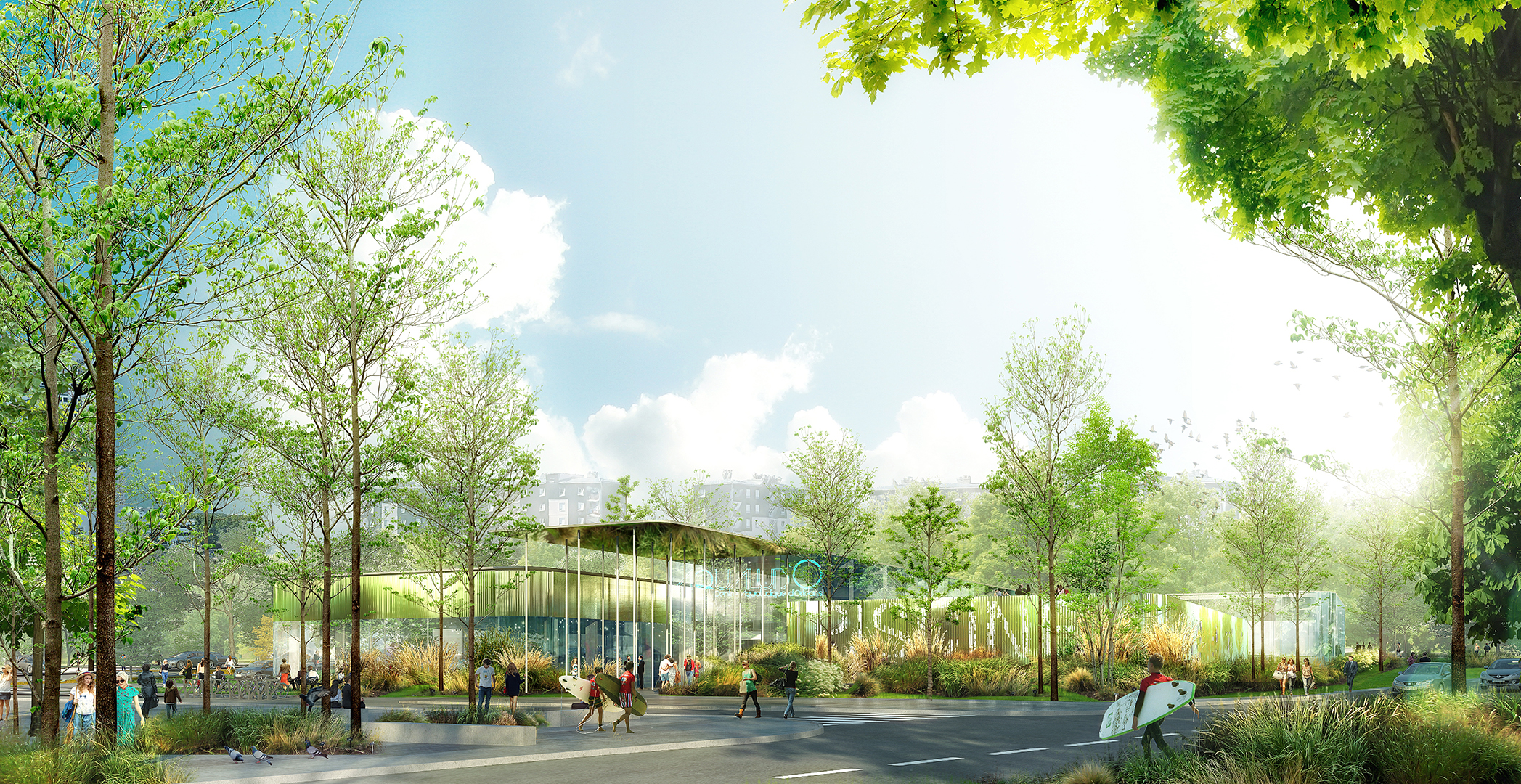 four programmatic volumes
The forecourt is protected by a generous shade that marks the main entrance to the facility. It is bordered by private car parks punctuated by remarkable cedars preserved for the project – so were some large plane trees.
The building is structured in four volumes, each one corresponding to a programmatic axis: sports hall, wellness area, leisure center and dressing rooms. The central north-south distribution axis connects the four poles and integrates reception areas and administrative annexes. Around the building, a landscaped mall draws pedestrian paths that cross and run through the site: to make the most of it, the paths between the car park and the main entrances are minimized. The latter then filters the exterior views towards the interior, as well as the interior views towards the exterior.
a park instead of
a swimming pool
A reflection on the relationship between the territory, the Loire and its plant ecosystem was the starting point of the urban and architectural design. Thus, the mineral imprint of the old prison's structure gives way to an abundant nature allowing a glimpse of the aqualudic center. In this green setting, a humble architecture of transparency, water and air contributes to the comfort of the neighborhood views – for the near and far perception.
The volumes of the ponds are glass walls with significant solar control which renders a slight mirror effect. These volumes alternate with the two more opaque volumes of the program: the dressing rooms and the wellness area, more intimate, not very open to the outside. These solid surfaces and volumes with rounded angles enjoy their disappearance thanks to the use of reflective polished stainless steel metal cladding. Thus, glazed volumes and intimate volumes play as vegetal reflections to blend into the landscape. All the roofs, with the exception of that of the central axis, are vegetated: they will be coated with sedum with the exception of the roof of the locker room which will receive vegetation to a lesser degree.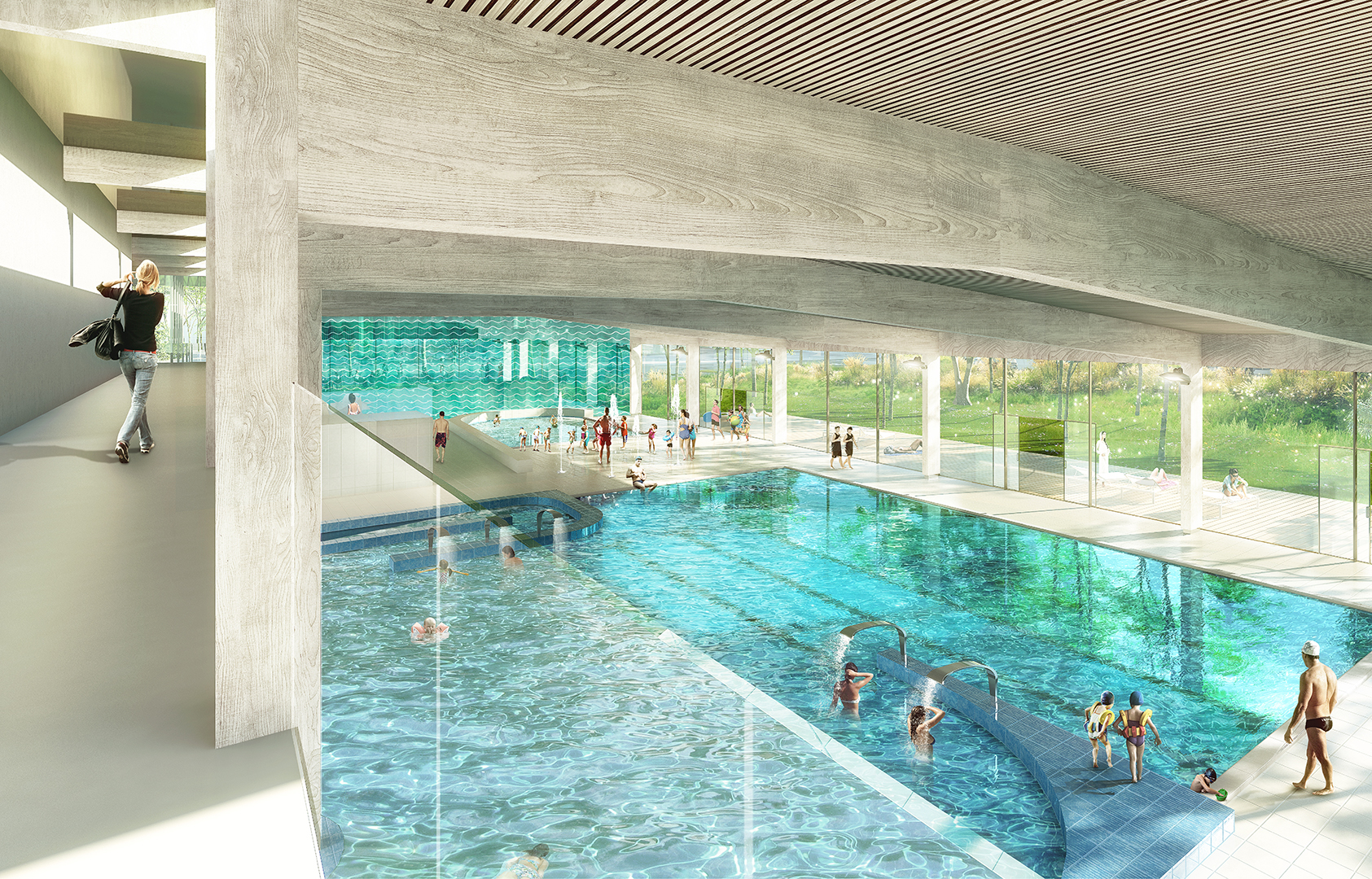 PROJECT TEAM
MANAGEMENT TEAM
Architect: ANMA
Associate architect: BVL
Fluids: Katene
Acoustic: AIDA
Environment: Etamine
Roads and networks: Orling
Maintenance: Hervé Thermique
COMPETITION
Alice Perugini
RESEARCH
Laurie Bouchié
CONSTRUCTION SITE
Joël Schaack
Stephan Trouvé
CONTRACTOR
Bouygues Bâtiment Centre Sud-Ouest