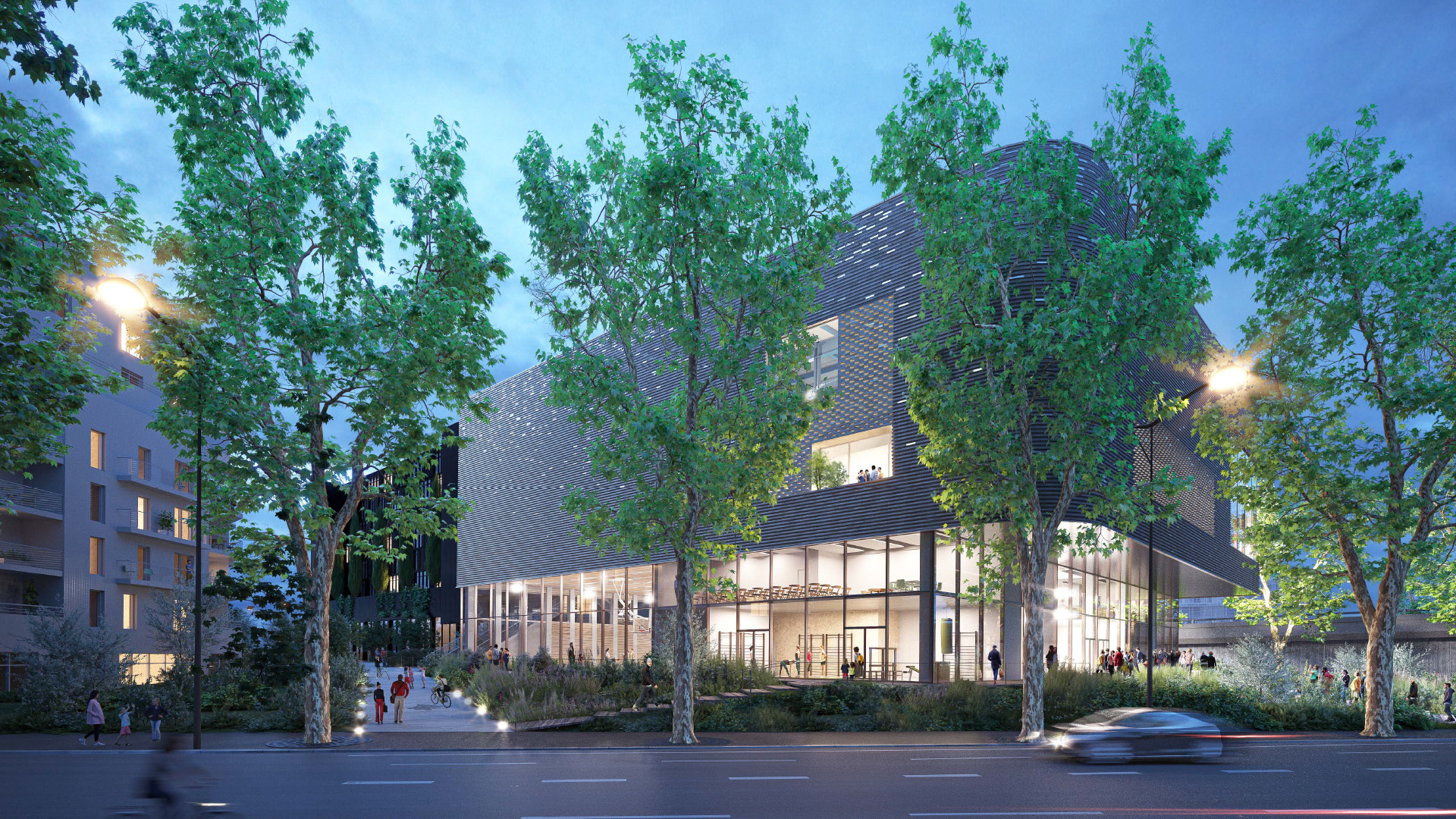 open equipment
on two parts of town
With a large forecourt on Boulevard Valmy, easily accessible from the city center to the south, and the Colombus island to the north of the A86, the new sports complex plays the role of a programmatic hub reconnecting two districts of Colombes.
The site is traversed by several pedestrian paths that criss-cross gardens freely accessible to athletes, passers-by and residents, like new landscaped public spaces, occasionally revealing a compact and sober equipment, on the ground floor active and open to the city.
« The work on the compactness of the building – volume, footprint, facade development – and this search for lightness in the quantity of material used guided our project throughout the design. Identity and frugality must be able to match each other in a flagship facility for the city of tomorrow. »
– Alice Perugini, project manager

brick monolith
sober and durable
The building is discreet and distinctive : on a glass base, a light brick monolith recognizable from the highway, whose facades light up as the sporting events are held. It dialogues with its context: rounded when approaching the neighboring dwellings, stretched out in contact with the large existing plane trees.
The footprint minimized to give pride of place to nature: the project renatures the site, weaves links with the existing plant frameworks, interacts with light, air and water and maximizes the open ground surfaces.
Sober and durable, the materiality of the project – glass of the base, brick of the body, metal of the roof – also demonstrates a desire to save upkeep and maintenance. The implementation of the brick, paired with continuous hollow joints, ensures its reuse for a future programmatic change of the site.
Inside, the materials chosen are noble and largely biosourced: wooden facings, acoustic panels of wood fiber and walls of raw earth bricks from the spoils of the work of the Grand Paris Express.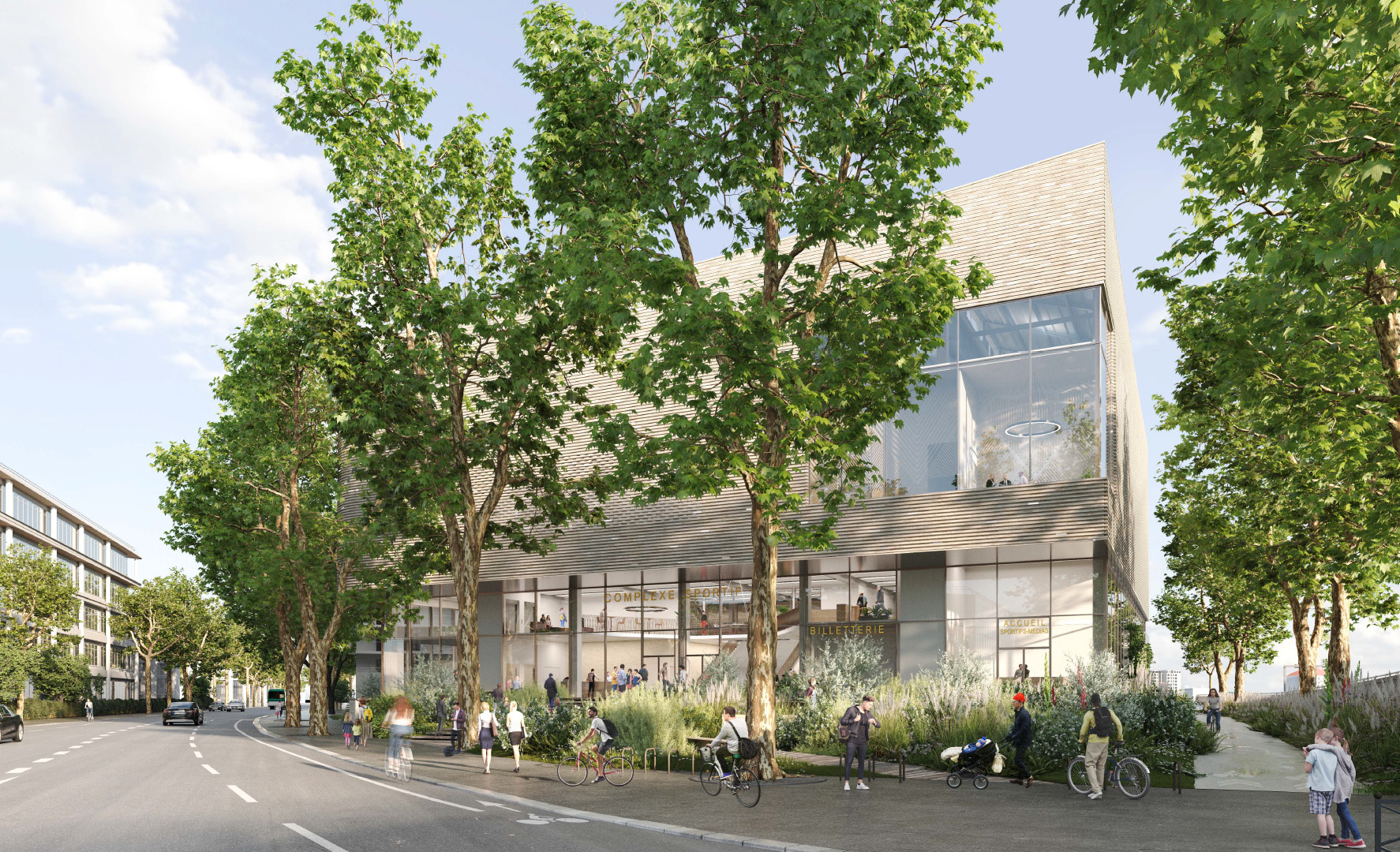 radiate
Colombes's sports
Through its large glass facade, the equipment gives a view of Colombes's sporting excellence : a showcase for the city, everyone can see the events and sporting programs that follow one another.
The first two levels are thus actors in the daily life of the district: main hall and media hall – for events; secondary multisport hall – for schoolchildren and departmental competitions; multi-purpose hall – for sports associations.
Upstairs, there are activities that make Colombes shine on a metropolitan scale : a main multisports hall and its bleachers for 1,000 spectators, dedicated to national-level competitions.
The atmosphere is warm thanks to the natural light penetrating from the zenithal lighting of the roof sheds and the wooden facings. The structure of the roof is visible : a mixed system of metal and wood in subtended beams.

PROJECT TEAM
PROJECT MANAGEMENT
Architect, landscaper : ANMA
Structure, fluids : Edeis
Acoustics : Alternate
Environment : Nobatek INEF4
Economy : Prisme
Maintenance operation : Cram
COMPETITION
Alice Perugini, Pol-Alain Nedelec, Alexandre Bigot, Sébastien Moinet
STUDIES
Sara Averardi
BUSINESS
CBC Construction