Input sequence of the artem campus
Delivered at the end of 2020, the Place de Padoue offices are completing the urban project for the Artem site initiated in 2006. ANMA provided project management for both the entire complex and the various structures represented: Ecole des Minces de Nancy, Institut Jean Lamour, School of Languages, Galerie Artem, ICN Business School, etc.
At the south-eastern tip of the campus, the building opens onto the campus and is a continuation of rue Général Duroc. It directs visitors towards the main axis of the site: a walk through the gardens of the campus, as well as towards the long, colorful interclimatic gallery characteristic of Artem, allowing access in a cathedral space to the various "Sign Houses" of the schools. .
inhabit
the facade
The building relies on programmatic diversity with its 4 office floors, now devoted to ICN Business School students, and a restaurant open on la Place de Padoue accessible to all.
It is a living building: active ground floor to the north, inhabited facade to the south. In fact, the gangways of galvanized steel grating are treated in tight mesh to offer real living spaces. If levels 1 and 2 are also planned as emergency exits, levels 3 and 4 are intended to constitute outdoor meeting places.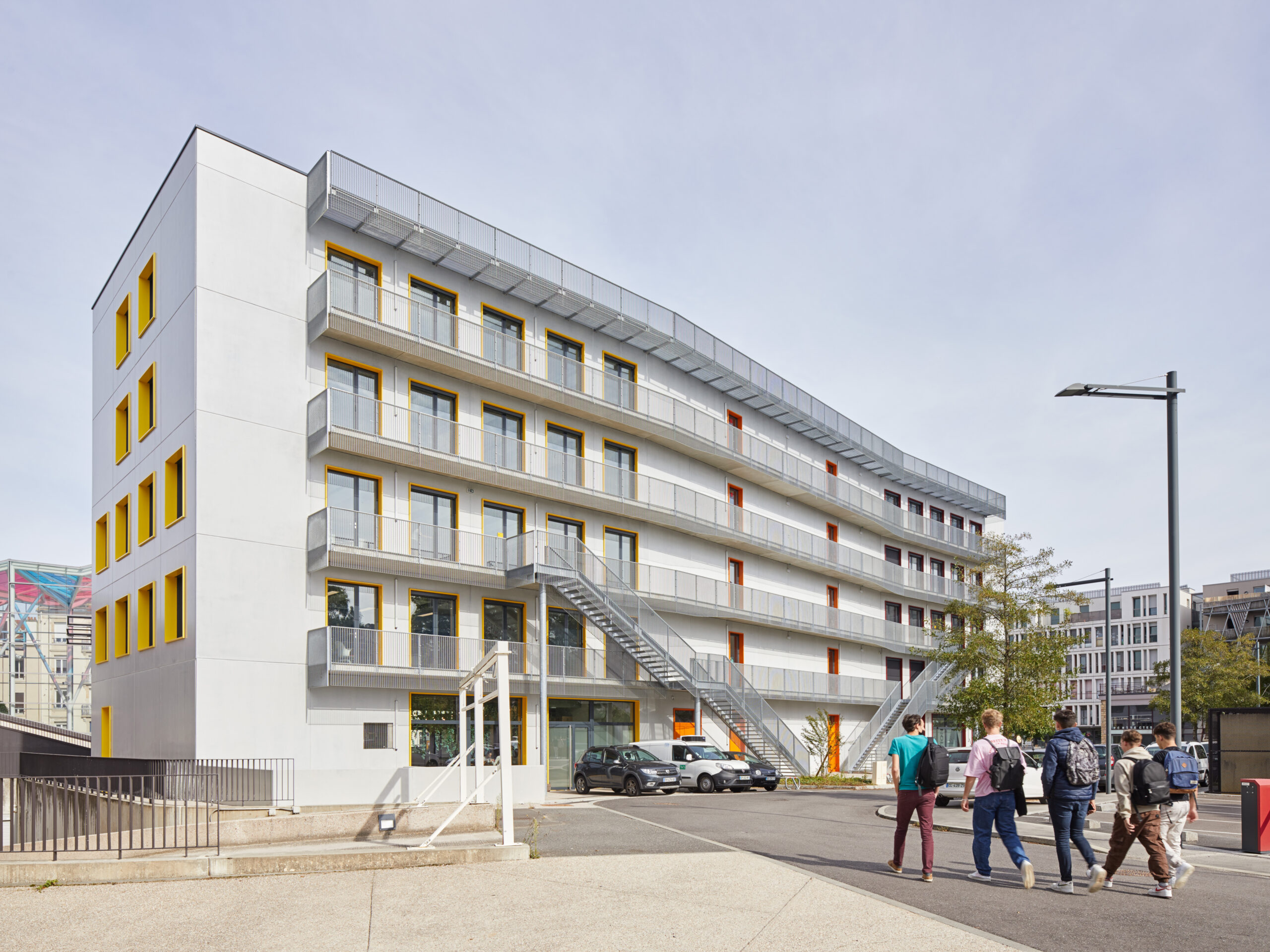 architecture
ordinary-extra
The building is a real link between la Place de Padoue with its sober tones and the colorful promenade of the Artem site. It testifies to one of the founding themes of the agency: the ordinary-extra.
Echoing the sobriety of the square, the building is remarkable for its large, luminous facade in colorless stained concrete in a micro-shade of white. The aluminum joinery of the windows, turning from red to yellow, responds to the colorful identity of the site ; while the subtly folded north facade of the building recalls Artem's geometric diversity and its relationship to volumes.

PROJECT TEAMS
PROJECT MANAGERS
Architect : ANMA
Technical: EGIS grand Est
PROJECT LEADER
Jean-Francois Vaudeville
CONSTRUCTION SITE
Flavien Bauland
Didem Senyurt
Hélène Tabèze