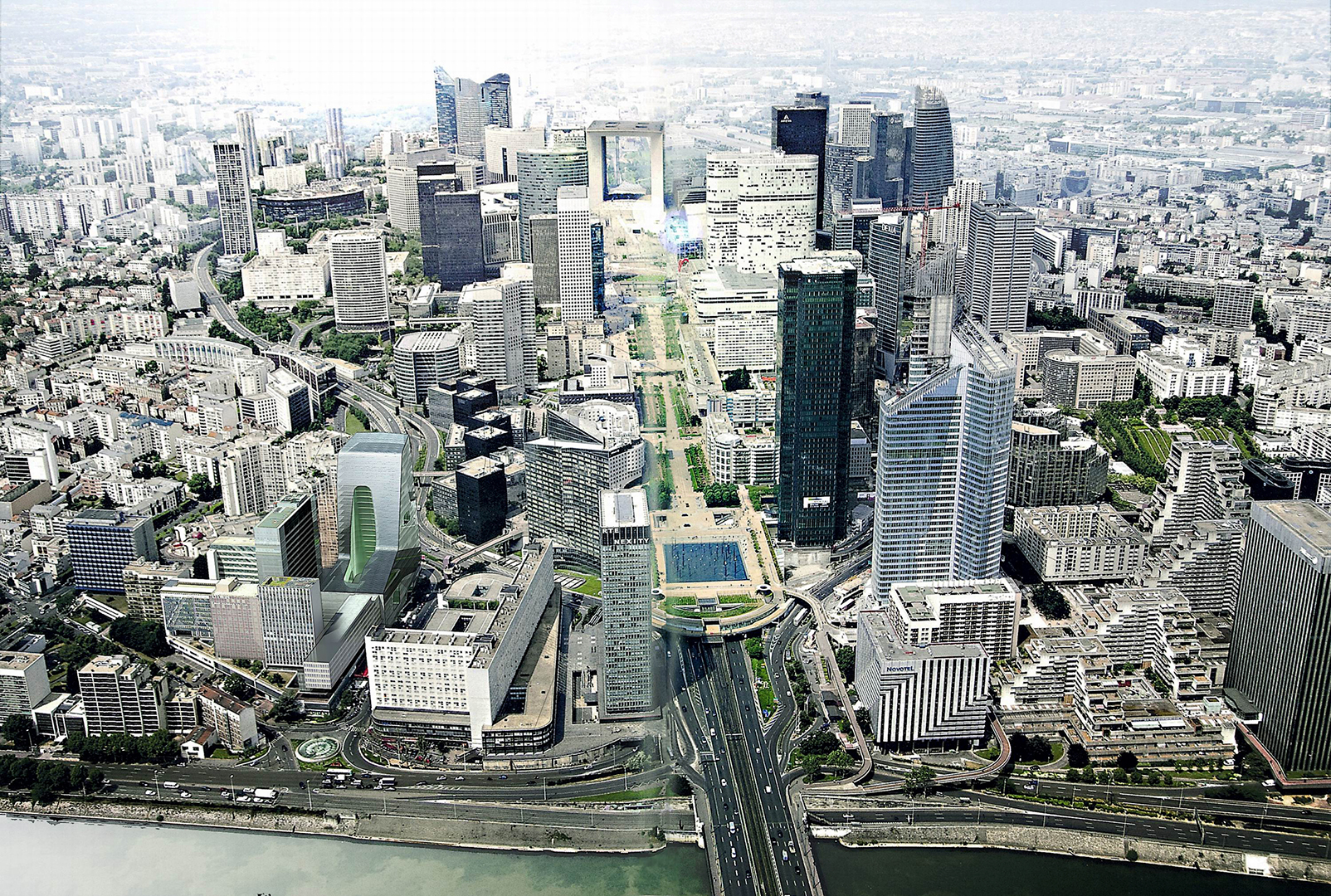 a vertical courtyard
Ideally located between La Défense and the Seine, the Tour Arago is a unique element of the urban landscape of Puteaux. It constitutes a particular milestone in the perception of the city, at the same time very discreet by its inclined profile and striking by its embedded vertical courtyard. Its chiseled silhouette, designed according to the context and the environment, make it distinguishable.
This tower is accompanied by a new public space revealing an urbanity that puts an end to the all-car world excluding the pedestrian. The development consists in restructuring the crossroads of Bellini and Arago streets with the future planted urban boulevard, and creating a pedestrian square in front of the entrance to the tower.
On the Défense side, it offers a glass facade with a vertical wave in its center, a white sinusoid that plays with the reflections of northern light. This diaphanous effect continues in the form of horizontal lines, like a lacing on each side of the tower on the east and west folds, thus creating a volume where spandrels, sunshades and glazing merge in an enveloping rhythm.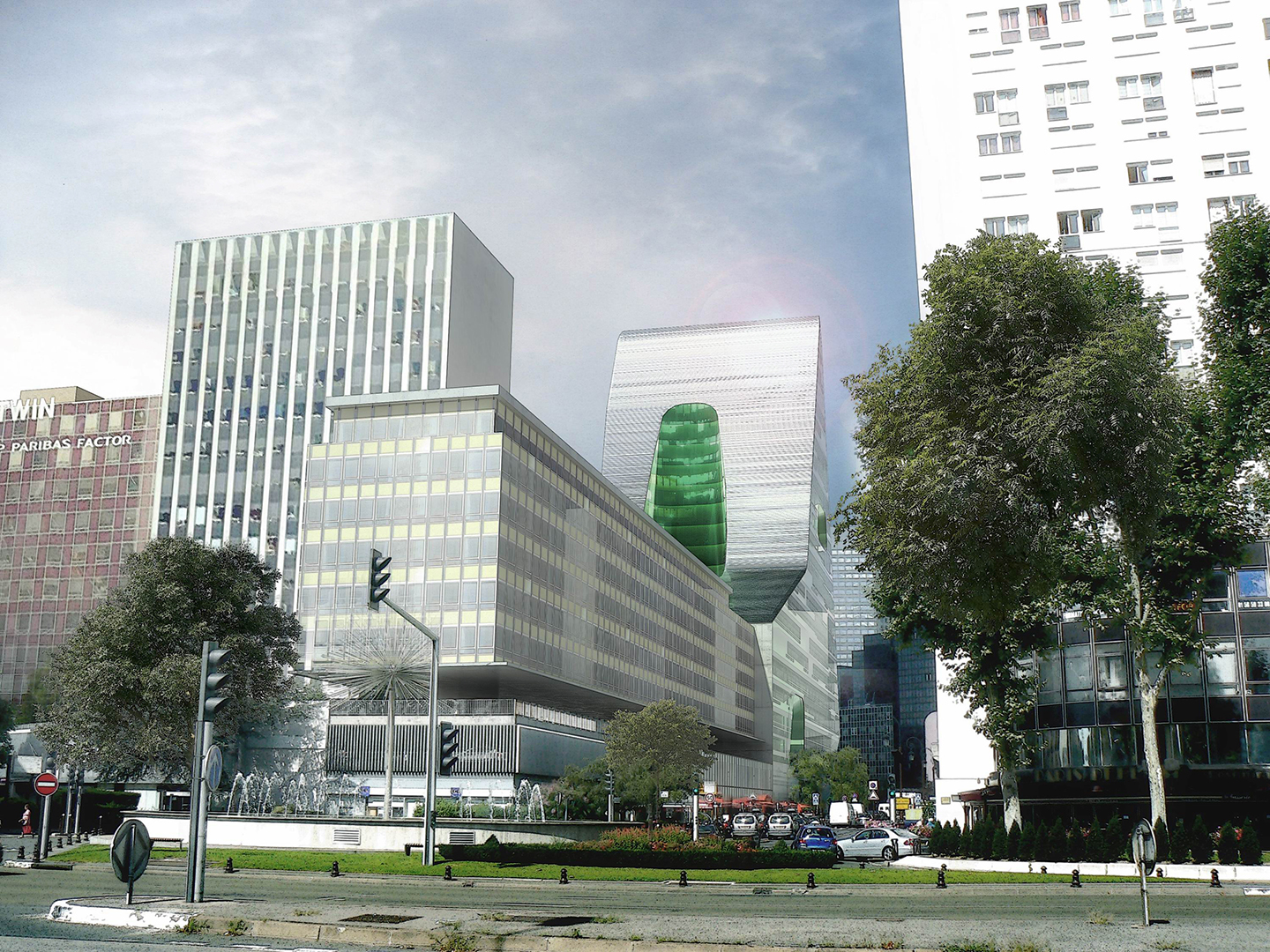 hanging landscape
On the Seine side, the tower has a sloping facade like a roof, pierced in its heart by a large open air cavity. This allows the existence of a landscaped agora like a hanging garden. This inclusion in the volume is characterized by overhanging floors, cut irregularly to protect from the sun. This succession of curves forms a landscape of vertical, interior and luminous layers which contrasts with the smooth, dark and reflective aspect of the exterior skin.
The agora is visible from the entrance hall thanks to a large atrium which opens on the garden and the interior facade. Its volume allows the arrival of natural light and air in the heart of all the offices.
Particular attention to the performance of the envelope contributes to saving energy: three sides made up of a single, high-performance skin containing airgel and one side facing south-east on the Seine side made up of a smooth double skin . The latter is covered with a mesh of solar tubes ensuring a large energy productive surface.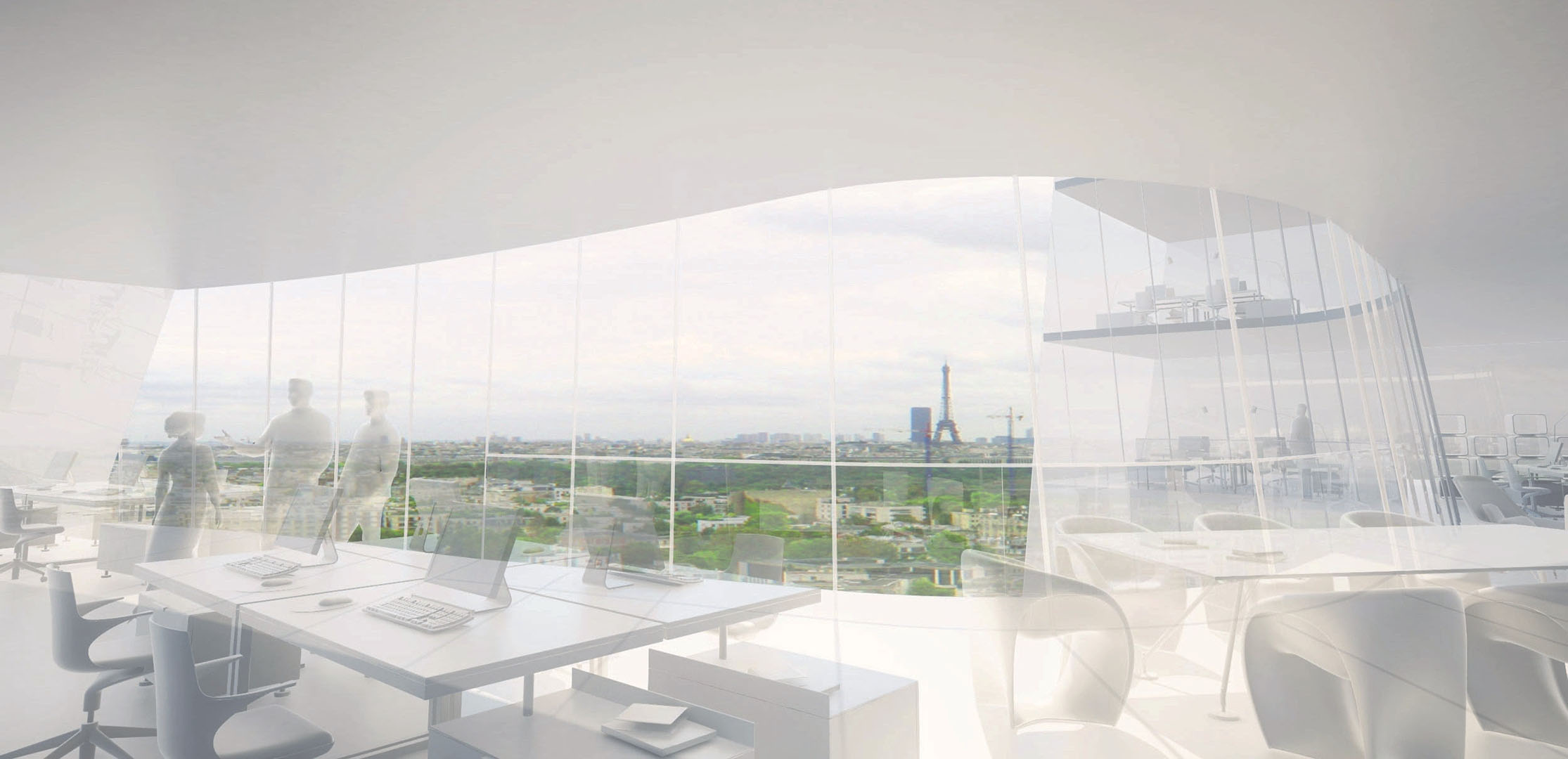 PROJECT TEAM
MANAGEMENT TEAM
Architect: ANMA
COMPETITION
Hélène Galifer
Ronan Le Hyaric
Sidonie Peyramaure
Sylvain Combaluzier
Elsa Bernard
David Cote