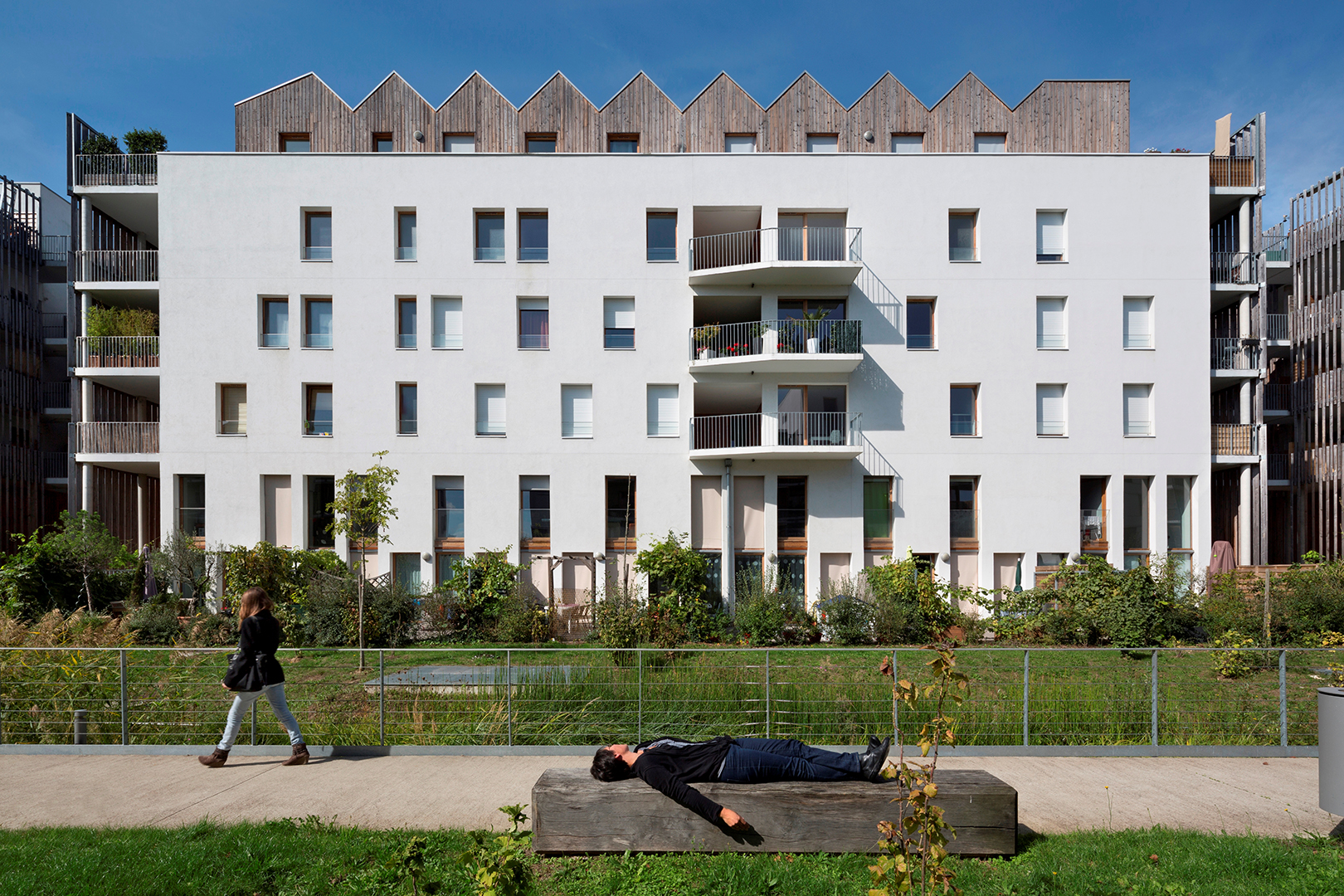 a system of blocks
between streets and gardens
The project is part of the sector's urban logic which organizes a system of blocks between street and garden. Two buildings of 207 apartments frame a central garden and have a built front on the two lanes.
The building designed by ANMA is located on the western edge. It has two public crossings leading to the central garden and two faults on the upper floor crossed by passageways on four levels.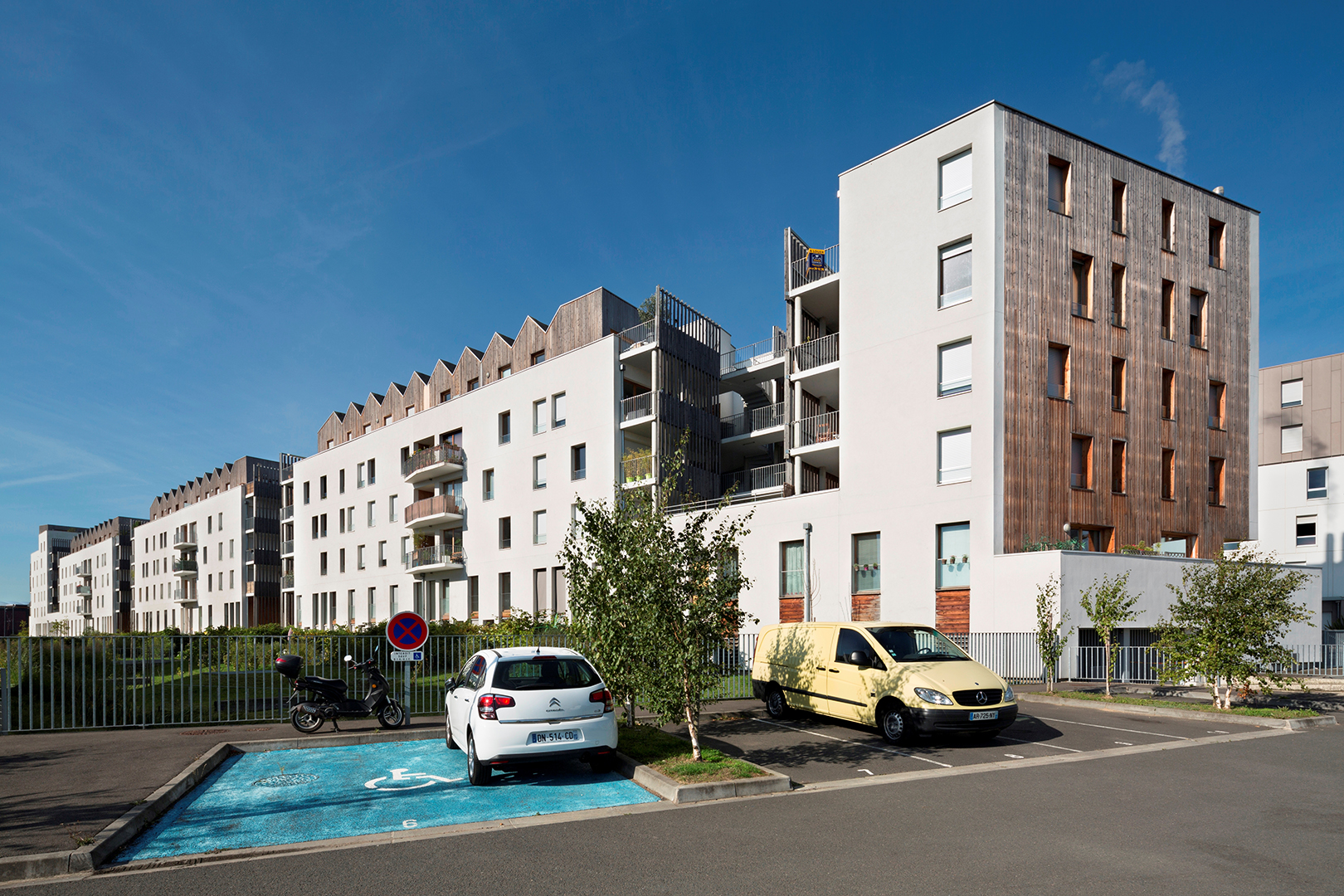 2 to 4 orientation
housing
The building is characterized by two large linear structural walls covered with an exterior insulating complex and a smooth white plaster, pierced with wooden joinery windows. The other facades are covered with a wooden vertical slats cladding allowing insulation from the outside.
The accommodations benefit from two to four orientations and generous terraces that open onto the garden. The private terraces on either side of the passages or on the hanging gardens are protected by wooden claustras.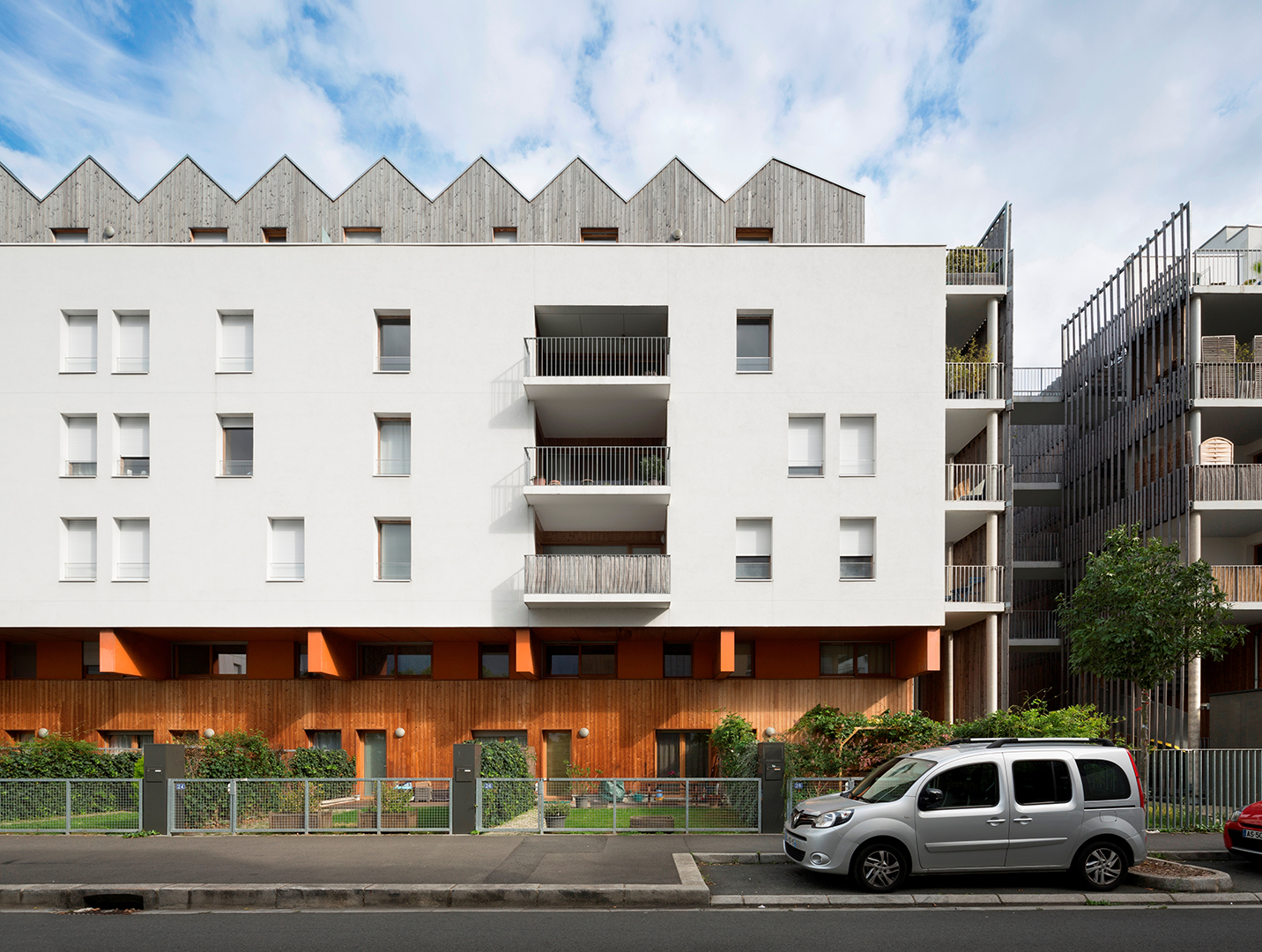 crossing, duplexes, balconies, loggias
Three types of housing are developed. Crossing accommodation, duplex on the ground floor with individual access from a garden, extended by large private terraces on the central garden. Housing of different sizes on three levels from G + 1 to G + 3, open onto large terraces, balconies or loggias.
Type 3 accommodation have a loggia which can be annexed to the apartment for transformation into Type 4 housing. Large five-room apartments located in the upper part of the building open onto large peripheral private terraces in three directions. Their specific volume evokes penthouses.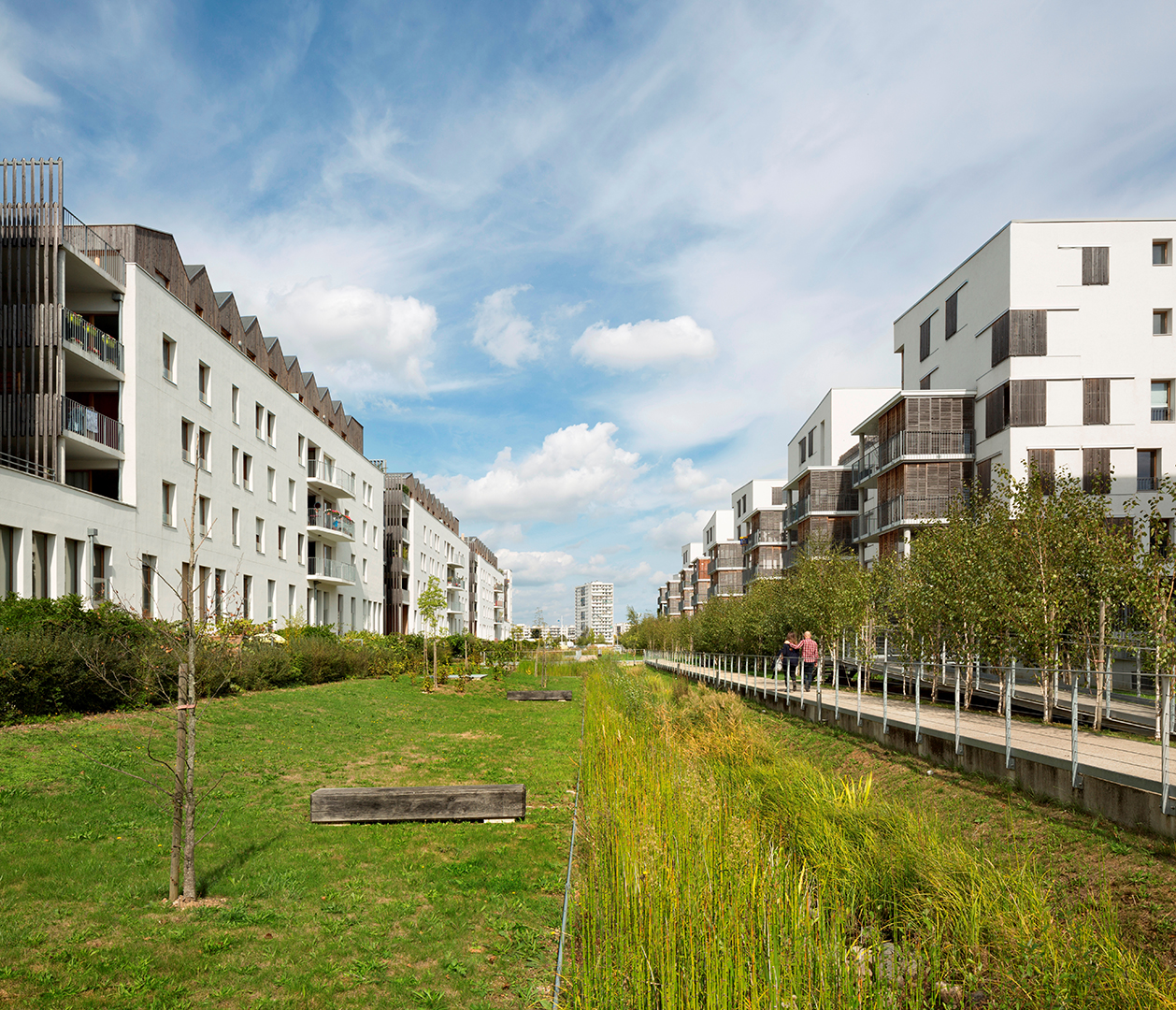 sustainable runoff management
The operation is part of a sustainable development approach through its thermal performance. A wood boiler supplies the two buildings, rainwater is collected and stored to be used for watering the central garden during hot weather.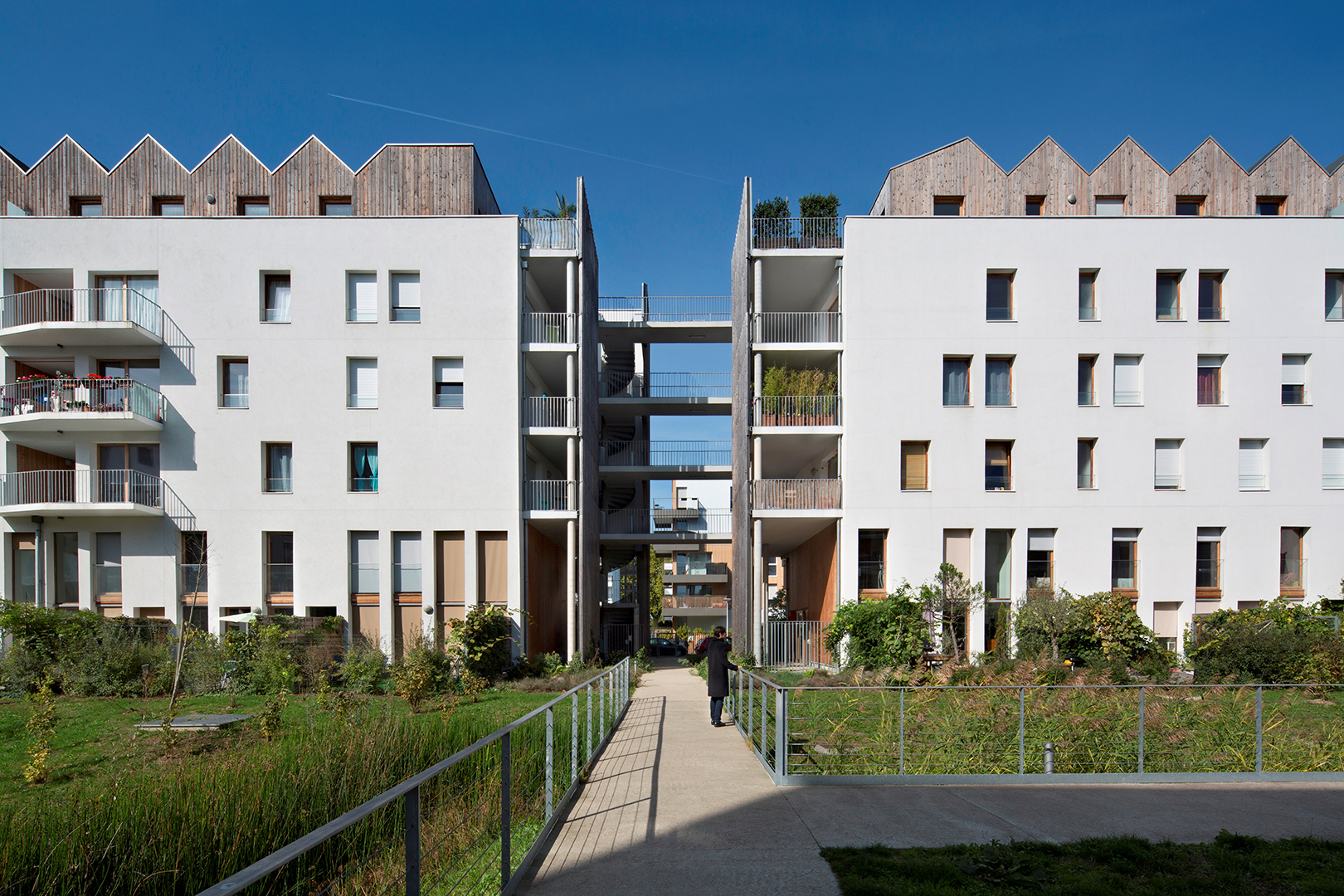 ecological submersible garden
The submersible garden located on a former wandering area of the Cher, mimics the functioning of the original ecosystem: from a hydrological point of view, it constitutes a buffer zone, and from an ecological point of view, it allows to reconstitute the biotope. A remarkable flora is reintroduced: oxygenating aquatic plants, submerged plants, and in the area out of water, a wooded strip of birch trees.
Groves of alders and ash trees create shaded areas, the undergrowth is planted with staggered currants. During a flood of the Cher, the garden will constitute an expansion zone and will evolve according to the rainfall.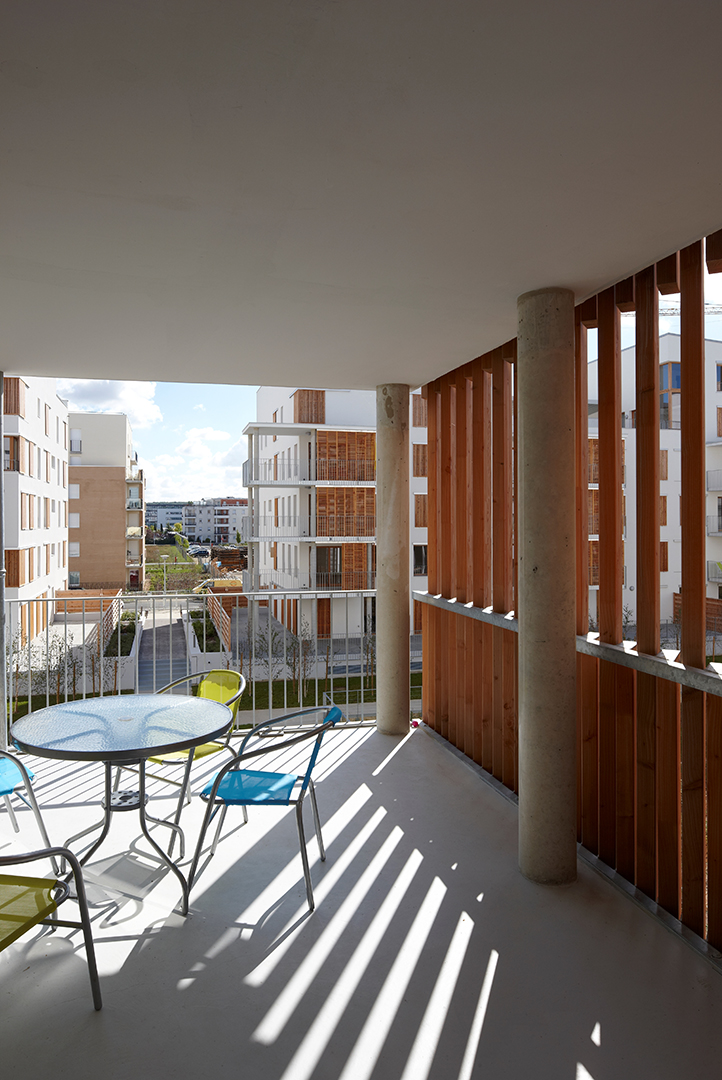 PROJECT TEAM
MANAGEMENT TEAM
Architect: ANMA
All trades: OTH
COMPETITION
Valérie Dubois
Eric Druel
RESEARCH
Valérie Dubois

LANDSCAPE
Frédéric-Charles Allet