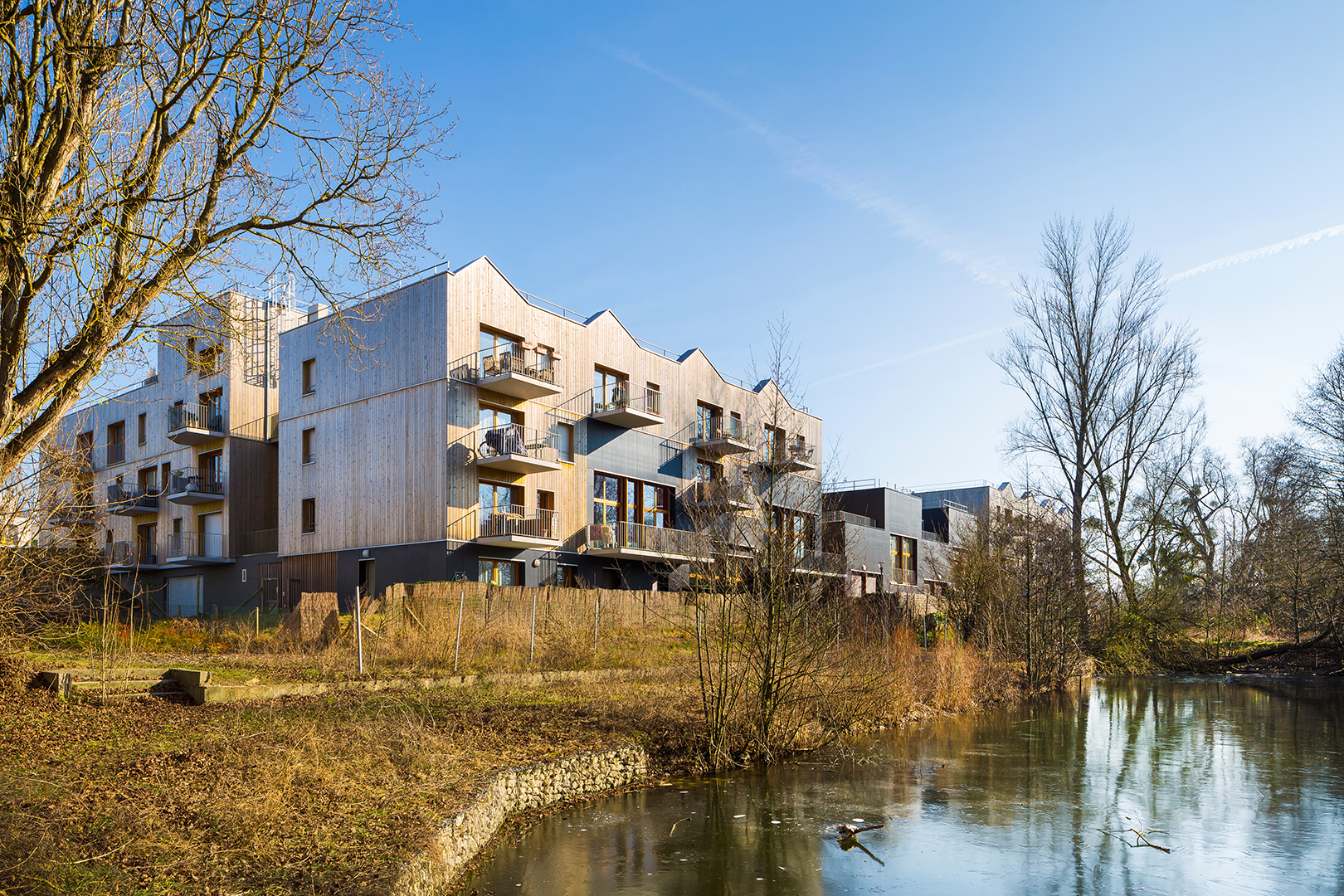 ponds
and small paths
The Étang aux Cygnes CAZ is located on the banks of the Marne, south-east of the city of Meaux. Lot Z13 is a 4,146 m² lot, located along the natural area made up of ponds and small paths. Bordered by a new one-way road to the northeast, a pedestrian walk delimits the plot to the west.
This new CAZ is intended to be an extension of the city of Meaux and the link with the long neglected natural area. In view of the privileged location of this land, our desire is to develop a qualitative operation with the objectives of meeting the needs and lifestyles of future inhabitants, the environment and comfort while enhancing the site and the neighborhood.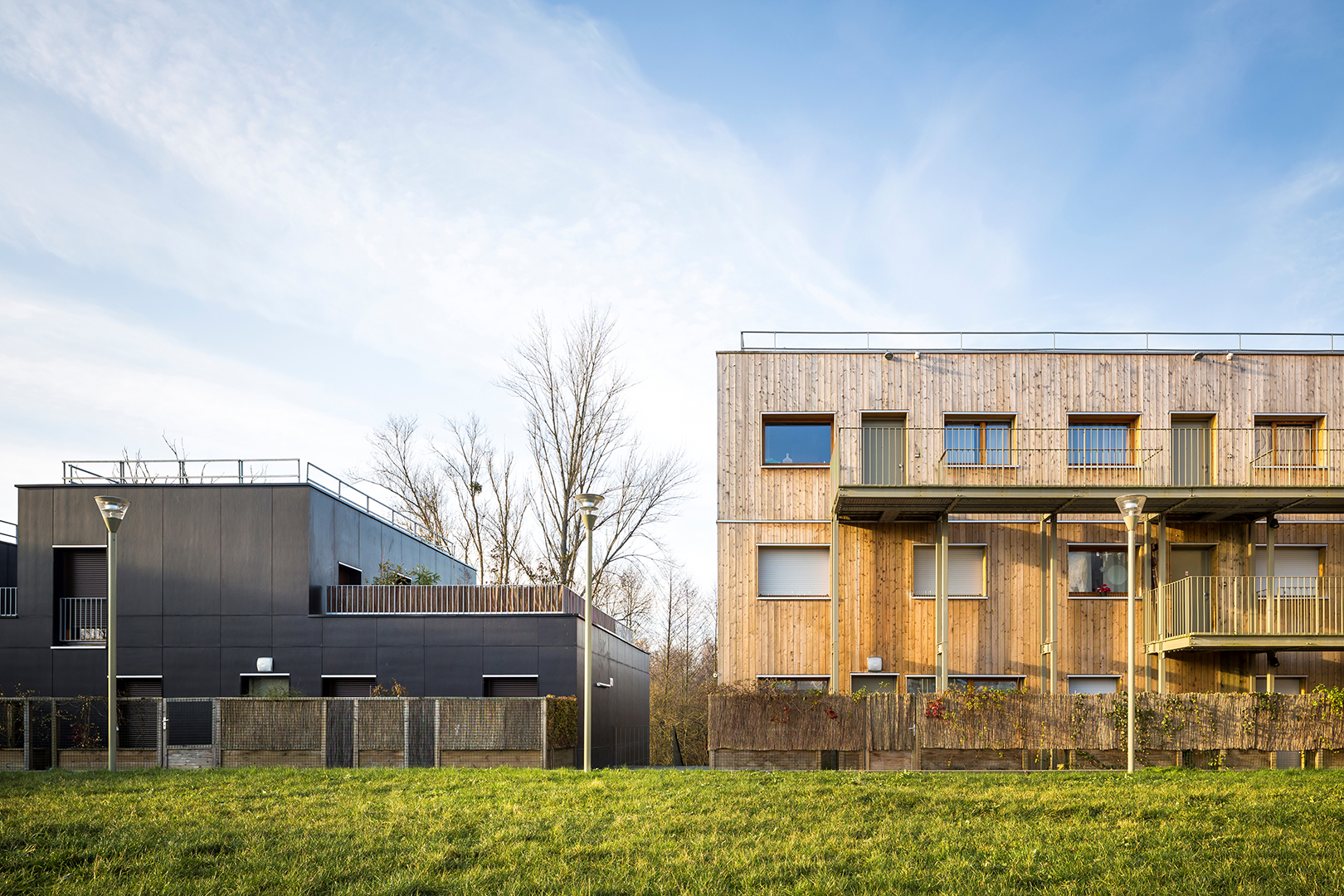 vertical circulation in the open air
The project plans for 46 housing units, organized in a "U" around a planted orchard. Access is from the new lane located east of the plot. Pedestrian access is from the center and crosses the orchard below. Ramps provide access to the upper part of the garden, which is designed with a lawn.
Pathways run along the private parts on the building ground floor and lead residents to vertical open air circulation. The building is split in order to create two visual and physical openings connecting the orchard on the ground floor to the natural area located on the ground level, leading the inhabitant to gradually discover the landscape.
The building takes shape on R + 3 south and north side and R + 1 south side only between the two visual openings. Due to the topography of the land the low level goes from the ground floor to the garden level.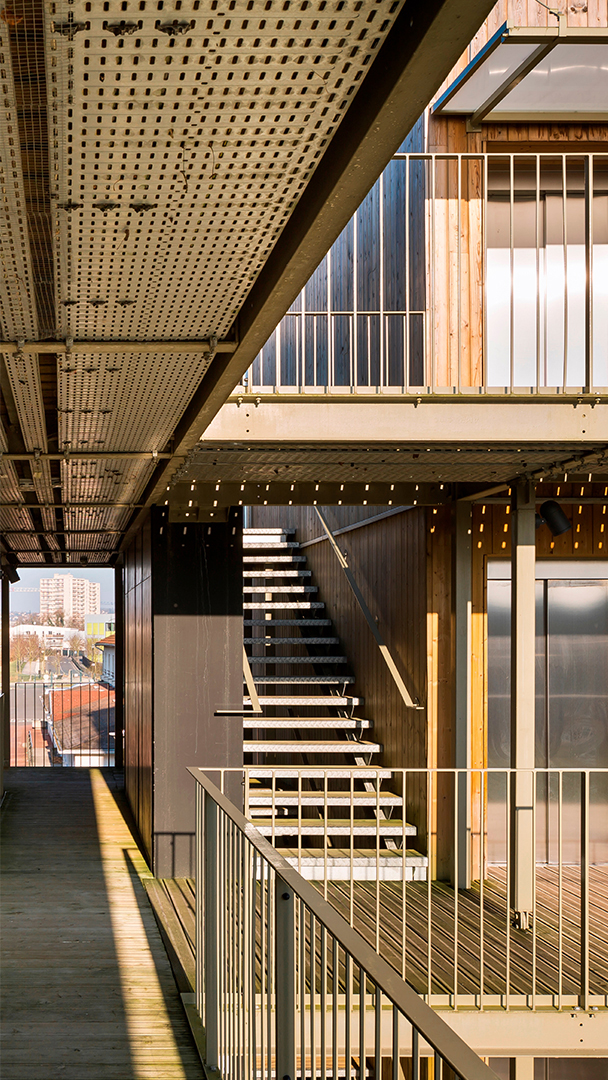 all accommodations
are double-sided
The silhouette of the building is light and low in order to provide transparency to the neighboring blocks. The housing project is designed as intermediate housing, occasionally offering the individual units. The accommodations are all double-sided offering a view of the pond, as for the larger T4 and T5 they offer double height living-rooms. Ils possèdent tous des prolongements extérieurs privatifs. The passageways are generous and offer a space for each inhabitant to be taken.
terracotta, wood
and zinc
The exterior facades in natural materials combine terracotta on the base and wood on the upper floors. Large and high windows to the right of the duplex living rooms offer a view of the pond. The roof is treated as a green terrace roof allowing better water retention and thermal insulation. It is occasionally supplemented by zinc-coated sheds housing solar panels for sanitary hot water production.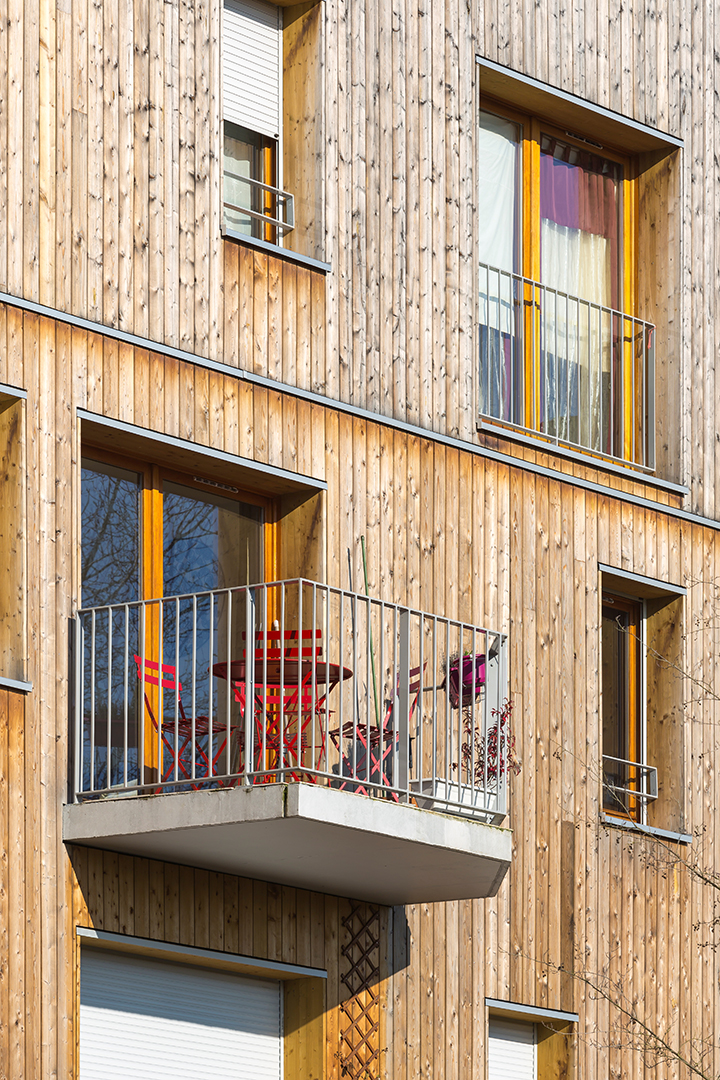 PROJECT TEAM
MANAGEMENT TEAM
Architect: ANMA
MOEX, landscape: Hervé de Chastenet
Landscape: Sempervirens
Structure: EPDC
Economy: Mebi
Fluids: Synapse Concept
COMPETITION
Fanny Rozé
RESEARCH
Olivier Calvarese
Hélène Dupont
CONSTRUCTION SITE
Gaëtan Jaworski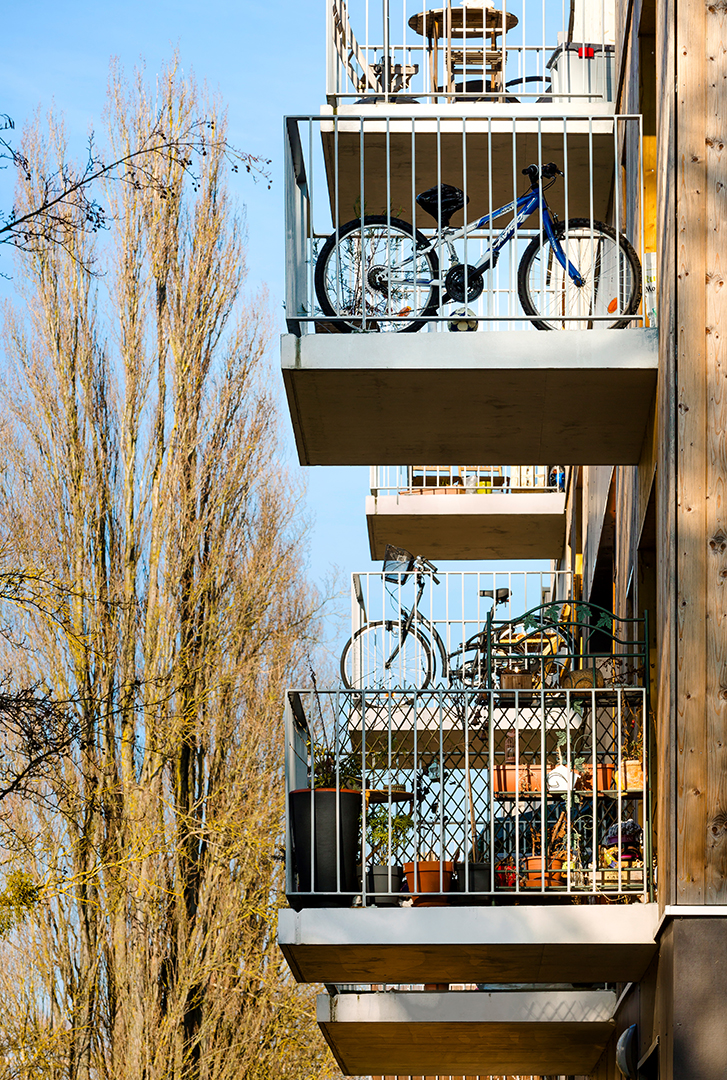 TECHNICAL SHEET
STATUS Completed
COMMISSIONED BY Brémond
YEAR 2012
SURFACE 3 800 m² SHON, 8 830 m² SHOB
COST 4,6 M€ HT
VISUALIZATION Kaupunki
PHOTOGRAPHY Sergio Grazia
CERTIFICATION
Très Haute Performance Environnementale