Earth
ground
territory

Traveling exhibition designed by ANMA Architectes Urbanistes, produced by the CAUE Rhône Métropole, in partnership with the ANMA Corporate Foundation, the BRGM National Geological Survey and Sciences Po Urban School. The first hanging takes place at the CAUE Rhône Métropole in Lyon from February 8 to May 20, 2022.
The exhibition proposes to unfold the mechanisms of the fabric of the city by initiating a change of perception in our way of apprehending and valuing the soils.
Download : the press kit and the press release .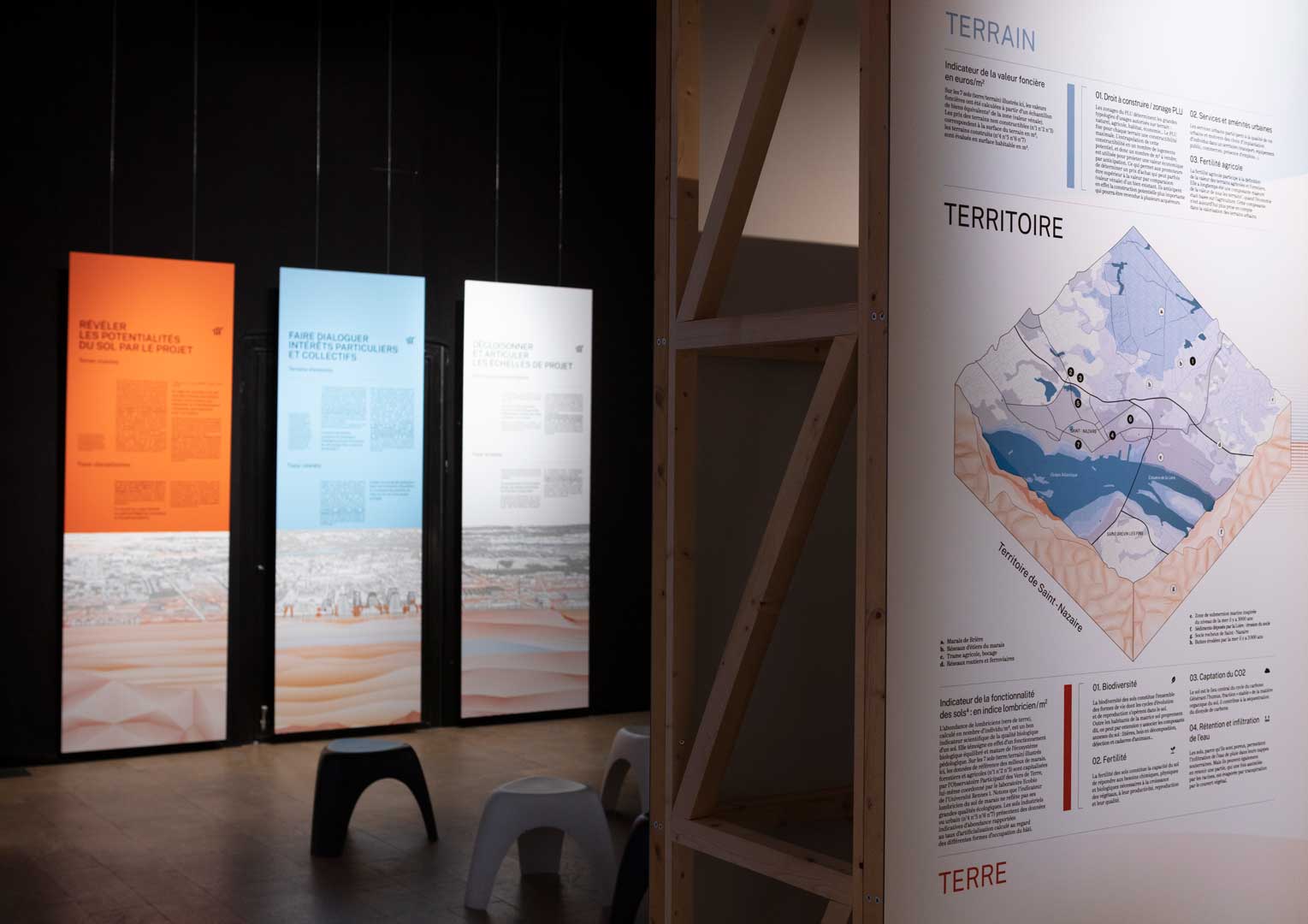 to question
soil values
This research work explores and questions the values of our soils. It sheds light on the development processes at work and wonders why society values its fertile land so little. It invites each visitor to change the way they look at the floors. Do we really know the value of what is under our feet?
The scenography distinguishes three great times. The first, rules of the game, to assimilate the fabric of the city and its relationship to the land: heritage soil, chronological timeline, land values, economic construction of the development. The second, contemplative, to immerse oneself in three large animated cuts illustrating the tensions brought to light. And the last, in the form of tracks, to open towards otherwise.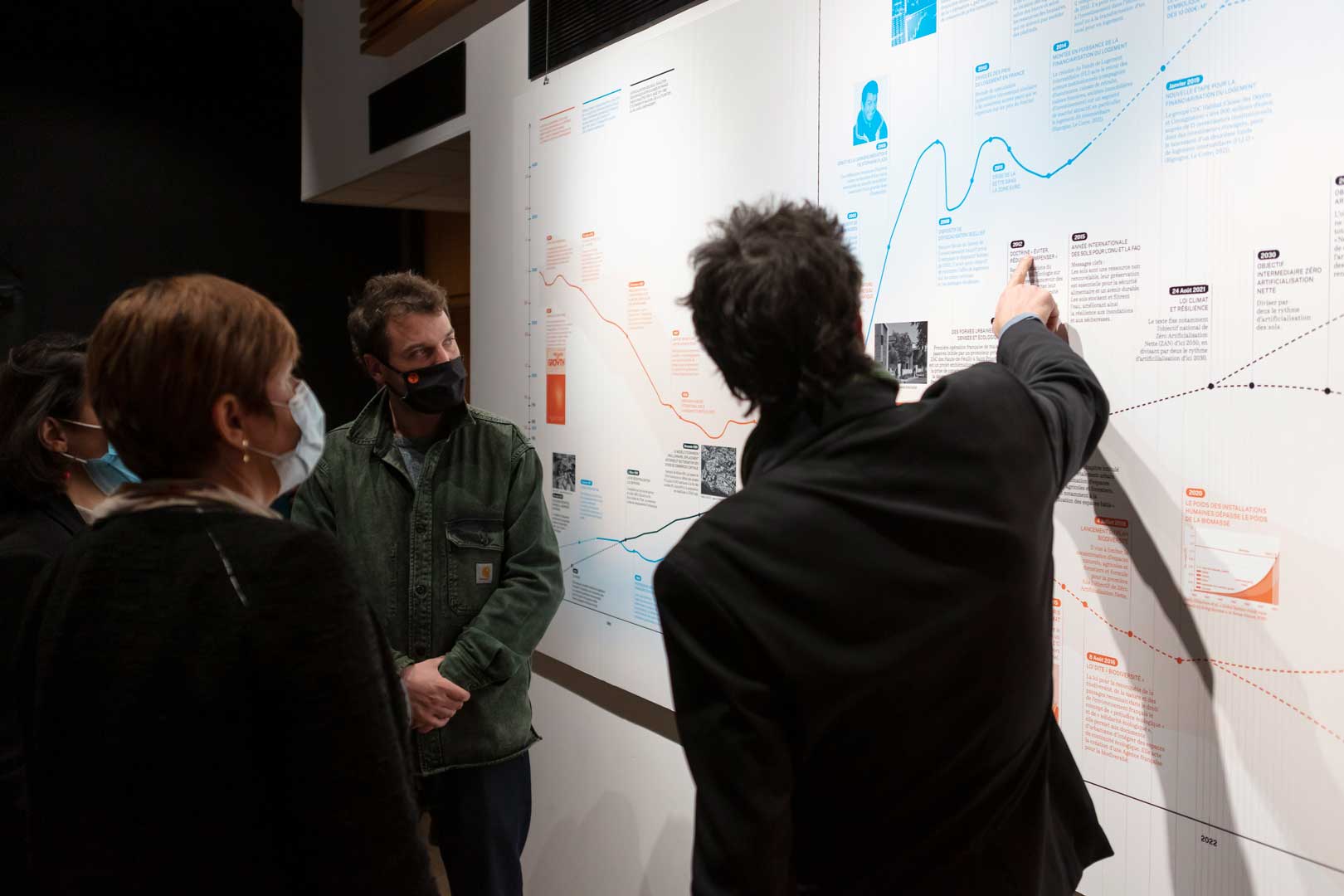 re-examine
the production of the city
By inviting us to consider the soil as a common heritage, this exhibition presents the strata of the soil as so many clues to a past, collective and plural history. A committed story that reveals the acceleration of the transformations at work of this limited resource.
Can observing the effects of our societies on our soils question our ways of life? Does the eternal constraint of the economic balance of the production of the city inevitably generate a debt inscribed in the soil for future generations?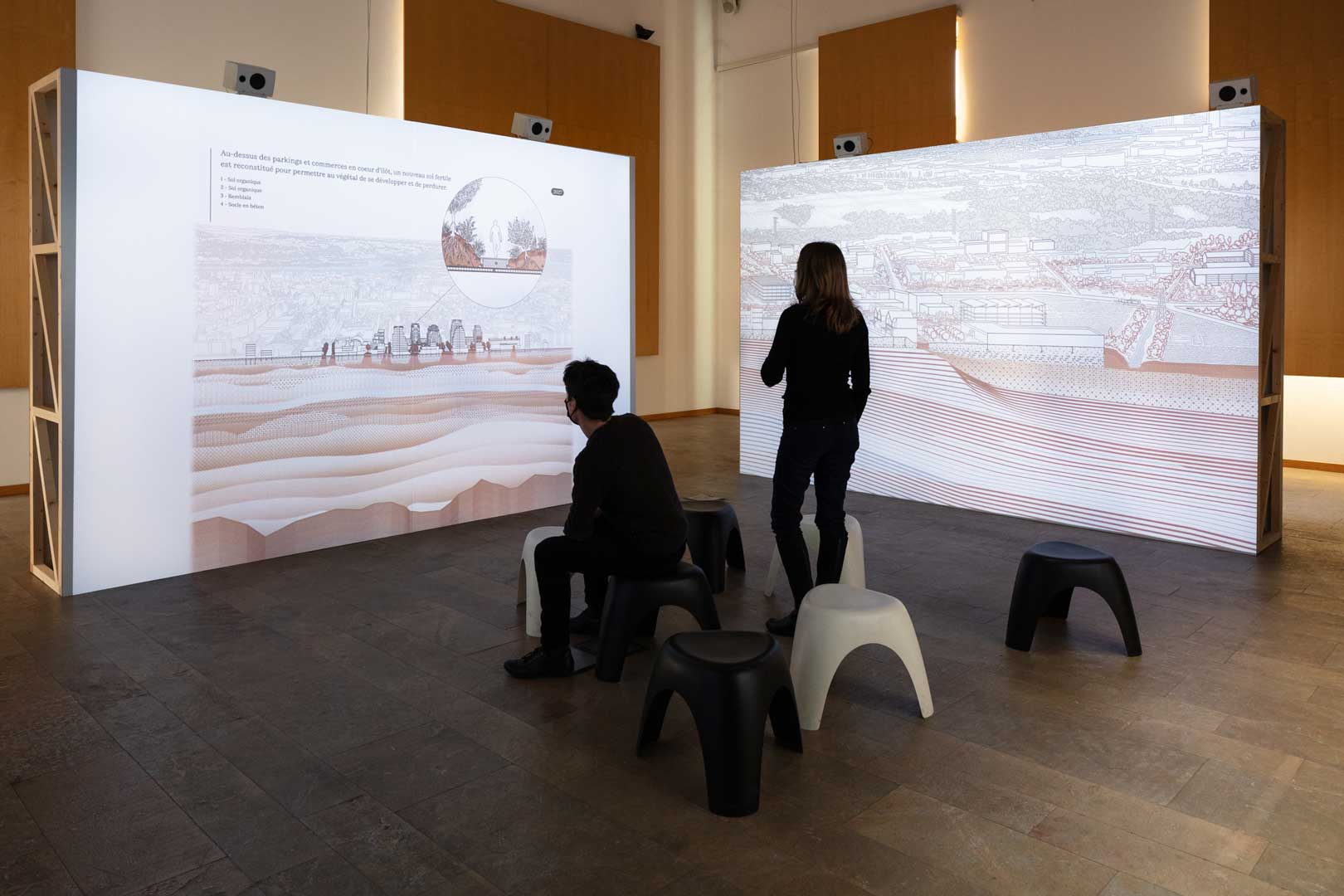 EXPO TEAM
CURATOR : ANMA Urban Architects
Project manager: Agrippa Leenhardt
Researcher: Pierre Bouilhol
Communication and coordination: Emil Walbron
Project assistants: Albane Viateau, Laurène Hillion, Marie-Alix Gourlet
Scenography: Élise Glory
SUPPORT : ANMA Corporate Foundation
President: Anne-Laure d'Artemare
Proofreading: Clélia Fortier
GRAPHIC AND VIDEO DESIGN: Les Zinc
Vincent Hennebert, Gaëtan Buffon, Julien Stephan
ILLUSTRATION : Clément Vuillier
SOUND ANIMATION : Studio V7
Pablo Chazel
Right: Section of forest land illustrating fertile soil values
Then : Build on a field, a brownfield site, in town?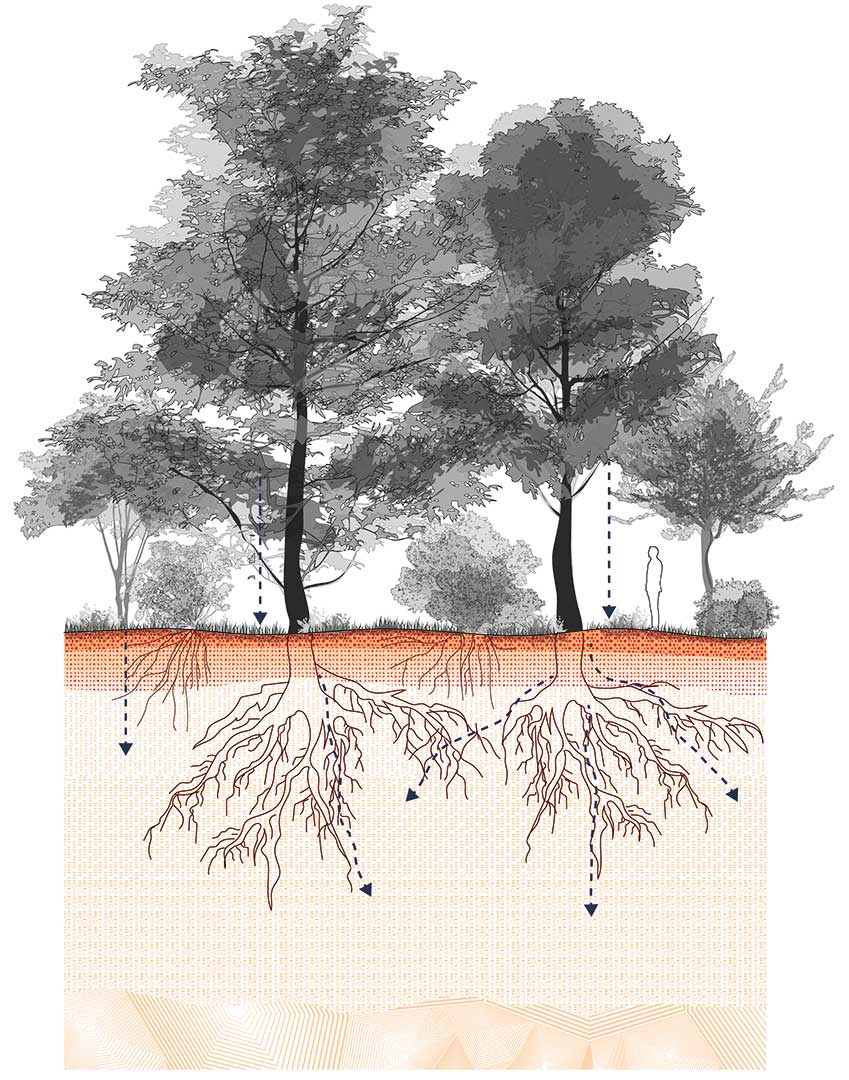 PRODUCTION
MANAGEMENT : CAUE Rhône Métropole
Director: Sébastien Sperto
Project manager: Anna Costes
PROOFREADING
Delphine Blanc, Iris Huneau, Romain Marchetti,
Florent Perroud
SECTORAL EXPERTISE
Yann Gérard, Hélène Reynaud (Suitability)
Aimeric Fabris (EPORA)
Sabine Lozier, Olivier Roussel (Urban planning agency for the Lyon metropolitan area)
CONSTRUCTION, LIGHTING, SETUP
Jean-Claude Laurent, Jean-Philippe Murgue, Julien Montet
COMMUNICATION AND PARTNERSHIP
In Media Res
PRINTS
AGP, ATC Group
PHOTOGRAPHY :
©F. Perroud CAUE69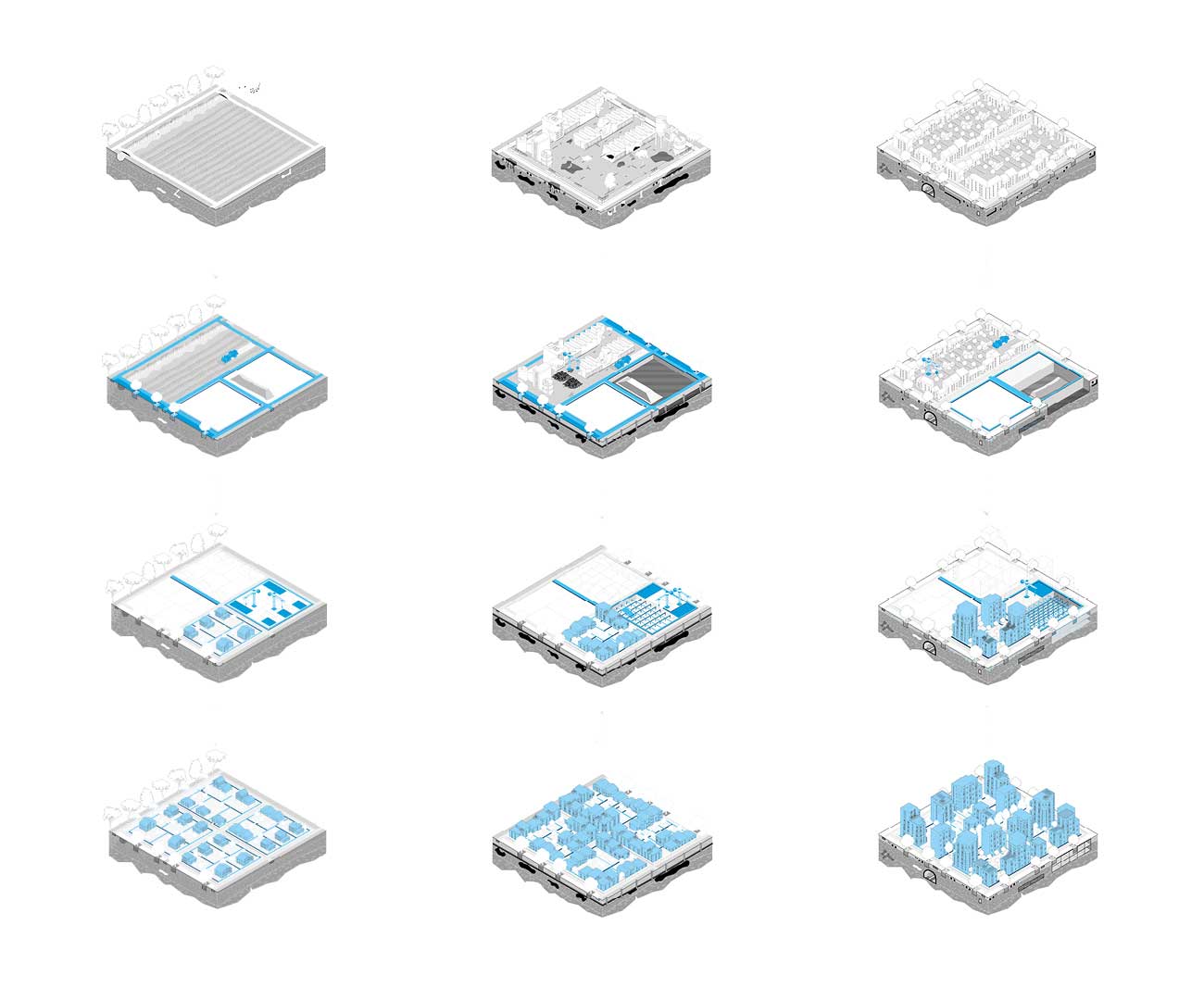 ASSOCIATES
PREPARATORY WORK
Collective project of the urban planning cycle of Sciences Po Paris (2019-2021)
Students: Sarah Ayoub, Marie Carbo, Shana Cohen,
Amrita Maitra
Tutor : Marie Llorente
Pedagogical manager: Marina Gaget
GEOLOGICAL DATA AND CORING
BRGM: Olivier Serrano, Romain Darnault
SECTORAL EXPERTISE
Xavier Bonnaud: architect, professor (ENSA Paris-La Villette, GERPHAU)
Cédric Lavigne : consultant in archaeogeography
Marie Llorente : economist, research consultant in urban planning
Xavier Marié : agropedologist engineer, urban landscape architect (Sol Paysage)
Christian Piel : hydrologist urban planner (UrbanWater)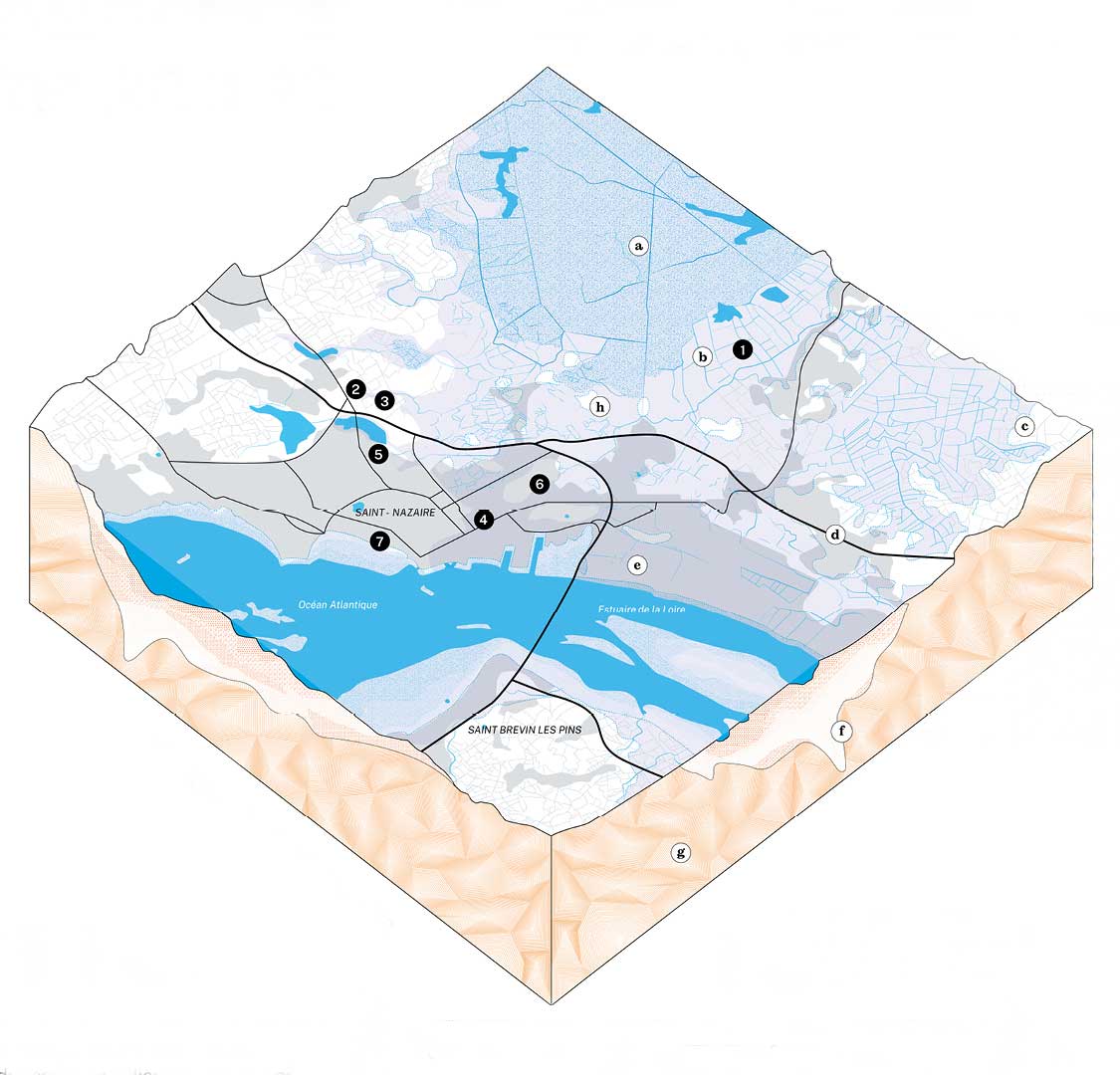 THANKS
Barbara Belle (the Greater Lyon Property Investment Company)
Anne Blanchard (Sol & Co)
Henry Bossart
Arnaud Cecillon (Rhône Saône Habitat)
Joseph Comby
Mélanie Foucault (Archaeology Department of the City of Lyon)
Mélusine Hucault (ANMA)
Hugues Jacquet
Amélie Leguay (SERL)
Nicolas Michelin
Benoit Tracol (Rhône Saône Habitat)
Left: Territorial axonometry of Saint-Nazaire.
a. Brière marsh b. Networks of bogs of the marsh c. Agricultural framework, bocage d. Road and rail networks e. Marine submersion area inspired by sea level 3000 years ago f. Sediments deposited by the Loire / basement erosion g. Rock base of Saint-Nazaire h. Mounds eroded by the sea 3000 years ago
1. Swamp land 2. Forest land 3. Agricultural land (grassland) 4. Industrial land 5. Land suburban fabric (permeable) 6. Suburb soil (low permeable) 7. Downtown Earth (Waterproof)