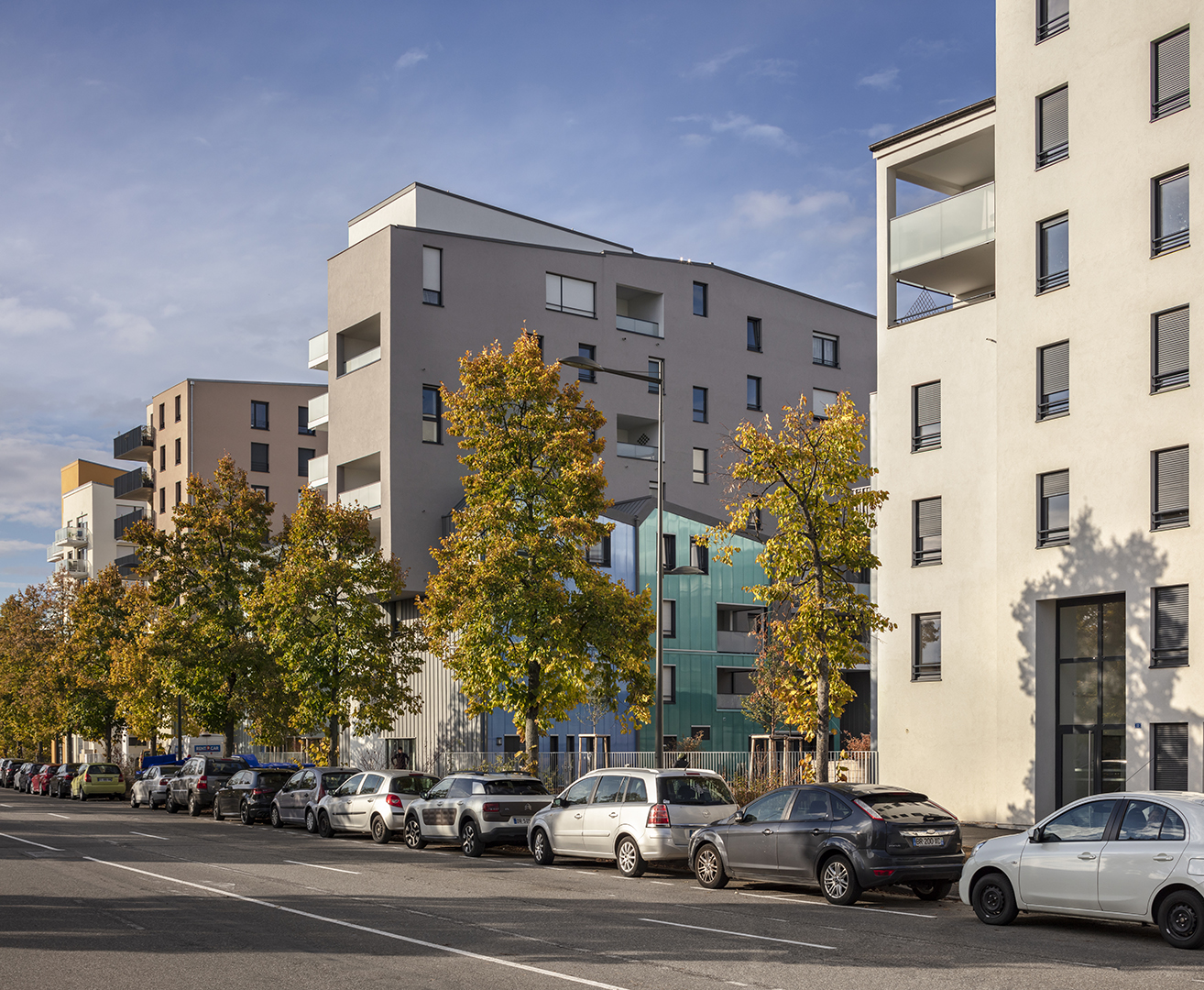 transfer between
the station and Cronenbourg
The rotunda site is the last site to change halfway between the station and the Cronenbourg district. Connected to tram A and D by the Rotonde station and its relay car park, 3 minutes from the TGV station, it is a large mobility hub on the scale of the Strasbourg metropolitan area.
It is located in the green belt corresponding to the former military glacis around Strasbourg, a still heavily green area where equipment, railways and motorways have taken place.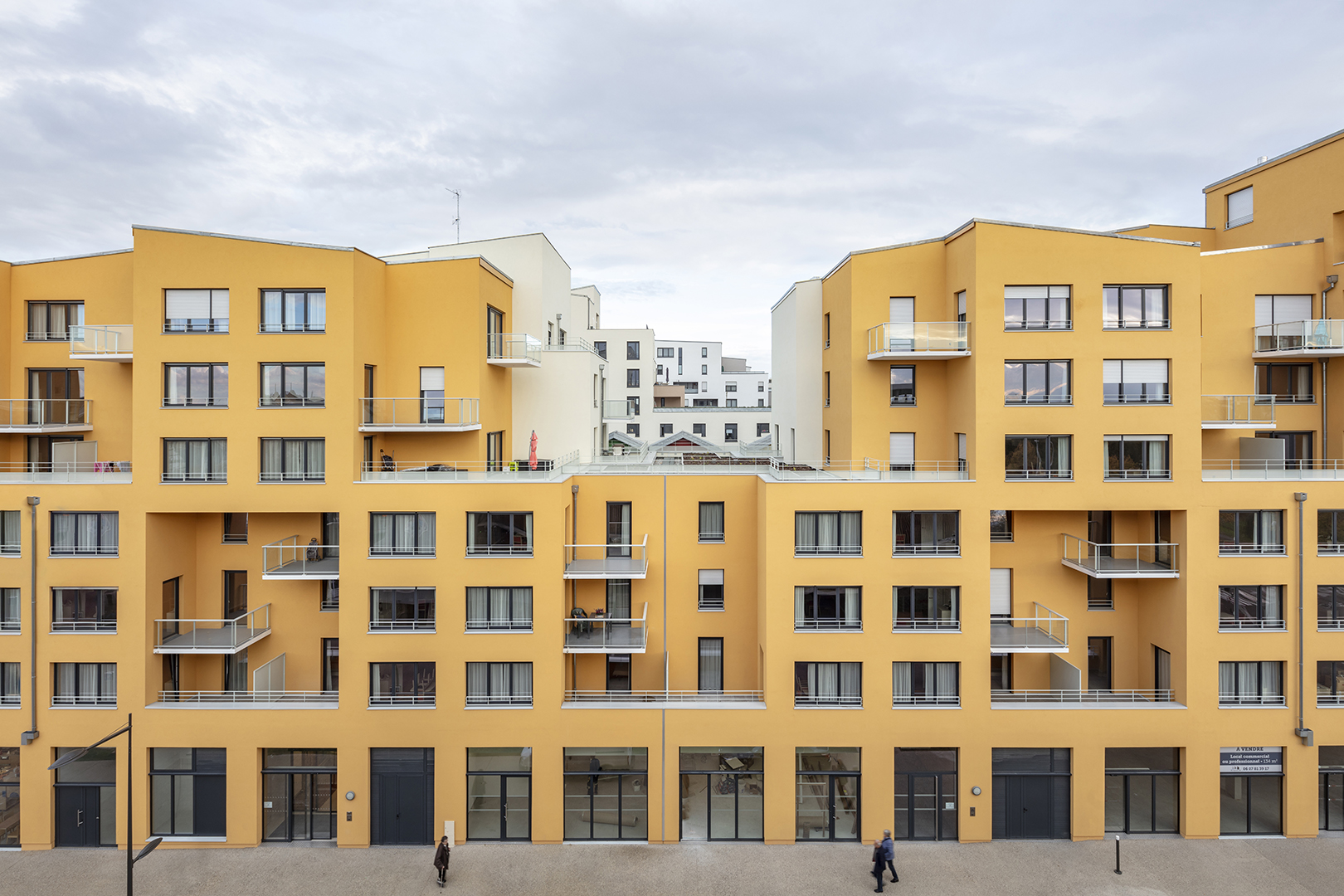 domestic comfort
guaranteed
The sites inner qualities and potential have led to favor 3 tailor-made orientations:
The fairest hold on the ground of buildings and infrastructure, to reopen the soil in order to recover as much open ground as possible and promote plant continuity at the city level while preserving the private character of the block.
An east-west orientation for housing with many crossing and duplex housing for high quality living spaces, in the heart of buildings with various volumes for better appropriation by the inhabitants.
A new identity for the entrance to the city, which integrates the DREAL building into a contemporary urban ensemble and which, in the spirit of the Cronenbourg district, respects the human scale.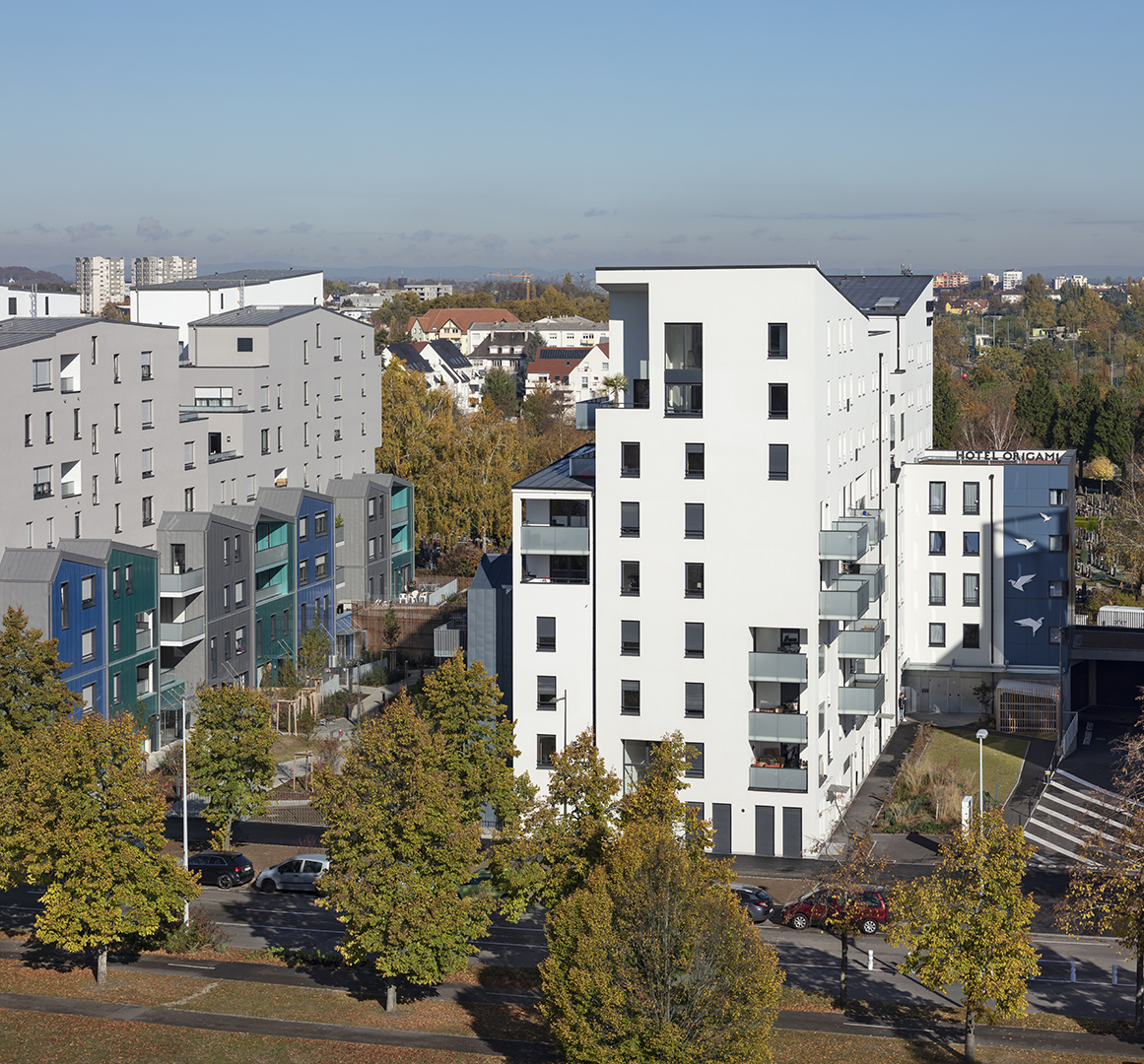 6 housing
programs
A design of linear buildings, with various scales and multiple geometries, parallel to the rue de la Rotonde and to the DREAL building is thus privileged. The 6 programs fit into 4 distant buildings integrating the existing offices as the bow of the urban composition.
Shops and an intergenerational program run along rue de la Rotonde, private home ownership and modern housing are located in the center, and offices and social home ownership are the link with the DREAL.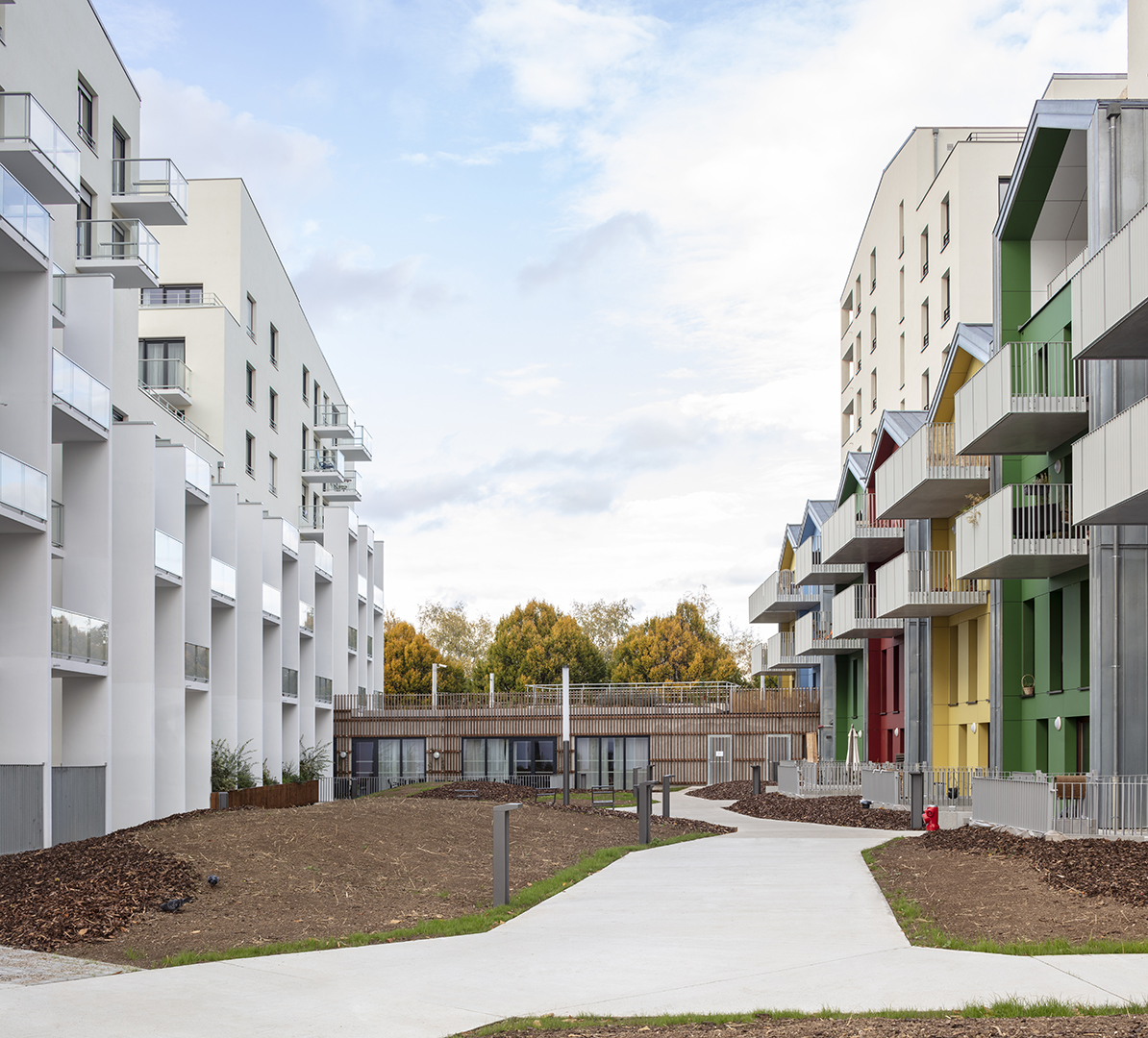 human scale in the heart of the block
The base of the residential buildings is spread over 3 levels. Their facades are based on the dormer architecture of the Cronenbourg district to find, in the heart of the block, building on a human scale.
The mix of housing marked by the identity of each home in its variety of access, volumes, openings and outdoor spaces facilitates the appropriation of the living space by residents.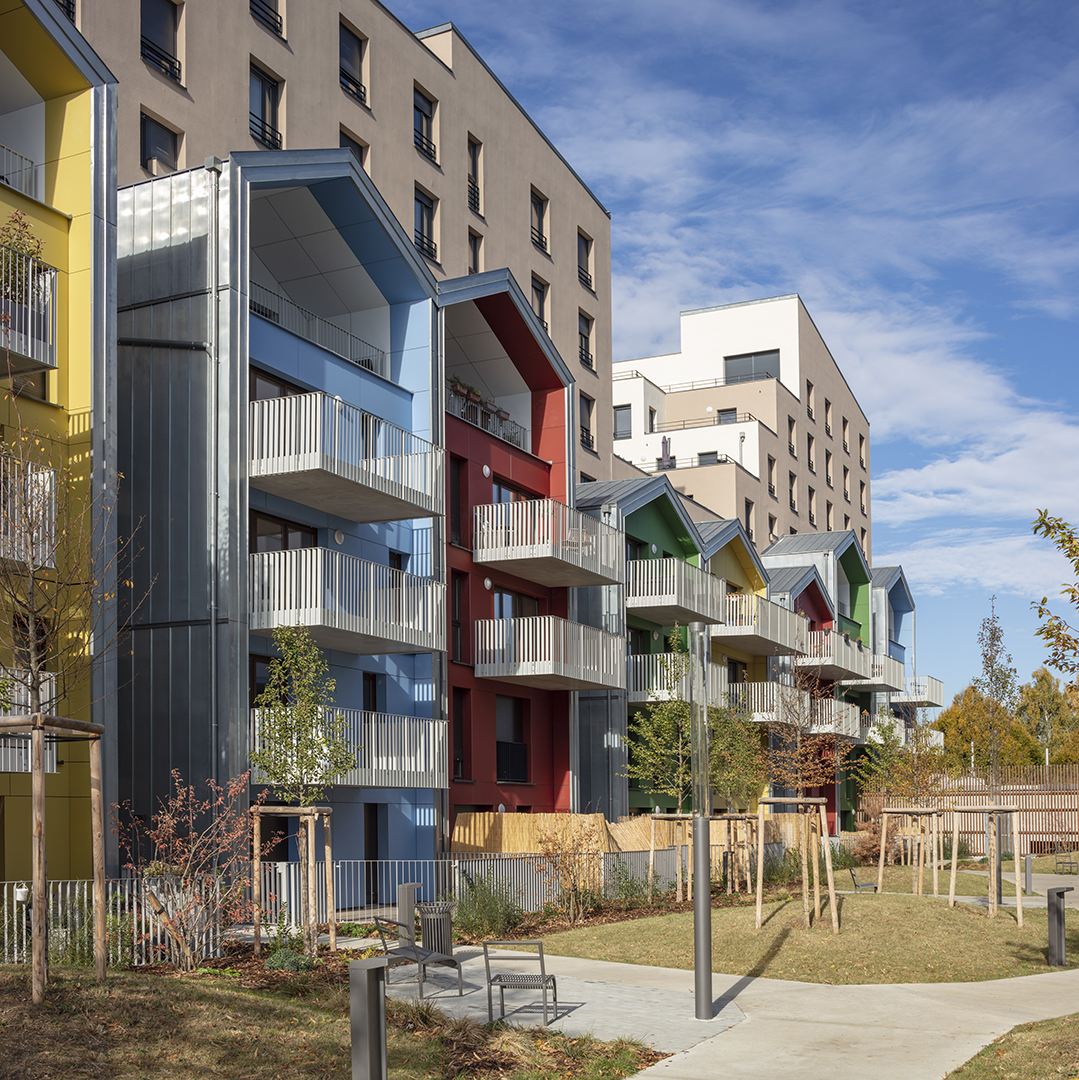 PROJECT TEAM
PROJECT MANAGER
Architect: ANMA
Associate architects: BIK Architecture, Gilch Kalk Gilch
All trades, economy, fluids, structure, HQE: OTE
Control office: Veritas
Environmental engineering: Oliver Bucks
Coordination: APAVE
COMPETITION
Olivier Calvarese, Olivier Delepine, Jordan Weisberg,
Céline Parisse, David Cote

RESEARCH
Olivier Calvarese, Antoine Carrel, Pauline Barraud,
Mickael Papin, Christophe Donot, Giulietta Brunelli

CONSTRUCTION SITE
Jean-Jacques Chagnaud
LANDSCAPE
Olivia Samit, Elisabeth Pelikan