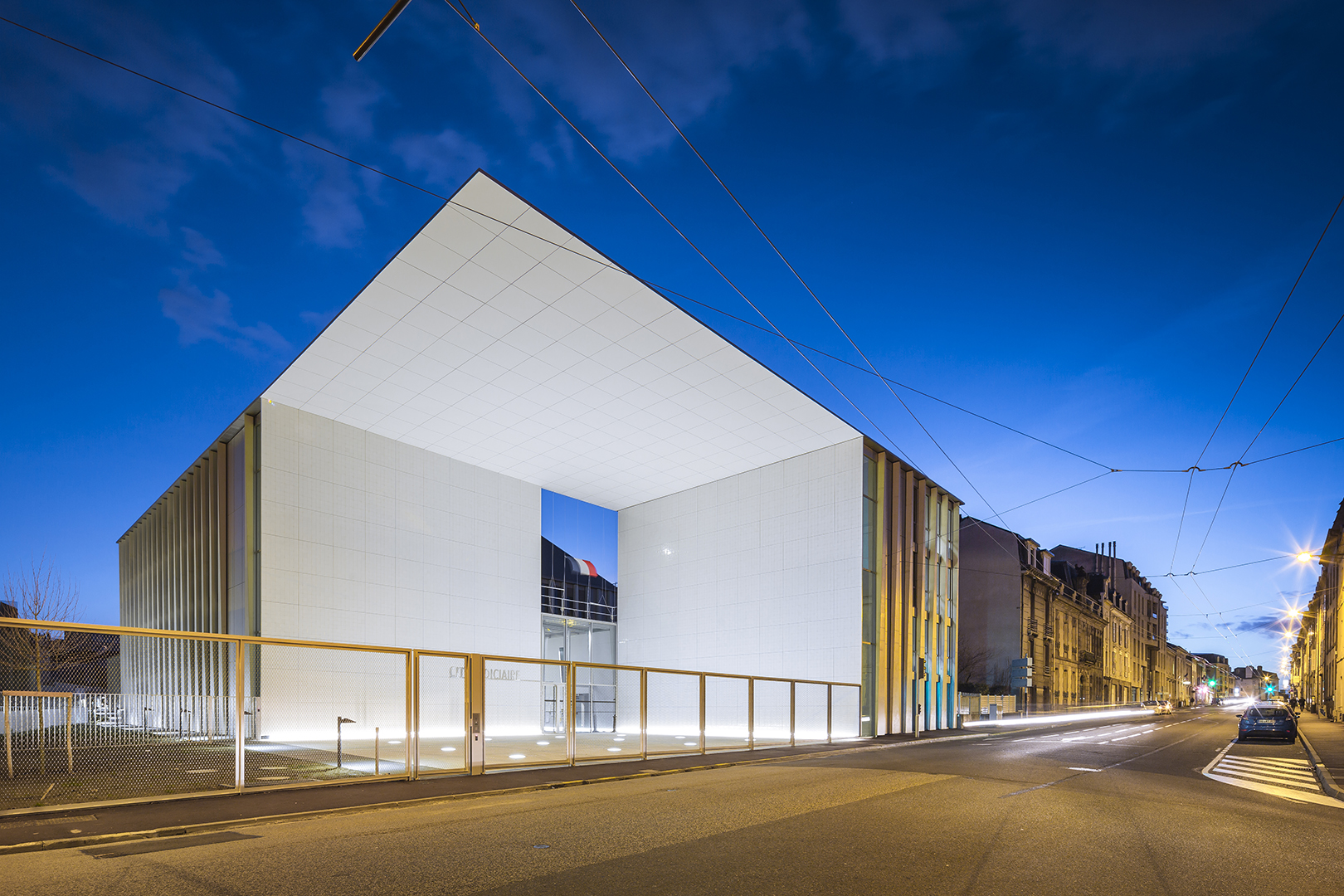 a connection between
emptiness and the place
The Palais de Justice of Limoges seriously marks the corner of Place Winston Churchill. Its composite facade, white, cubic and open to the city, expresses a regal place, of power, of the rule of law, while affirming democratic and welcoming values.
The entrance forecourt forms a pure volume, sheltered by the large white plaque which, like a monumental canopy, overlooks the public space. The two vertical surfaces, linked by the large and fine cantilever, open a open view on the diagonal when arriving from the square, and frame both a fragment of the sky and the vegetated terrace. The Palais de Justice opens to the public, monumental and stable, creating a strong connection between the emptiness of the forecourt, the volume of the square and the window to the sky.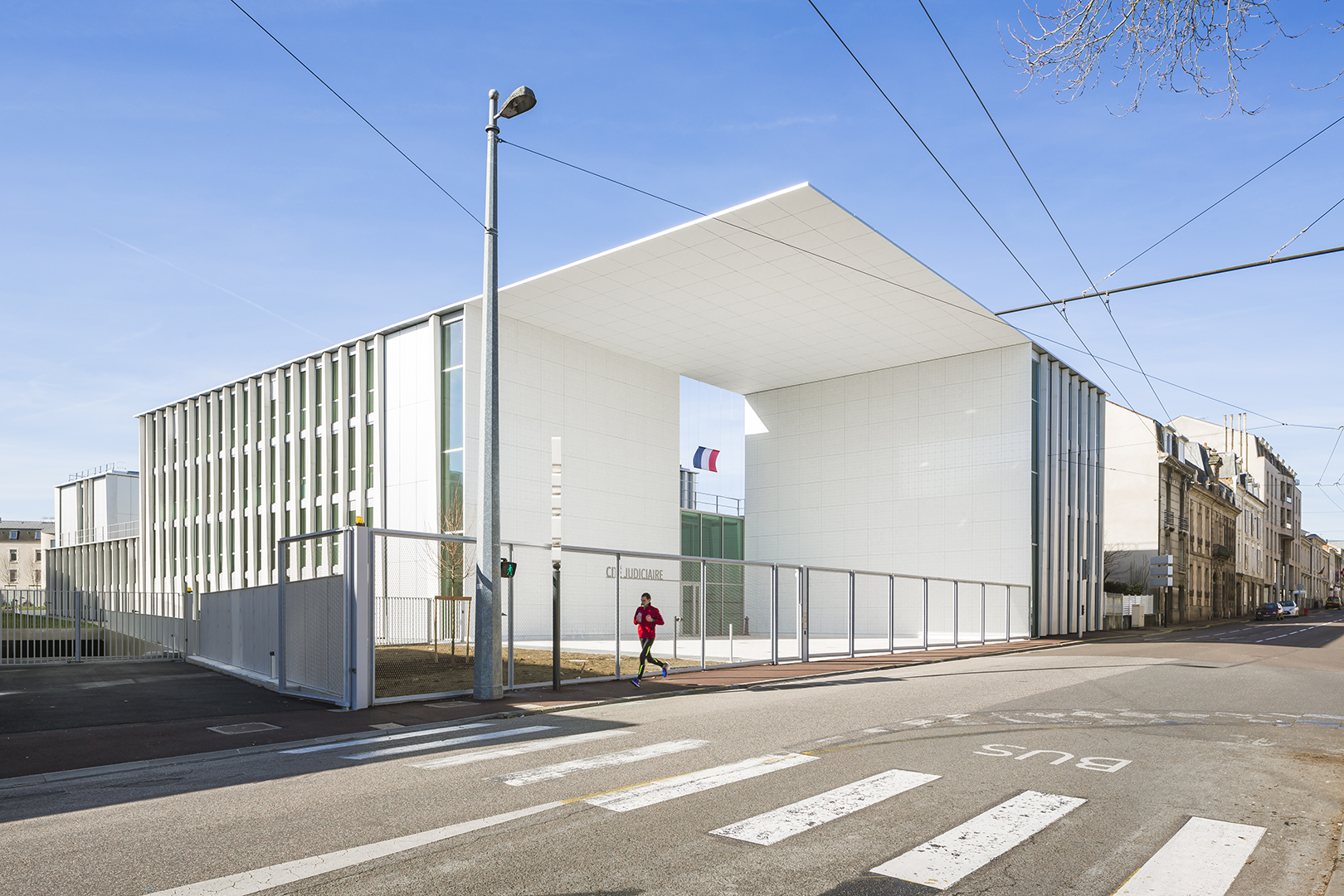 kaleidoscopic impression
The forecourt gives direct access to the Salle des Pas Perdus. It unfolds like a long high-ceiling gallery which gives a view of the garden in the background.
Two glass walls and an optical ring, made up of prisms, punctuate the progression and stage the light and the distance while punctuating the access to the courtrooms. An variation of shadow and light is thus installed along the length of the gallery, producing a kaleidoscopic effect that dramatizes the journey.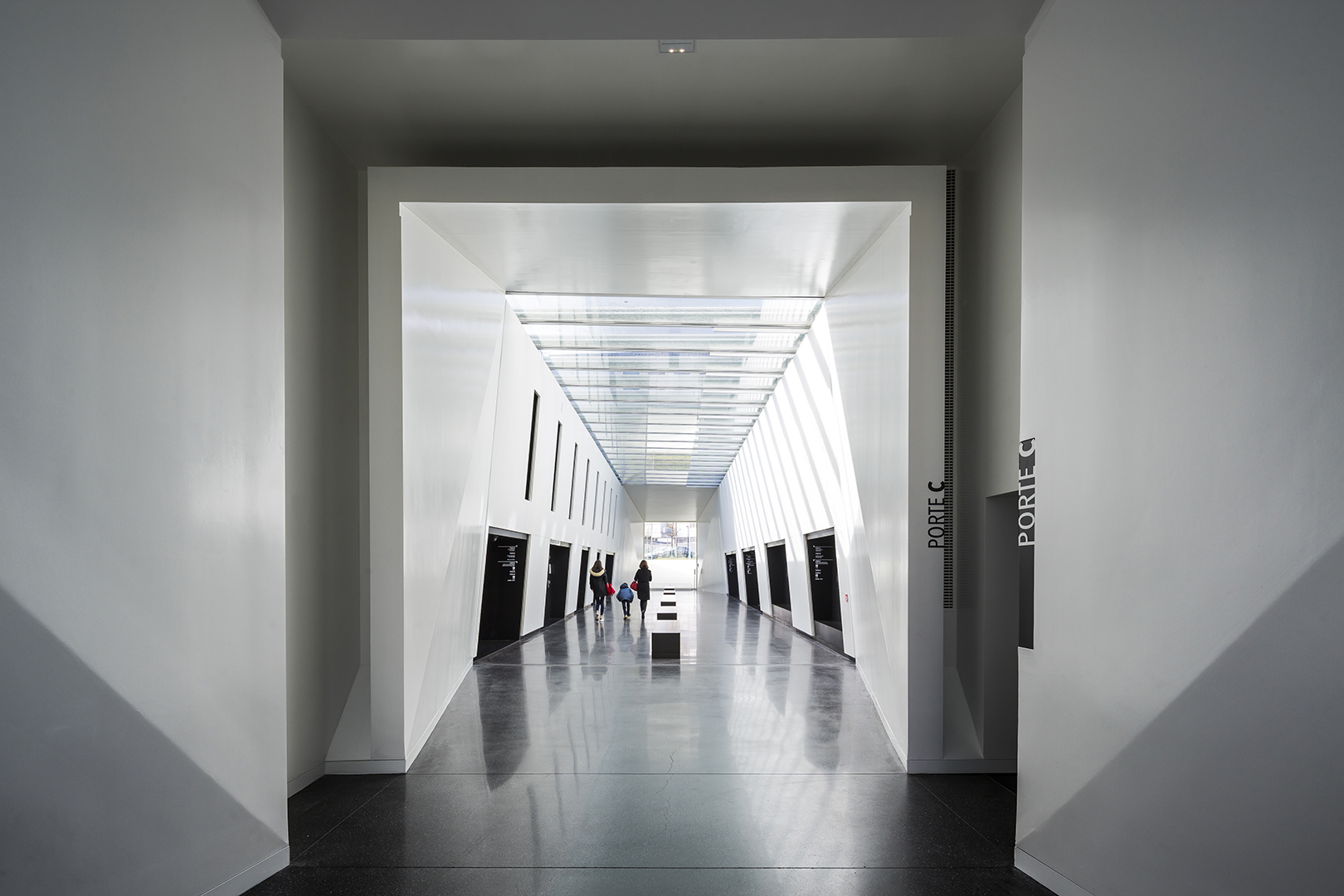 a functional rolling plan
This visual opening, which crosses the island right through, is punctuated by masses of vegetation, from the public square below, the accessible terraces and the park at the back. The general plan of the palace is clear, functional and evolving. It addresses the constraints of the program, views and configuration of the plot. It comes from the partitions of fields that fall under the criminal and civil, and respects the separation of places accessible to the public or reserved for the private.
The courtrooms are distributed by the Galerie des Pas Perdus on the ground floor. Access for magistrates is secure on the outskirts. Offices are located on the upper floors, in an S-shaped building placed on the gallery.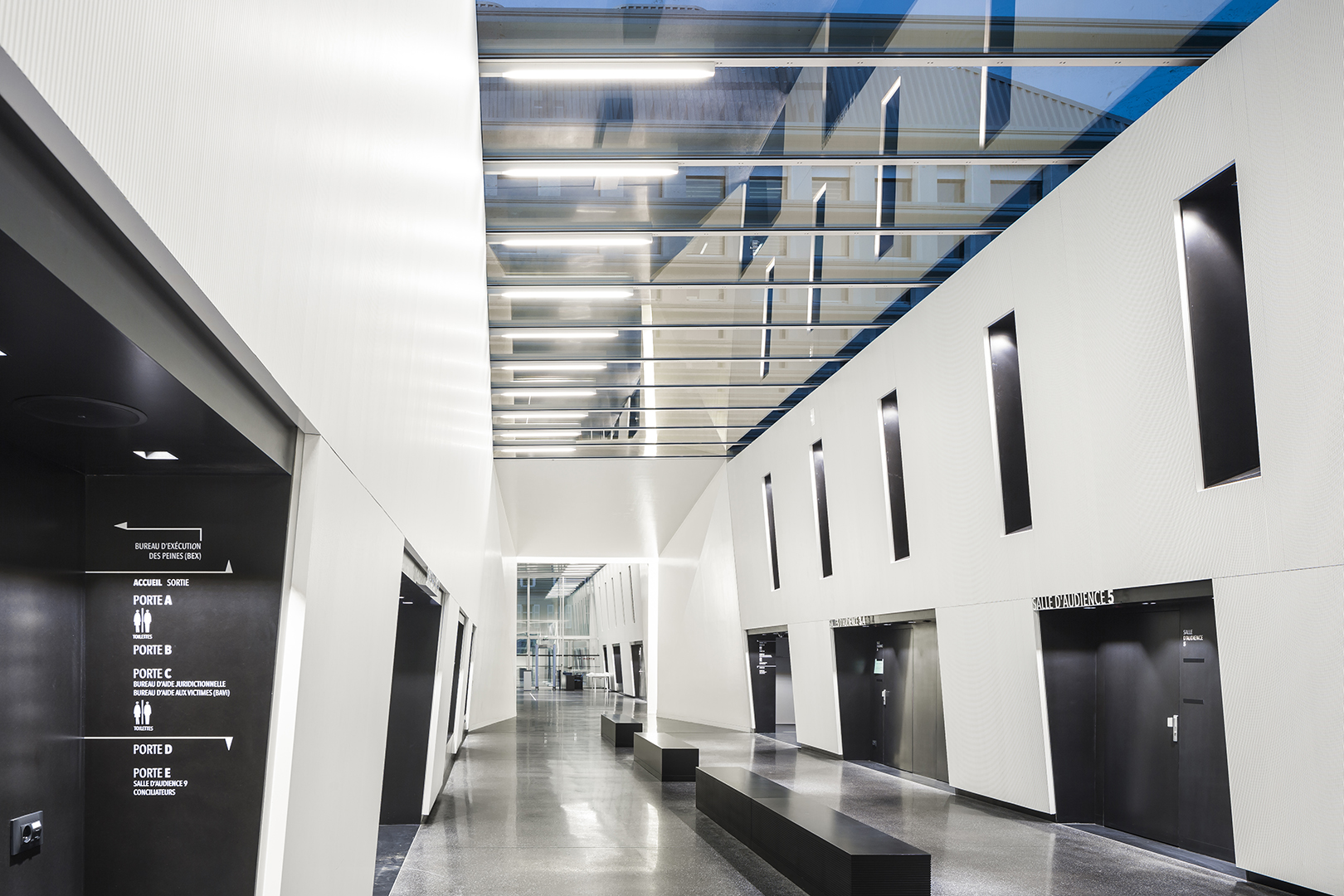 sensitive to
the urban scale
The noble facades, emblematic of the Institution of Justice, are punctuated by a device of vertical mullions set in vibration by a progressive twist. The idea for this twist was born from the desire to partially protect glass surfaces from direct sunlight and to direct the gaze towards a privileged view. In particular on the south-eastern facade, on the prison side, the left surface directs the gaze towards Place Winston Churchill, avoiding a direct view on the prison wall.
The porous and solid materiality of these vertical facade elements emphasizes, by contrast, the white and smooth volume of the forecourt. The new Palais de Justice manifests itself on rue de la Mauvendière through its monumental gate, while respecting the urban scale to which it refers.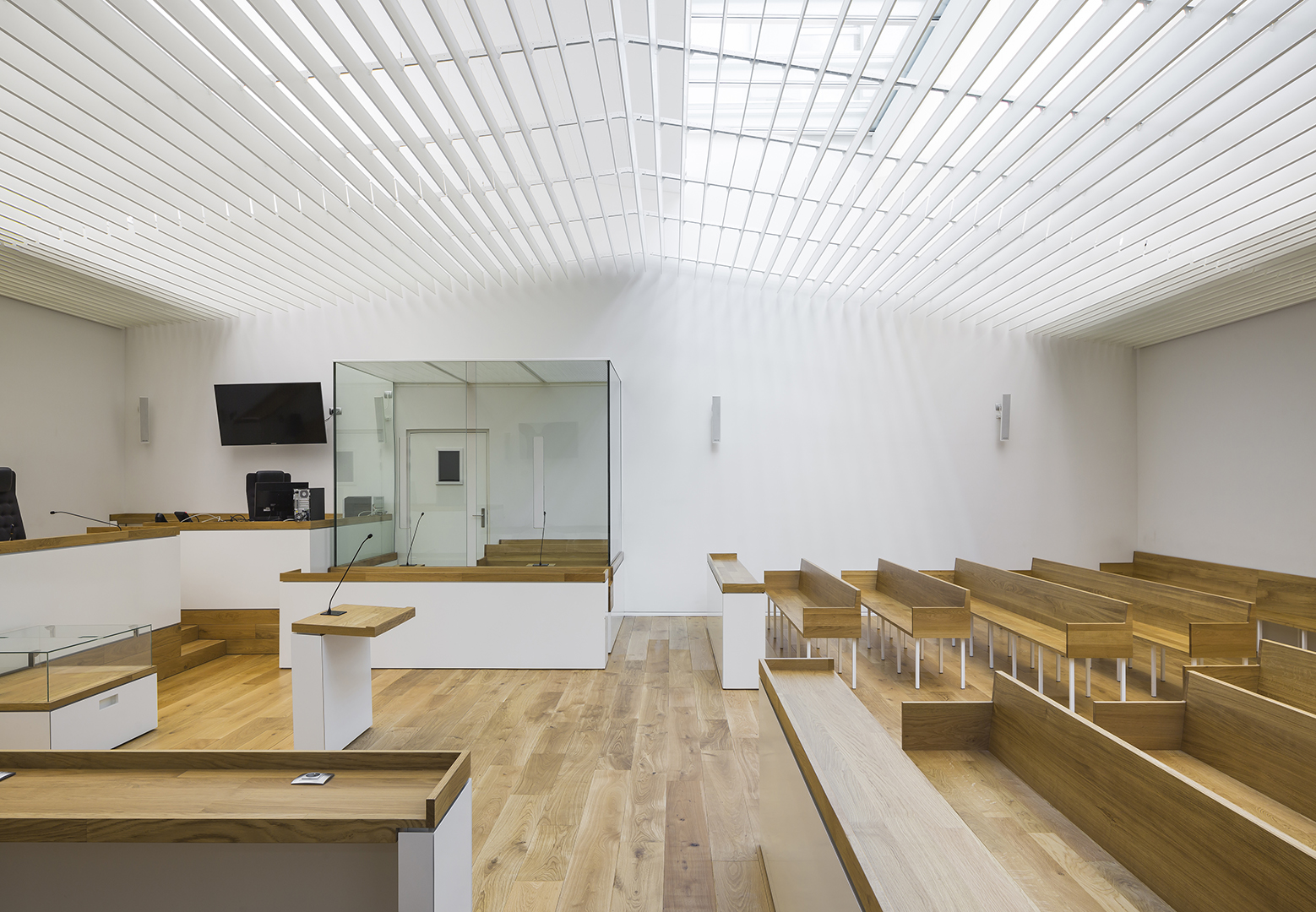 PROJECT TEAM
MANAGEMENT TEAM
Architect: ANMA
Structure: Batiserf
Fluids: Deerns
Acoustic: Peutz & Associés
Facade, enveloppe: Secma
Operation, maintenance: Quadrim
Light designer: 8-18
COMPETITION
Jean-Baptiste Briquelier
Alice Perugini
RESEARCH
Hélène Galifer
Emmanuel Vinet
Juliette Chourrout
CONSTRUCTION SITE
Guillaume Ribay
Juliette Chourrout
Adèle Clin-Cassagne
Kevin Viel