first step
of a new neighborhood
Delivery of the Lycée Pierre Brossolette, currently under construction, is scheduled for September 2021. First marked by the inauguration in March 2020 of the Alexandra David-Neel municipal multipurpose sports complex, this new complex will be the first completed project of the new Gratte-Ciel district of Villeurbanne (ANMA studies since 2014).
Composing an evolving and varied skyline on its own, the highschool is a construction whose substantial size is tempered by a diversity of scales, shapes and materials giving it a moderate and welcoming shape.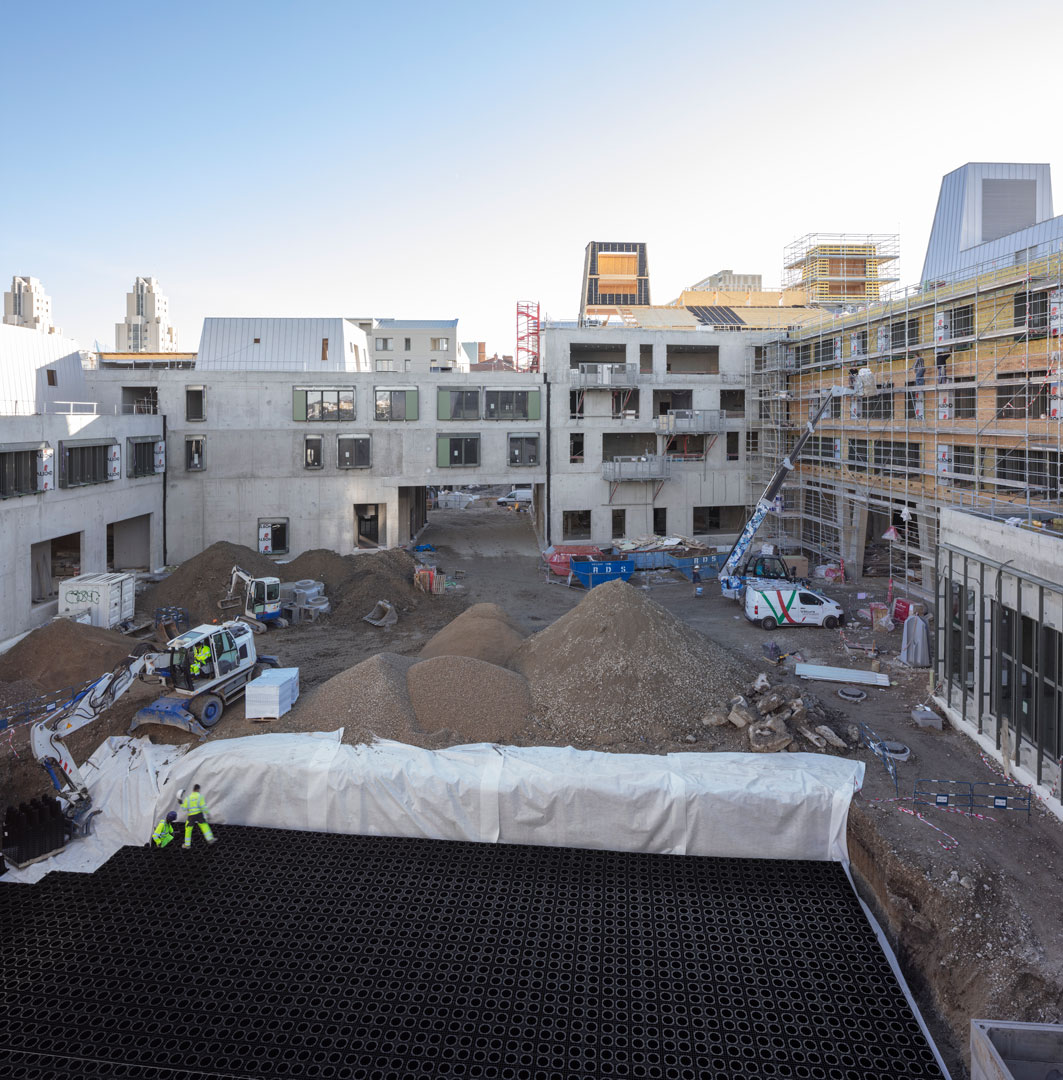 tailor-made buildings
around the courtyard
The high school is a living place, dedicated to pedagogy and learning suitable for all, yet it also has the potential to raise awareness about the ecology of the building through the image it offers. Sustainable technicality: fireplaces solar natural ventilation, green roofs … is highlighted.
It wraps itself around the playground with a series of buildings of varying materials and heights. Visual openings connect it to the public space while giving autonomy to each building.
Each entity of the complex is marked by a roof characteristic: ventilation chimney, technical aedicule or skylight. They are all tailer-made, in zinc, making the roofs free from not integrated echnical equipment whatsoever.

PROJECT TEAM
MANAGEMENT TEAM
Architect : ANMA
Associate architect : AA Groupe
HQE : Inddigo
Structure, fluides, VRD : Berim
Economy : Cyprium
Acoustic : Lasa
COMPETITION
Sylvain Combaluzier
Aimie Calvet
Arnaud Tallon (landscape)
RESEARCH
Emmanuel Vinet
Arnaud Tallon (landscape)

CONSTRUCTION SITE
Bruno Isambert
Elise Marc